Photography has the unique capability of capturing its surroundings through the lens of the photographer. The end-product being an amalgamation of what is right there before our eyes, and the subjectivity of the author. As such we are left with beautiful portraits of what our social/cultural/natural landscape looks like. Representations of a moment in time, pieces of the puzzle that is our collective history deeply intertwined with the photographer's own personal experience of this little thing called life. And that's exactly what Kwabena Sekyi Appiah-nti does. And my oh my does he do it well.
Welcome to this month's installment of TNC's The Next: Kwabena Sekyi Appiah-nti. We're confident that one look at his work will make you understand why he's Vol. 13 of The Next series. A series dedicated to highlighting the talent that will shape the future of the creative industry.
Who is Kwabena Sekyi Appiah-nti?
Kwabena Sekyi Appiah-nti is a Belgian-Ghanian photographer based in Amsterdam. Sekyi's work examines at large the universal experience of boyhood.
His journey into photography began with a natural interest in all things visual. Evening upon evenings of scrolling through Tumblr led to a desire to actually pick up his mother's analogue camera and give those aesthetic shots a go. And thank god for that!
After various incursions in photography and a fateful trip to Ghana – the land of his father's culture – Sekyi released his first solo projects: Golden Boy and its successor Sika Kokoo/Sika Kɔkɔɔ. Both of these explore Sekyi's favourite topic to dive into, the aforementioned boyhood. Specifically, Black Boyhood.
It's about capturing the day-to-day lives of boys and men through my own gaze, one that may not be commonly shared. Everything I do, all the subjects I choose, have sprinkles of my childhood interests and current fascinations mixed into it.
(You're so) Golden Boy, a series worth its subject's weight in gold
Harry Style's hit single isn't the only thing that's golden. Sekyi's photographic series Golden Boy highlights the beauty and value of Black boyhood, equating it to that of the precious metal. A much-needed manner of capturing, representing, and showcasing a demographic often plagued by characterization and unflattering stereotypes. This series on contemporary Black boyhood was kickstarted by a photo that Kwabena Sekyi Appiah-nti took in Brazil A surfer basking in sunlight, his skin and hair glistening in the sun rays, emitting a gold-like glow.
The golden theme repeats itself throughout the series' portraits, mostly through the golden jewellery worn by the subjects of the photos. Thus expanding the allegory beyond the glow and worth of gold, and tracing the roots of the series back to the troublesome history of gold mining in African countries, and the devastating consequences for young Black men. Black boyhood having been exploited for years on end.
As a child, Sekyi was very much immersed in stereotypically male heteronormative activities. Now, the photographer seeks to re-examine society's attitude and judgment of boys and performative masculinity as a whole.
This series is my way of stating the potential of the Black boy, equating their value to that of gold – and allowing them to shine just as much.
What does Sika Kokoo mean?
Sika Kokoo/Sika Kɔkɔɔ means red money in the Ghanian Twi language, and it's the title of Kwabena Sekyi Appiah-nti's awe-inspiring, stunning, first photographic book. A book that is the product of two things: Sekyi's first trip to Ghana in 2019 where he was able to finally connect with his heritage in an immeasurably more tangible and palpable manner than earlier before in his life, and the dread quarantine brought on by COVID-19.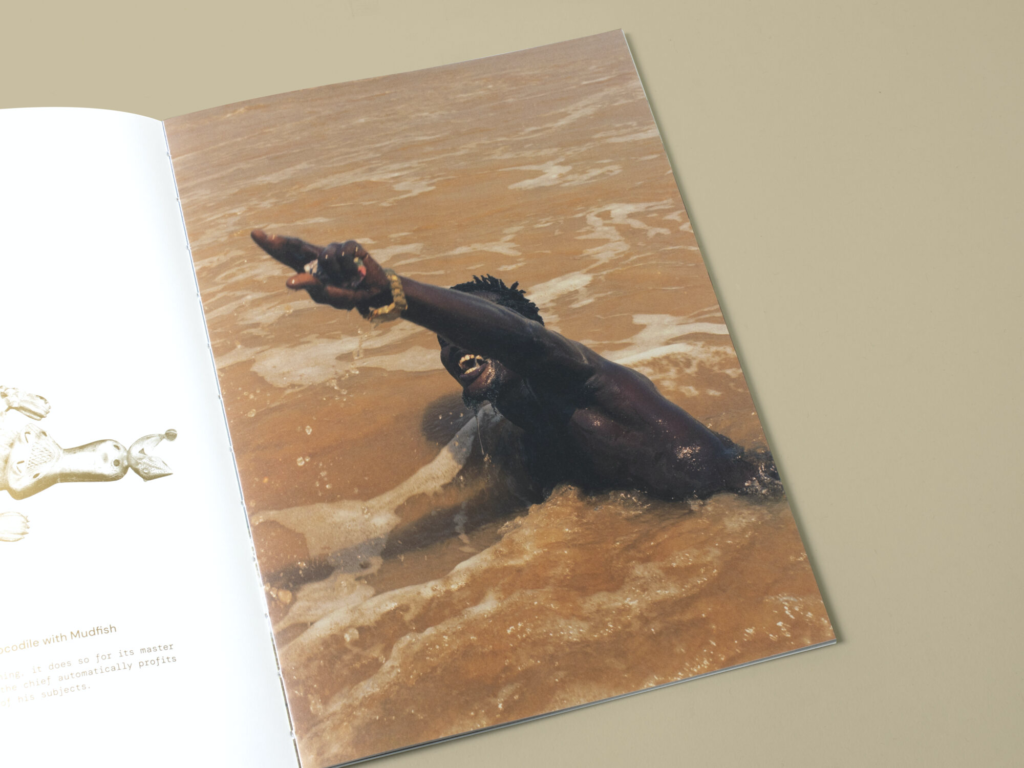 Although the photographer was proud of his roots and his father's culture, working on this project allowed him to dive deep into the history, symbolism, and culture of Ghana. The photographic book Sika Kokoo is a love letter to Ghanaian culture really. It is breathtaking how beautiful it is. As a tactile and textural experience, there is more than one sense being stimulated when you pick it up. Golden pages intertwined with the striking images and bold texts that make up the book. After all, Sika Kokoo means 'red money', and 'red money' translates to 'gold' in English. The perfect follow-up for Golden Boy.
Gold objects have a lot of symbolism in our culture and they portray different proverbs. In Akan culture (my father's people), gold is considered an earthly counterpart to the sun and the physical manifestation of life's vital force, Kra (the soul).
Kwabena Sekyi Appiah-nti is uplifting Black boyhood and we're here for it
With his work, Kwabena Sekyi Appiah-nti joins the likes of Kendal Bessent and Nico Kartel in the task of capturing and representing Black identity through a deeply personal, intimate, and insider lens. Taking charge of their own narrative, refusing to let their story be told through a foreign lens.