What's up, party people!
We're back with another episode of TNC WEEKEND and we've got some nice events lined up for you!
For starters we will be taking our party shoes to Berlin to a one of a kind, very secret-ish event which makes things so much cooler.
Berlin
O MATO – Lago do Mato is an event that will be hosted in Berlin this Saturday the 10th of July and will be from 12:00 until 22:00. The secret location, hasn't even been announced yet! Nonetheless, we're sure that this event will be well worth it.
Source: ra.co
What we do know is that it is hosted by O MATO, a German/Brazilian collective that creates a platform for natural and cultural values to be exchanged within a global community. They created a new form of social gathering on a tropical island in the depths of the Brazilian Amazon, where they organize a 10-day adventure that offers you the freedom to explore unspoiled landscapes and indigenous traditions. A space that allows music, art and culture to co-exist in harmony with nature.
And now, they're coming to Berlin for a day with artists Vlada, Giammarco Orsini, Patrick Poitz, Paul Kine and Jonas Köksal. To give you an idea of the style, below is a set played by Giammarco Orsini.
Keep your eyes open for the location of the event!
Next, we're crossing the pond and heading over to the UK.
London
Utopia Warehouse is making it's return to the party scene in London's coolest warehouse venue, Village Underground, for a night of deep house music. It will take place on Saturday as well on the 10th and starts at 10pm, with 2am being the latest entry time and will last until 6am.
Source: skiddle
Artists at the event will consist of Riaz Dhanani Acid Kids, Billy Cocks, Sol Edge, Rennie Peters and finally Bongo Ben. The styles range from Deep/Disco House to (Minimal) Techno. So if this sounds like your type of of party, don't hesitate to grab a ticket before they sell out. Get them here!
Now it is time to return to Spain, but this time it won't be in Barcelona, but we'll be moving over to the capital.
Madrid
On Sunday, as their name suggests, The Domingueros will be in town to turn Sunday into the best day of the week. The event will be hosted at Mad Beach, a new open-air venue located in the heart of the capital with artificial grass, shaded areas, restaurants, and food trucks.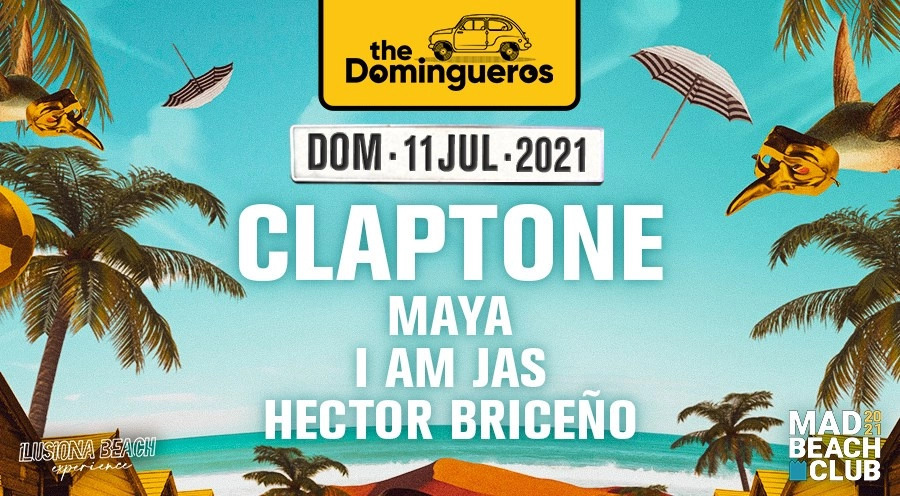 Source: ra.co
Tickets are available individually or by first row tables. Individual tickets are 22 euros and include a drink, and the tables are 200 euros for 6 people and includes a bottle.
But the biggest thing about this event is that the famous DJ duo Claptone will be there. They are recognizable by their plague doctor-style golden masks, which serve to intrigue the public as well as keeping their identities hidden.
It's an incredible space, great artists and an atmosphere that has nothing to envy to that of the best beach! Go get your tickets before they're gone!