And again, we continue with the tale that travels the world. For this one, we'll be taking the train a little bit down south from Amsterdam, and head over to Rotterdam, Europe's largest seaport.
Rotterdam is not like other cities in the Netherlands. For the most part, there aren't any typical Dutch houses and canals, far from that actually. With the city being bombed during WW2, the heart of the city was almost destroyed and had to be rebuilt. Instead of renovating everything, the Dutch decided to dare to try new styles of buildings that led to the city it is today.
As always, the point of this series is to make sure you don't miss out on any cool stuff when visiting cities throughout your summer break. The best plans ranging from open-air cinemas, concerts, art exhibitions, creative activities… all that, and are available every week right here at TNC.
In addition, we will let you know what TNC readers do, where they go, restaurants, pubs, and where they relax. So you can get inspired and find out about things to do in Europe's largest seaport!
With that being said, welcome to Once Upon A Summer Time in Rotterdam!
Cube Houses + De Markthal
Maybe a bit touristy and known, but definitely worth it to check out. As mentioned before, the architecture is not the typical type you'd see in the rest of the country. That's why you need to go visit the Cube houses and combine this with the huge Markethal right next to it.
Cube Houses

Source: MSS
Location: Overblaak 73011 MH, Rotterdam, The Netherlands
Price: Walking through the houses is free of charge and the museum will only cost you 3 euros.
The Cube Houses are arguably the most popular architectural masterpieces in the city. Piet Blom, the architect for the buildings, intended to create a feeling of an urban forest, not sure if we completely feel that, but it sure transports you somewhere you've never been before!
The Kijk-Kubus Museum-House is one of the cube houses which they fully decorated, to give visitors a good impression of how one can live in such a slanted house with odd shapes. IKEA won't be able to help you out here, thats for sure.
De Markthal

Source: Kone
Location: Ds. Jan Scharpstraat 298, 3011 GZ ROTTERDAM
Taking Place: De Markthal is open every day and is free of charge
Monday till Thursday & Saturday: 10:00 – 20:00
Friday: 10:00 – 21:00
Sunday: 12:00 – 18:00
Right next to the cube houses, is another amazing piece of architecture, namely De Markthal. It's basically a huge indoor market, combined with luxurious apartments where you can buy all kinds of typical Dutch snacks, alongside some other foreign snacks as well. But of course, when in The Netherlands, you need to try some local stuff, like stroopwafels and cheese.
Remastered Experience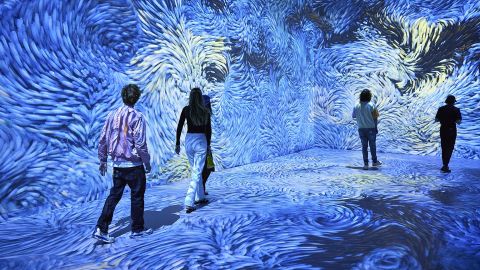 Source: Remastered
Location: Willemsplein 79, 3016 DR Rotterdam
Now for the newest interactive experience, go check out Remastered! It opened on July 30th, and in this attraction, you'll be taken on an audiovisual journey which takes about an hour, where you become one with the art.
Walk under a waterfall, go on an adventure with the unearthly creatures of Hieronymus Bosch, learn to time travel and surround yourself with paintings by Dutch Old Masters such as Van Gogh and Mondriaan. Each time you enter a new world and you don't know what to expect.
The Sunny Side Terrace

Source: Weekends In Rotterdam
Location: 3e Katendrechtse Hoofd 25, 3072 AM Rotterdam
The SS Rotterdam is known to have sailed all over the world, and is at the moment docked in Rotterdam, at the Katendrecht to be precise. It's open for visitors, and the moment you set foot on the ship, you feel like you're going back in time.
But the coolest thing is that a terrace opened up recently, called the Sunny Side Terrace. It's at the head of the Kaap, and here you look at the skyline of the city and sit in the front row for a beautiful sunset in the evening. Oysters, fries, beer, wine, you name it. They have it all, so definitely go check this out when you're in town!
Smells Good In The Hood!

Source: Horeca Trends
Location: Benthuizerstraat 94A, 3035 CR Rotterdam
If you're looking for a super cool place to eat, you need to check out Smells Good In The Hood. They serve comfort food with culinary influences from all over the world, inspired by American 90's hip-hop and black culture.
With the restaurant, chef Nathan Meyer (Big Nate) and catering entrepreneur Ruben Venema want to create a community where it's all about food and connecting. Next to food, they'll be hosting cool events as well, such as Hip Hop Breakfast, the well-known smells Good barbecue every last Sunday of the month, and the Rotterdam Block Parties.