Source: PFG
We are back yet another week with another instalment of Once Upon A Summertime! And this time round, we are travelling all the way to the alternative urban paradise that is Berlin!
Germany's capital has a long history of community life, its streets and parks come alive with celebration, rebellion, and interesting people almost wherever you go, and the coolest art graces the city's facades.
Now there's no doubt that there are about a gazillion amazing things to do in Berlin, the city has quite literally anything and everything you could possibly want to offer. Still we know sometimes it's hard to decide on something when there are so many options, so we have carefully curated a list with out favourite alternative Berlin plans just for you!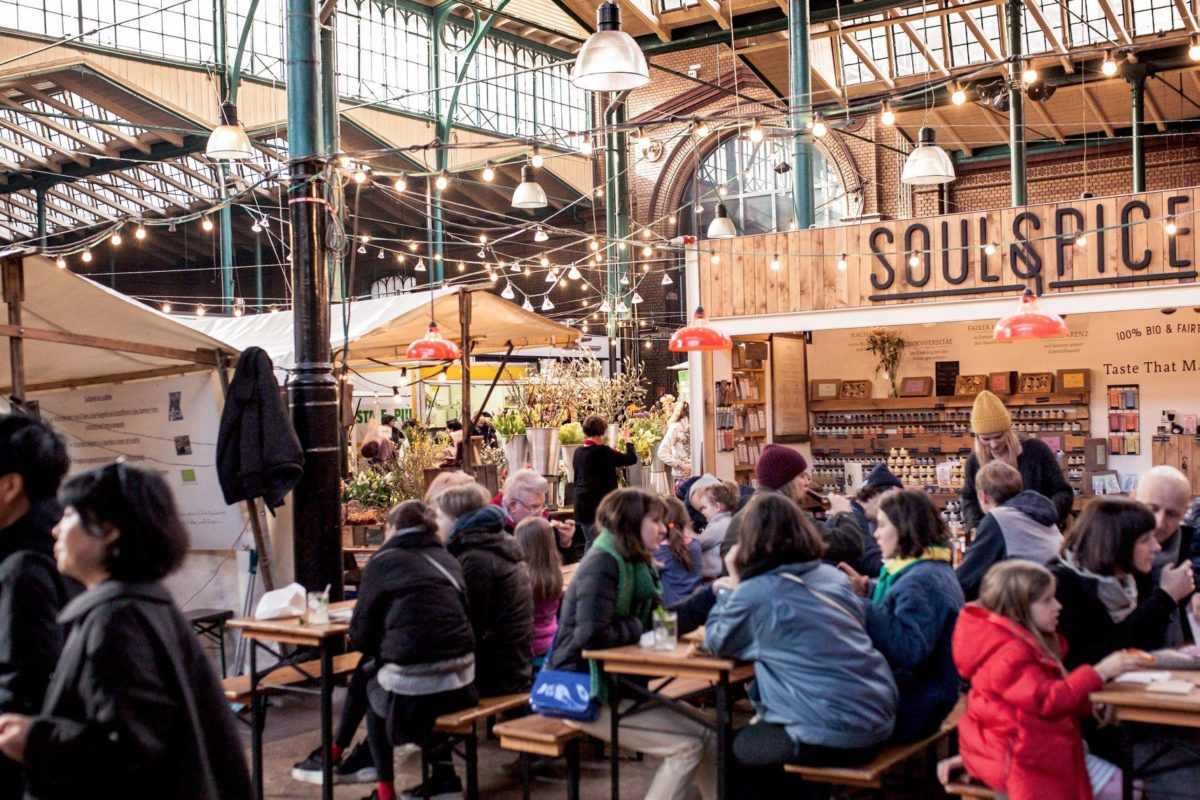 Source: Travel Top6
Location: Eisenbahnstraße 42 10997
Taking place: Every Thursday from 5pm-10pm
If you are in Berlin on a Thursday you simply CANNOT miss out on the Markthalle Neun experience. This market, which is great to visit all year round, will transform on Thursdays from your average, friendly, neighbourhood market, into a full-on "Naschmarkt". What's that you say?
"Naschmarkt" translates into snack market, and this weekly event sees the market fill up with stalls from all over the world, selling anything and everything, from sweet to savoury, cakes, wines, tacos, würst… Whatever tickles your fancy, you will most probably find.
Markthalle Neun offers not only variety, but also quality, good, fair, ingredients in everything they offer!
Source: Xceed
Location: Karl-Marx-Straße 66, 12043
Taking place: Weekdays 4-11pm / Weekends 6pm-1am
For this very special place, we are going to head all the way to the neighbourhood of Neukölln, the latest hotspot in the Berlin clubbing scene. And what better place to party it up, than on a mall's rooftop?!
That is exactly where we will find Klunkerkranich, on top of the Neukölln Arcaden shopping centre. One of the loveliest places to experience a sunset in Berlin, among the flowerboxes and greenery of this rooftop, cocktail in hand, with the perfect background soundtrack, courtesy of the fantastic DJ's that grace the space.
Best thing is, if you get hungry, you don't even have to leave the place! There is a Spanish-inspired fusion restaurant right there! Definitely a spot worth checking.
Source: Archtalent
Location: Bülowstraße 7, 10783
Price: Free
As one of the European epicentres of urban art and life, Berlin has been known for its alternative art scene for many years now. Therefore, it doesn't come as a surprise that precisely in Berlin, you would find a museum such as Urban Nation, which is a museum dedicated to urban contemporary art.
Although since the pandemic, they have had to limit the access significantly, you can still book tickets in advance (at least 24hrs) and check out their ongoing exhibitions. There is no better place to explore the history, impact, and relevance of urban and street contemporary art!
Source: Monsterkabinett
Location: Rosenthaler Str. 39, 10178
If you are a fan of the bizarre, yet mesmerizing, we have the perfect plan for you. The Monsterkabinett is an art exhibition like no other, it is an all encompassing sensory experience.
This walk-through art space will stimulate all your senses, and traps you in a world of its own, a world full of strange creatures that sin, dance, and recite poetry. A world were nothing really makes sense, and mechanical monsters can be found at every turn.
Due to the pandemic, opening dates have been changing quite often, so make sure to check their site before you go!
Your Picks
We asked our readers what they're doing in Madrid this summer. Here's what they said:
Where You're Eating: Maroush / Adalbertstraße 93, 10999
Where You're Going Out: Kaptn / ****Simon-Dach-Straße 32, 10245
Where You're Relaxing: YAAM / An der Schillingbrücke 3, 10243
Come back next week for our next Once Upon A Summertime. Can you guess which city we'll be going to next…?