Kid Bronze's hairstyles make shaved heads seem like the most natural canvas choice in the world. The hand-painted styles, which can take up to six hours each, are bright and brilliant, subversive and sexy, and overwhelmingly cool.
Ranging from unbelievably bright checkerboards to insanely detailed patterns, Kid Bronze's dos' are guaranteed to add a little beautiful chaos to whatever look they accompany. And that was always the aim for the artist — making people look cooler than they already do. "I feel like there's always room for improvement, in anything," the hairstylist said in an interview.
Source: Pintrest
As a former graffiti artist, Kid Bronze was always drawn towards creating colourful and expressive pieces and, as such, the transition from concrete to cranium in 2015 felt natural. "There's lots of similarities between the two," he summerised recently.
And with hair, there was the added bonus of upgrading someone's whole look and giving people a means to stand out from everyone else — "kind of like customising your character in a video game".
Source: Fantastic Man
The bright colours, sometime spikes, skull motifs, flame-heads and animal print do give off a virtual, fantasy vibe, but the styles are rocked by Kid's very much real LA skate crew, 10C41. With their distinctive clothing style and brightly coloured coiffures, the crew tread the line between typical skate style and a more punk-influenced look.
Kid Bronze acts as the 'leader' of the crew — editing their well-known films and crafting the hairstyle-centred image for the group.
And his plans for the crew are just as ambitious as his designs. Hairstyling will always have a place in his life, and Kid Bronze is working on his own line of dyes (although the plans are being kept completely under lock and key). However, Kid's vision is constantly expanding.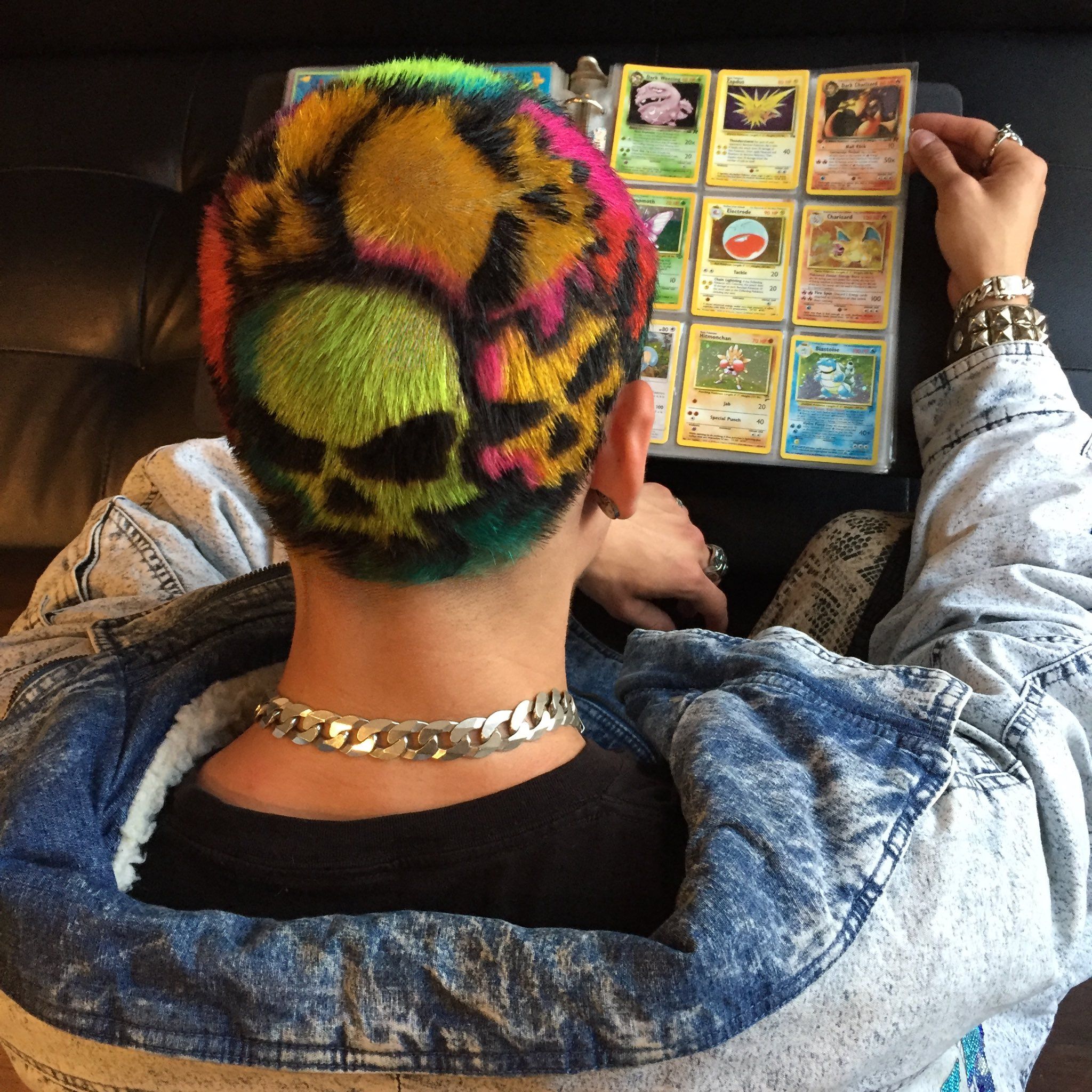 Source: Pintrest
His skate label VYZER has already gained notoriety for its graphic boards and he hopes to continue growing the brand, with a focus on high-end skatewear. And if that wasn't enough, he sees 10C41 functioning as a record label and magazine.