When you think of Tokyo as a person whose not very familiar with the city, you may think that it's a place full of lights, signs, colours, and advertisements, all in all, a visually overwhelming place. But in reality, this only goes for a small part of the city. The rest is actually quite gray and bland.
The Japanese are known to be a folk that keep things clean, neat, and nice, so graffiti does not fit in very well. At least that's what the government believes. So finding graffiti, whether it be legal or not, is close to an impossible task. To find them, the smallest and most remote alleys will need to be searched and explored. Otherwise, bridges and large roads in the outskirts of urban areas are your best bet.
In Japanese, the word "graffiti" actually refers to the type of doodles that children make on class desks, calling them 'rakugaki' [иђЅж›ёгЃЌ].

Source: LordK2
But what is the real reason for there being barely any graffiti to be found in Tokyo?
– Feeling of community and respect for the public property and public spaces
– High penalty fees and even jail sentences
– High surveillance [lots of security cameras]
– Severe cleaning policies ("face wash" facing the new international tourism and the future Olympic games).
Despite all of this, the underground graffiti movement is very much alive and well in Tokyo, host to varying practices of the artform. Graffiti crews, independent graffiti writers, and many more, but today at The Next Cartel, we'll focus on these two streams.
One of our personal favourite graffiti crews, group 246, is made up of of Japan's best known graffiti artists, alongside some international members. These join them in creating the best plan to paint, and find the best locations in the city. Another crew that is on the rise, but has not been mentioned very often yet it 24K/24Killaz.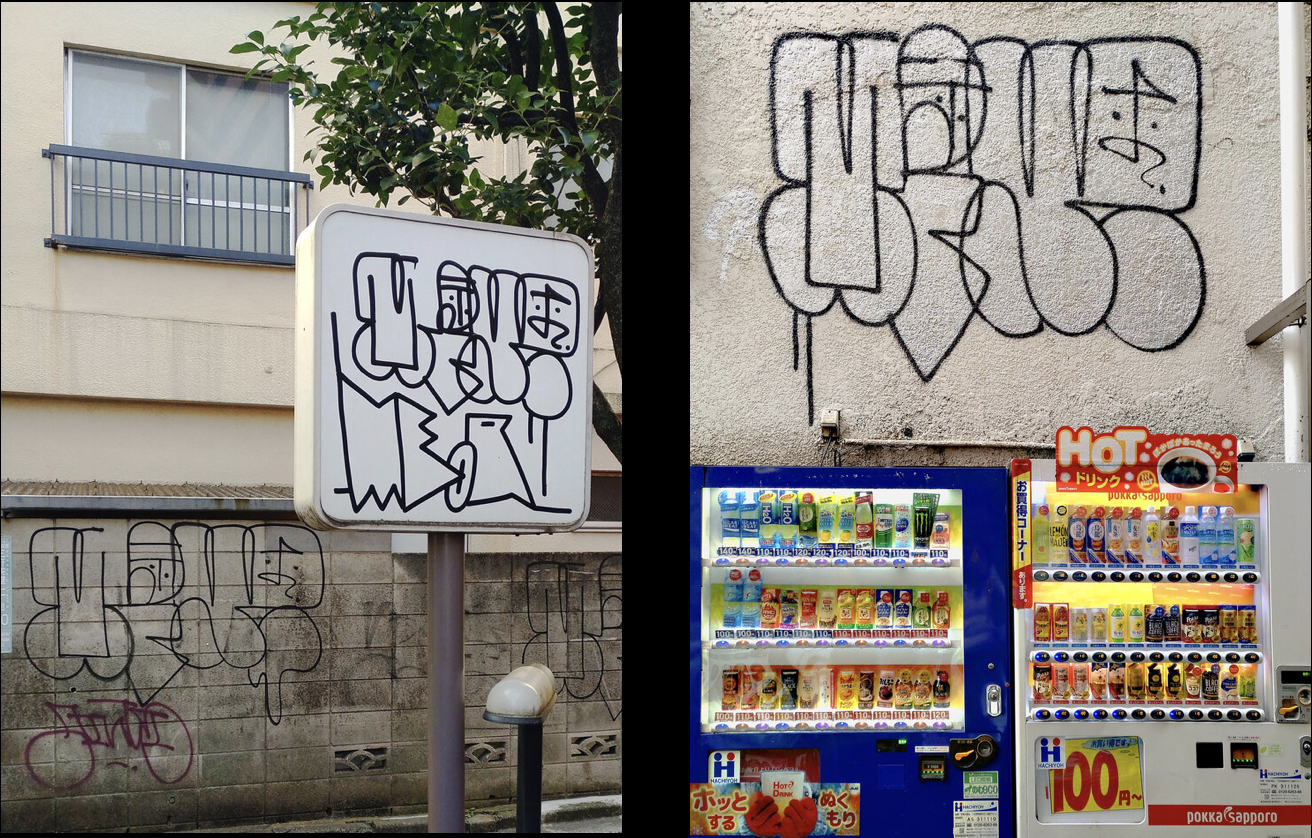 Source: Sabukaru
Taking a look at independent artists, we find UFO907, an American artist mainly recognized due to his exhibition in 2016, where he bombarded the entire town with a characteristic alien character, in multiple shapes, sizes, and formats.

Source: Sabukaru
Among the hidden twists and turns of the streets of Tokyo, you will likely find work by SHART / BAHK, two very young brothers who each have a characteristic animal, a whale and a dog. Using graffiti and stickers, their creation of fanzines stands out.

Source: Sabukaru