Choose a skin. Choose an identity. Choose an estate. Choose a f***ing different world. Choose events, memberships, NFTs galleries and virtual meetings. But choose privacy. Choose your mask.
Digital art and fashion are reshaping the meaning of the body. We can literally choose a new face and skin every day, rethinking any natural imposition over flesh and bones. In the virtual world, garments and accessories have substituted the body itself, leaving room for diverging forms of expression and self-affirmation.
It is a fact: styling one's personal identity is already a must in the metaverse building community.
But, in a place where everything goes and everyone could potentially be free from any physical constrictions, it seems that real-life, infamous items are still persevering in the collective – virtual- imaginary.
Surprisingly, the Mask mania is taking digital assets by storm. And nope, the pandemic has nothing to do with this.
For this Cool Hunting piece, TNC takes you deeper into the meaning of the mask in the time of the Metaverse.
Identity and Privacy Online: Two Sides of the Same Coin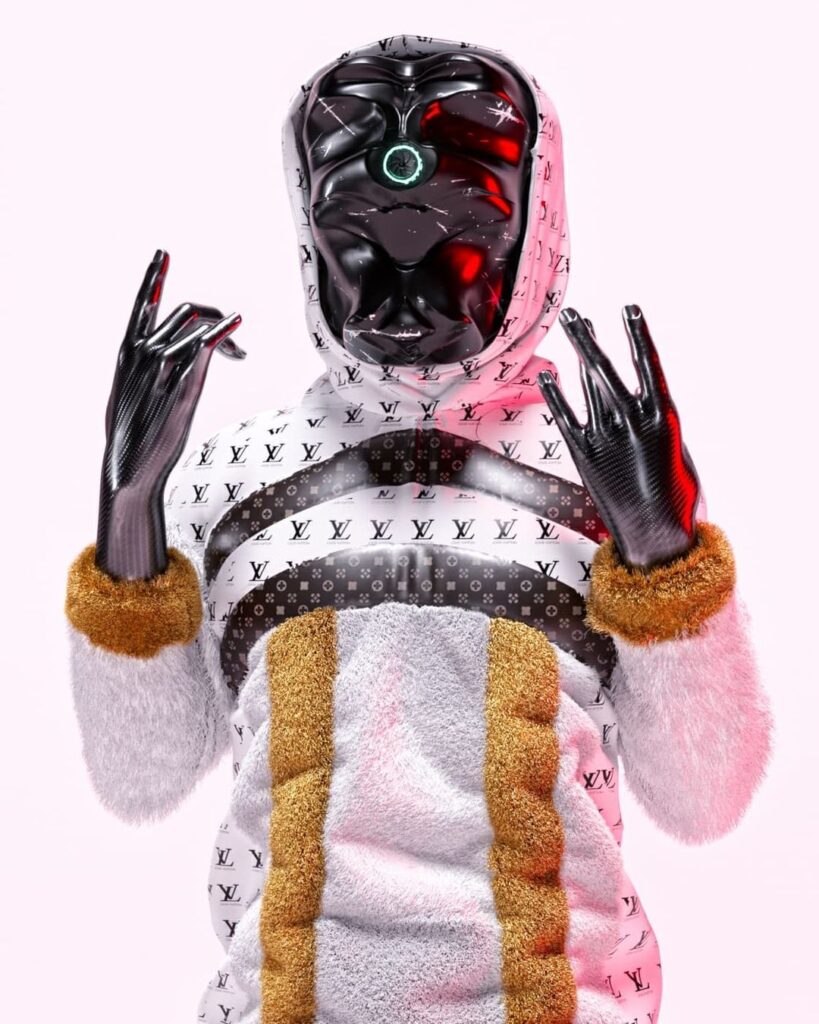 The exciting thing about the creative and art industry is the new identity potential enabled by the multifaced metaverse. In a word we could say it's all about fluidity. Wanna have multiple identities in your social media platforms? Wanna change gender every now and then? Wanna get a little weird? Perhaps be a cute unicorn? Wanna be a shark?
You can!
But… Would you let all the people around you know your fantasies? Your boss, your colleagues, your old granny?
Probably not. Or at least, most people wouldn't dare do it out of fear of judgment.
But how, then, your community can be sure that's you interacting with them?
This is where personal identity and institutionalized ID converge in the same concern: Safety and Security. This is where our research behind the Mask starts.
The bond between Mask and Identity is nothing new. Anti-surveillance fashion has been a thing in physical streetwear for quite some time already. Just think about how covered faces have become the Demna signature and not much else needs to be said. But the rise of the Metaverse and digital assets have brought a new wave of conversation around this issue.
When it comes to NFTs, Identity is one of the most valuable assets in the implementation of ID security and privacy. From exclusive Metaverse communities to 3D, minted art and digital fashion, the matter has permeated all aspects of this revolutionary culture, finding powerful representation in digital, creative masks.
NFTs that secure user ID have already gone mainstream due to Twitter's efforts. Its hex profile pictures unequivocally highlight a minted image. Among Bored Apes and Doodles, it's hard to find a profile that has minted the user's real face. In fact, it's been taken a step further: NFTs' private social platforms have bounded their core storytelling to the meaning of a covered face.
An example? The Mask Billionaire Club. Doesn't the name ring a bell? Unsurprising really, it's privileged info for the select few, although for the next generation of billionaire entrepreneurs and blockchain investors, the project counts with 3.333 NFTs Luxury Masks in OpenSea.
"Since the time of the Pharaohs and the Mayans, the greatest of this world have worn masks during ancestral meetings. This custom has endured through generations, wars, diseases… until today. The Mask Billionaire Club continues the tradition: take off your surgical mask and put on your best suit."
Told you, the pandemic has nothing to do with all this!
Rather than digital assets, those masks visually stage the freedom to choose who you want to be, your personality, and the ability to connect with the community while preserving anonymity.
All New on Digital Art and Design Front
Still not convinced? Well, one swallow does not a summer make. So we went deeper in our research, spotting the trend among designers and 3D artists that have made the mask their signature.
The brand Sixth Réseau Paris is a one-ok-a-kind streetwear project which is prompting a new NFTs collection: Golden full helmets, tight, elaborate masks, and virtual glasses that draw inspiration from popular online culture, digital art and traditional underground fashion.
Antoni Tudisco doesn't need further presentations within the industry. His 3D art is a collision of street style and surrealism, featuring masks and helmets that reshape personal traits and become the main medium for expressiveness.
And what about the Faceless.NFT projects, seeking to create an exclusive, Luxury Metaverse?
The list goes on and no, no doubt about that. But, as a mere list, it would just detect the mask trend, it wouldn't explain what the hell it means. Worry not though, we've got you covered. For the occasion, TNC has had an exclusive chat with artist and designer Reece, aka Oil DZN, who gave us the ins and outs of the meaning behind the use of masks in his digital production.
"We all wear an individual mask in the form of our face. Wearing a mask removes this identity and replaces it with a community-wide look, evoking a feeling of belonging and equality amongst Broskis holders and wearers of the mask irl. My digital art is made with the goal of bringing together like-minded individuals from radically different backgrounds"
Bold and detailed, his work critically rethinks the best of streetwear and the branded imaginary while making the body behind commodities disappear. A mannequin-like skin is revealed.
Unquestionably, the focus is the aesthetic and its relationship with the bodily, physical features of a user.
"The use of the Mask within my NFT designs allows each piece to be defined purely by the fashion and not by relation to the physical attributes of a character. This approach has allowed my followers to choose a favourite from my Broskis NFT collection, based on the fashion/ look/ colours they relate to the most"

Explains Reece to TNC.
Unveiling the deeper matter of identity affirmation, seeking to aim for a safe zone, freed from social judgment and inequality. That's the final objective for Reece. After all, that should be the final purpose of contemporary art as a whole.
"My eventual aim is to sell the masks available in my art, alongside the collection and one day run public Broskis events and meetups where everyone can be anonymous and attach their identity to the way they put together an outfit. I love playing with the concept that without facial identity we are left with other elements that can tell us who a person is, such as the way they dress and accessorize an outfit, this is a huge part of our individual identity and is often overlooked because the person is commonly judged on appearance despite having insane levels of style. The masked approach helps remove any prejudice attached to race, nationality or disability and could allow people who would not normally communicate due to pre held prejudices, talk and discover a new angle on certain life issues"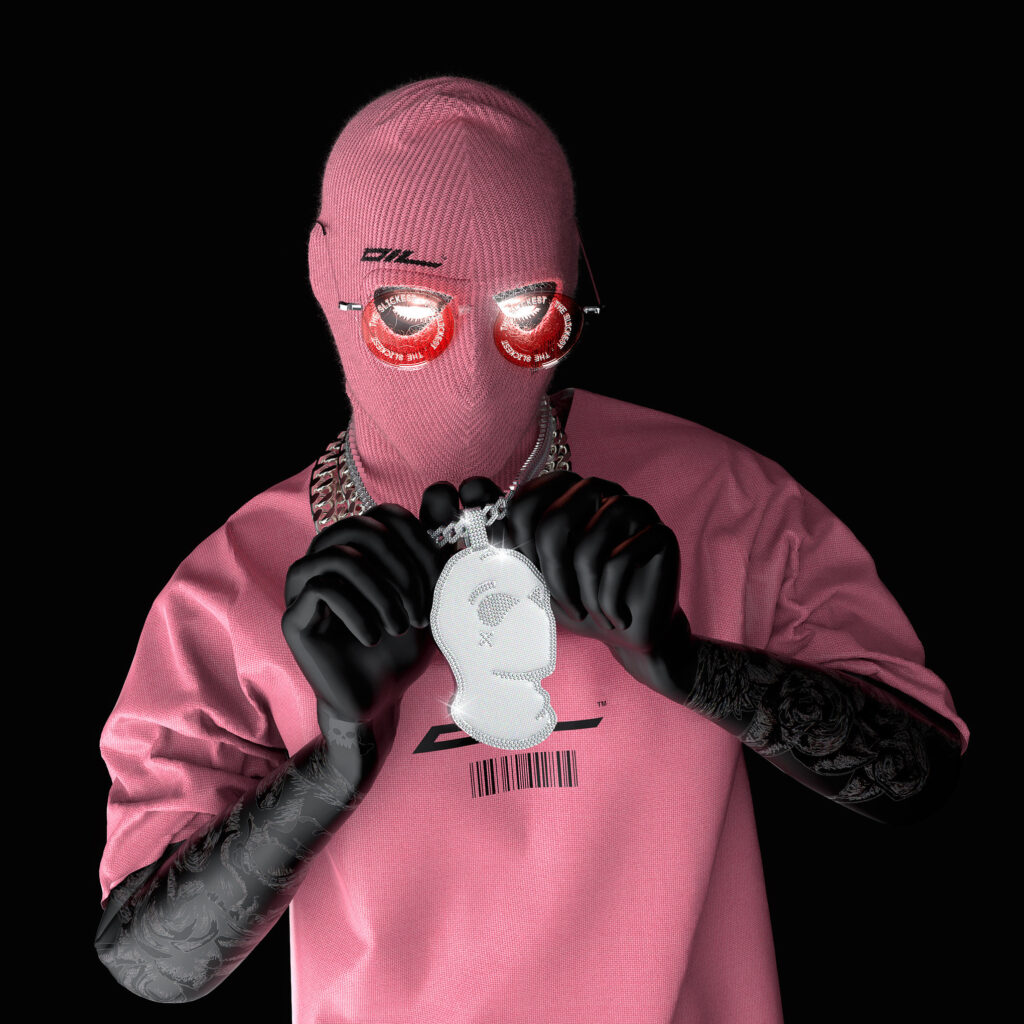 If in the physical world we express our identity within society by styling our body, in the virtual realm of Oil, it seems that the garments substitute the body itself.
What is left is the pure self. What is left is nothing, but the mask.