[vc_row][vc_column][vc_column_text]Let's get right to it shall we? We are here today for one reason, and one reason only. And that reason, is thisisneverthat.
The South Korean fashion label has us endlessly fidgeting in our seat, with no more nails to bite, waiting for their next drops. We are talking of course, about thisisneverthat ✕ NEW ERA and thisisneverthat Holiday 21 Collection Release 1. Dropping October 21st and October 22nd respectively.
They may technically not be here here, in the sense that they are not up for purchase just yet, BUT we have gotten a glance at them and our wallets are tingling with excitement.
For those of you who are not familiar with the Seoul-based brand, thisisneverthat is a contemporary streetwear brand that favours a graphic and text heavy approach to traditional urban clothing. It is one of those very special, uniquely characteristic brands that has amassed a significant cult following due to its authentic feel.
Now back to the drops: thisisneverthat X NEW ERA join forces once again to release a USA-themed collection. What do we mean by USA inspired? Stripes and start? Yes but not quite. Think more along the lines of typically United States-y paraphernalia. Baseball caps, New York Yankees hoodies, Los Angeles Dodgers sweaters… Of course one cannot release a USA-inspired collection without including the quintessential US symbol, the famous flag.

Source: Hypebeast

Source: Hypebeast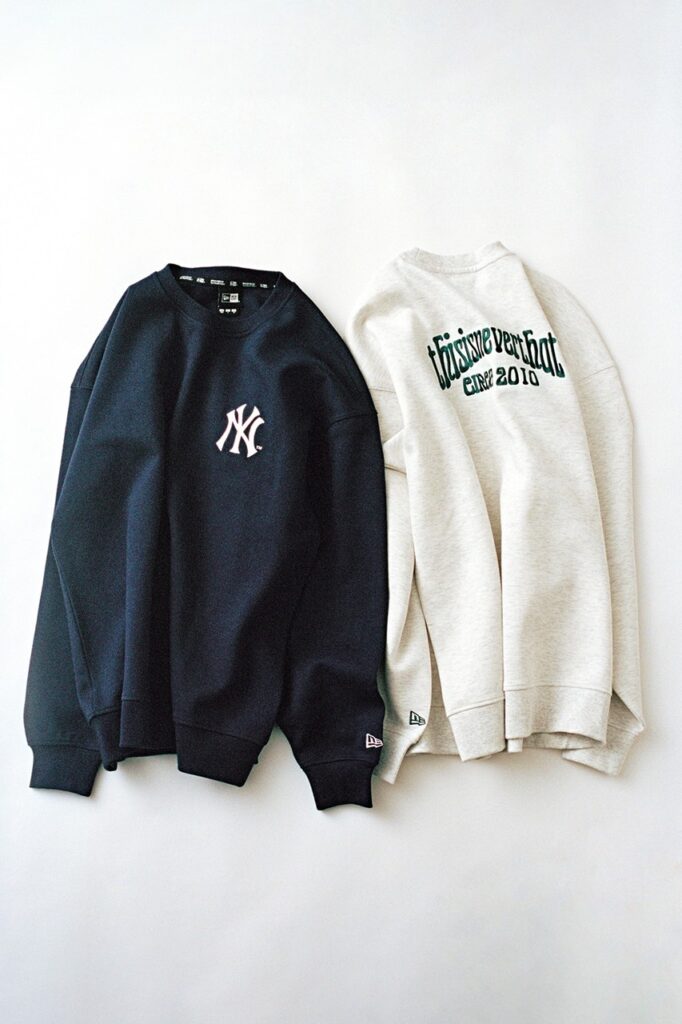 Source: Hypebeast
The collection takes you back to that American retro texture. Remember a decade or two ago when having anything that was USA-related was just about as cool as you could get? Well, now you have the chance of doing it all over again. thisisneverthat X NEW ERA hits the official website and store shelves on October 22nd!
Moving on to thisisneverthat Holiday 21 Colletion Release 1:

Source: thisisneverthat

Source: thisisneverthat

Source: thisisneverthat

Source: thisisneverthat
As you can see the collection really has a piece for anyone and everyone. Channeling, as is customary for the brand, those early 2000s / late noughties oversized silhouette. Holiday 21 Colletion Release 1 is all about variety, pieces ranging from a camo puffer jacket, to a blue checkered tweed classic coat, a denim printed two-piece tracksuit, and single colour caps with a paw imprint embroidered on them.
Don't fancy something so out there? Worry not, they have simple hoodies too. Get your hands on yours on October 21st![/vc_column_text][/vc_column][/vc_row]