Remove your new sneakers from their packaging; you can use either Converse or Golden Goose. Make a couple of incisions with a blunt knife on each shoe. Then, bake them in an oven for 40 minutes till the sole starts to bubble and melt. Are the edges barely on fire? Great! It's time to take the sneakers out and let them rest a bit. Once they cool down, take a grater and firmly strip them. Place your shoes on a garbage lid, decorate with copious mud and dust… et voilà!
The new Balenciaga extremely distressed Paris Sneakers are served at the price of 1850 bucks each!
Don't expect any Michelin stars for this recipe, though. Unless you're Demna, obviously.
This time, the creative director of the luxury fashion house has raised public eyebrows by dropping a new Balenciaga Paris Sneakers limited edition. The online campaign, shot by photographer Leopold Ducheim, streams a heavy-worn version, suggesting that "Paris Sneakers are meant to be worn for a lifetime".
Actually, what was "meant to be worn for a lifetime" turned out to look like it had already lived 100 lifetimes. Featuring tattered and consumed details from rips and scuffs to dirt, the sneakers have literally split the fashion Twitter police in two, since their launch on May 9th. Whether the audience online was scandalized by the price – which is more than double the price for a standard pair of Paris- or by the immediate rain of trolling memes, the result is the same: everyone is talking about Balenciaga.
The Art of Branding or Branding the Art?
Balenciaga gotta be a social experiment pic.twitter.com/HAhDEjQcIi

— kira ???? (@kirawontmiss) May 10, 2022
The launch was met with the online critique. And it was likely the point of Demna. The fact that the campaign was made to generate a conversation rather than sell is quite self-evident. The countless tweets or memes generated around Balenciaga's drop in less than 24h made the game.
Since his crowing at the helm of the luxury label in 2015, Demna has driven the fashion conversation online and offline, adopting completely unconventional marketing in the industry sector. And he did so while bringing to the table his influence and expertise in streetwear and urban culture – Well, at this stage of the story, you should already know that he is also the genius behind the boundary-breaking label Vetements. But here is a just-in-case reminder.
Demna belongs to the wave of edgy streetwear designers that have scored creative director gigs at the luxury giant house. Like the beloved Virgil Abloh, from Off-White to Louis Vuitton. Or Matthew Williams, from 1017 Alyx 9SM to Givenchy – just to quote some. The consequential and epic 180º in the luxury industry and design has definitely made the fashion books.
Under Demna's reign, Balenciaga has lived up to his reputation, breaking tradition with the past. Or we should say 'disrupting it'.
"We always work by deconstructing something to create something else. That's my general approach. Destruct to create. I think that's vital"

Demna
Hey, amigo! You know you have sneakers ugly enough to be worth two thousand dollars?
In this wave, in the last years, Balenciaga has built a pretty name in subverting the luxury consumer expectations. From the Hacker Project in collab with Gucci, going back to a head-to-toe covered Kim Kardashian at the Met Gala 2021, or the infamous high heeled Crocs, the list is long. The 'shocking' strategy is part of the game. As usual, now.
"There is only one thing in the world worse than being talked about, and that is not being talked about", Oscar Wilde would have said. Demna seems to follow this philosophy: If the goal was to generate a conversation, then the move was a success. And for a brand like Balenciaga, the risk is pretty much zero. As reported by Launchmetrics, the campaign generated almost $5 million dollars in media impact value in just 48 hours. By comparison, Balenciaga's Kim Kardashian campaign was just nuts!
Take notes here, cause there's a lesson to be learned. In 2022 the winning online marketing strategy is the one that spawns a chain of reactions, rather than just an epic, blockbuster moment. The campaign perfectly explains how to generate self-sustaining conversations on social media.
On the other hand, the disruptive-creative dialectic is now expected by the public. Also, such marketing of outrage can be hard to replicate every single time.
"The challenge of always breaking new ground is you gotta keep on doing it. It's increasingly a harder game"

Allen Adamson, co-founder of Metaforce marketing agency.
Only time will tell whether Demna will keep shocking us. The point of the matter is that despite the campaign being meant to drive online discourse, it ultimately drove the Paris Sneakers sales as well.
You're smart enough to know that just talking won't save you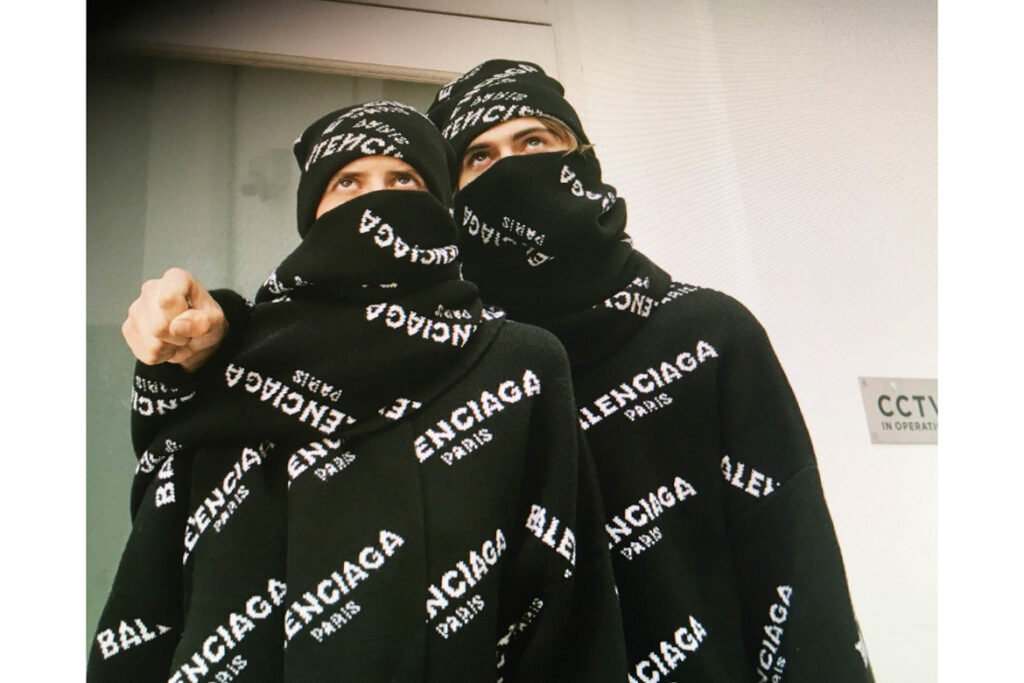 Demna is overthrowing any luxury game and rule; if it is annoying for most, it is somehow also genial!
Critics have focused on the mere marketing move, lambasting Balenciaga for selling trashy sneakers at an incredible price point: in other words, Balenciaga is literally fetishizing poverty.
And again, that was pretty much the point. Oh come on, you didn't really think that Demna just woke up a morning and decided to sell the torn-up Converse that his mum begged him to throw away? Aren't you burning to know what the hell is the meaning behind such aesthetics?
What is that? A troll or conceptual, heavily-applied art? The answer lies somewhere in between.
It isn't the first time that Demna takes inspiration from the working class and pop culture: Homer Simpson just went viral in an iconic Balenciaga red bomber, for instance. But in the case of Paris Sneakers, it seems that the boundary has been pushed a step further.
Hold that thought for a moment, and let us jump onto another story for a second.
In 1917 art critique was taken by storm by a new installation: it wasn't showcased in any museum, but its picture made a lot of noise, letting people question whether it was art or not. This artwork was a urinal; the last Duchamp inspiration, signed with the fake name of R. Mutti. The name itself was a provocation: Mutti was the urinal supplier's name, and R stands for 'Richard', literally meaning 'Rich'. In an interview in 1964, Duchamp declared that he chose specifically a urinal because it had the least chance of being liked by the public.
The provocation was to leave behind any practical reasoning to bring attention to the pure interpretation.
Now back to the Balenciaga issue. Does it sound familiar?
And here comes the Expensive!
Demna has moved on from dirty, overused sneakers, to presenting his Spring 2023 Collection. On the 22nd of May, in an epic collab with Adidas, BDSM Balenciaga models and mutated tailoring hit 11 Wall Street in New York. And there's no randomness to the location choice.
The point was likely to twist the contemporary temple of capitalism, calling into question the anxiety surrounding Stonks – as kids name financial Stocks – and the broader culture around the God of Money.
"Money is the biggest fetish in the world" stated the designer… Who is clearly in New York to make money.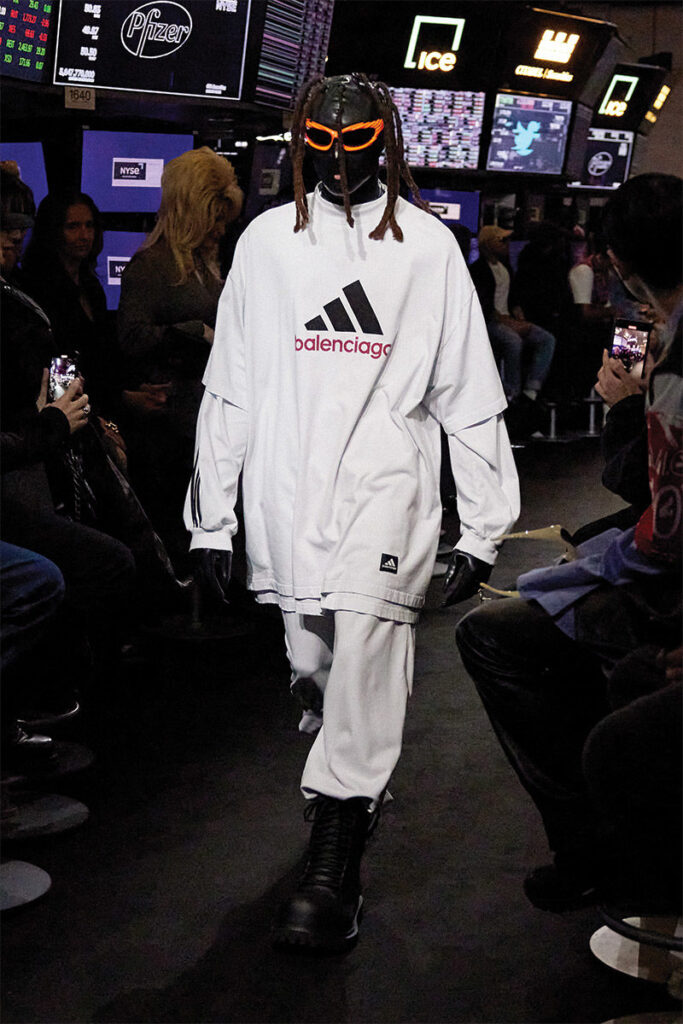 Again, Demna enjoys subverting any card on the table. And while his critique yells black latex masks and exaggerated breaths contrasted with the clickety-clack of the stocks on the screens. On the other hand, real money is already flowing through the wrinkles of the latest, expensive collection.
A new slap in the face for any Balenciaga follower: Demna is destroying to create another controversial statement.
But why this extreme coverage obsession, and how does it relate to the recent Balenciaga Paris Sneakers?
"Fashion is kind of erasing the identity of people today (…) Also, for me clothing is an object of fetish. This is why I do it. This is why I do it. There was a link between fetish and also money being the biggest fetish in the world. That's why we're here today."

Demna
So now, what would be the difference between buying a thousand-dollars, unwearable but beautiful couture piece…. And a fully destroyed, unwearable pair of sneakers?
None.
Hard to swallow, I know, but there's no difference. No matter if it's luxury or poverty, what we are witnessing here is a provocatory, genial art of fetishizing.
So, just to answer the viral tweet "Why is poverty now an aesthetic for rich people?"
It's not poverty; it's the culture surrounding the working class that is an aesthetic for rich people. For a while now, Dadaism would comment.