LASTFRAME is a fashion Brand founded by the Japanese designer Takanohiro Okude.
The firm's journey began when the designer visited a small silk weaving shop in his hometown of Ishikawa. Okude was fascinated by the making process of the products, they used a technique that was used in the past for the creation of kimonos. The Japanese designer became enraptured when he saw the stunning handmade fabrics that the small shop used, since few people do it in Japan in these times.
LASTFRAME was founded in 2018, with the intention of exploring the traditional crafts and techniques of Japan. Takanohiro also spent many years traveling in Europe and the United States. Through meeting people from the industry and assisting to Fashion Weeks, he realized that people from abroad loved Japan, and that he was not as knowledgable as he would have liked on matters involving his very own country, so he decided to do something about that.
And so, LASTFRAME was born, celebrating traditional Japanese craftsmanship, and moving away from trend-focused fashion. The designer wanted to give visibility to Japanese fashion and tailoring skills, as these had become less and less prominent year after year.
LASTFRAME is a brand that is exclusively dedicated to accessories, mainly working with materials such as silk or knitwear. Among the LASTFRAME designs, the 'market bags' stand out, as they have achieved a great market position and sell out at the speed of light at distributors such as Matches.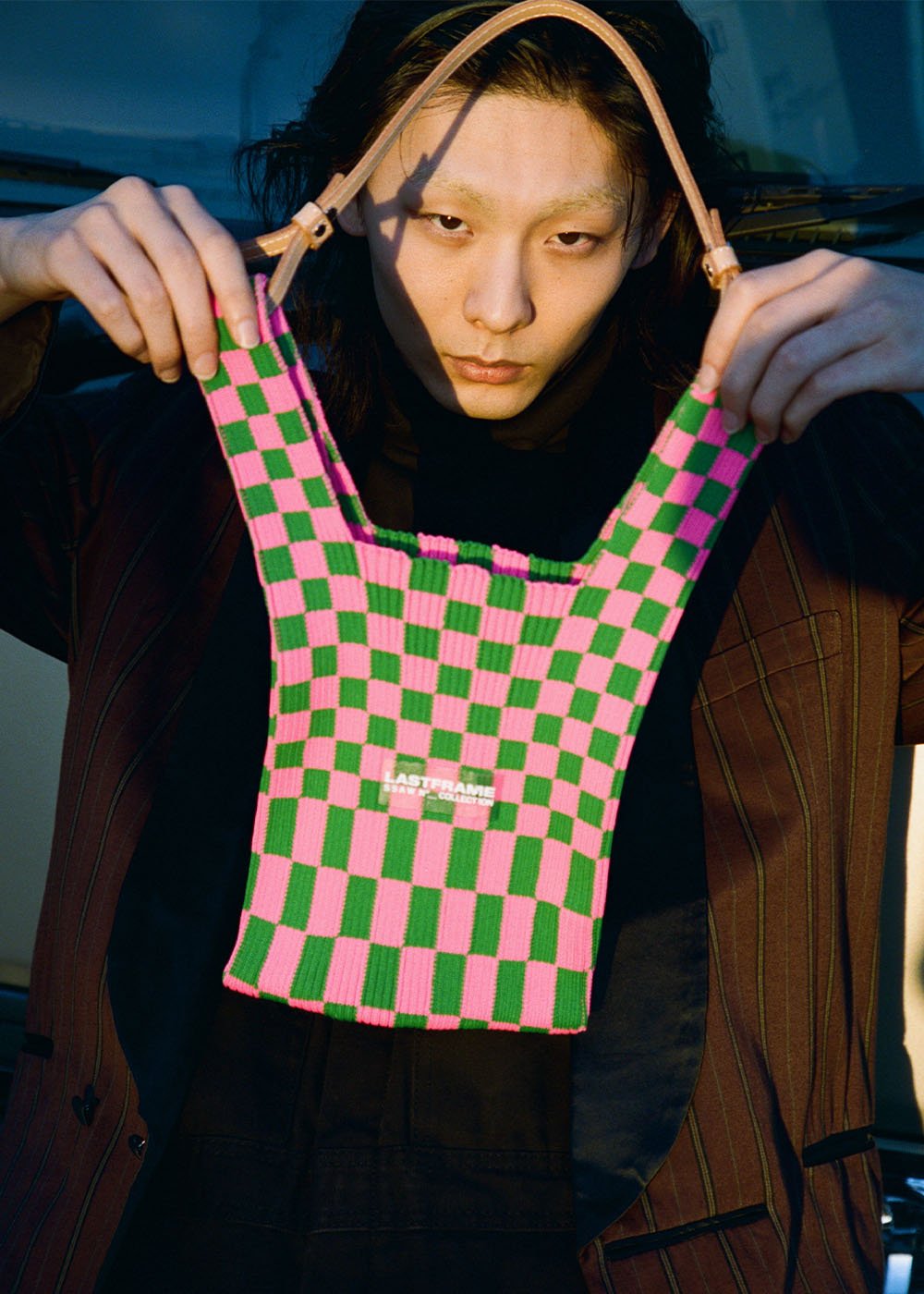 These bags are famous for their fabric and color pattern combination. 'The market bags' are made with traditional Japanese sewing machines that achieve an elastic and comfortable texture.
The designs are inspired by the Japanese origin, the 'Ichimatsu' checked pattern that originated in the Kabuki theatrical costumes of the "Edo period". Other world-renowned brands that work with Japanese firms such as Comme de Garçons and Issey Miyake have been known to use these materials.
LASTFRAME's una designs aim to focus on longevity, as means of breaking the cycle of trends constantly changing in the fashion industry. The quality of the fabric seconds that motion, and customers are assured to buy a piece with a long lifespan.
Okude wants to reflect the rich Japanese craft history, and create products which aren't bound within the limits of trends or seasons, products which are simply meant to be enjoyed, pure fun.