What did you do last Thursday?
I don't know what you did last Thursday, but as far as what we were up to… We were at London Fashion Film Festival, and it was definitely the place to be.
On Thursday, September 15th we had the pleasure of attending the London Fashion Film Festival, a unique experience in the fashion and film industry. At the festival, we enjoyed a variety of unique short films from directors and filmmakers from around the world who gathered at the Regent's Street Cinema to celebrate the art of Fashion cinema.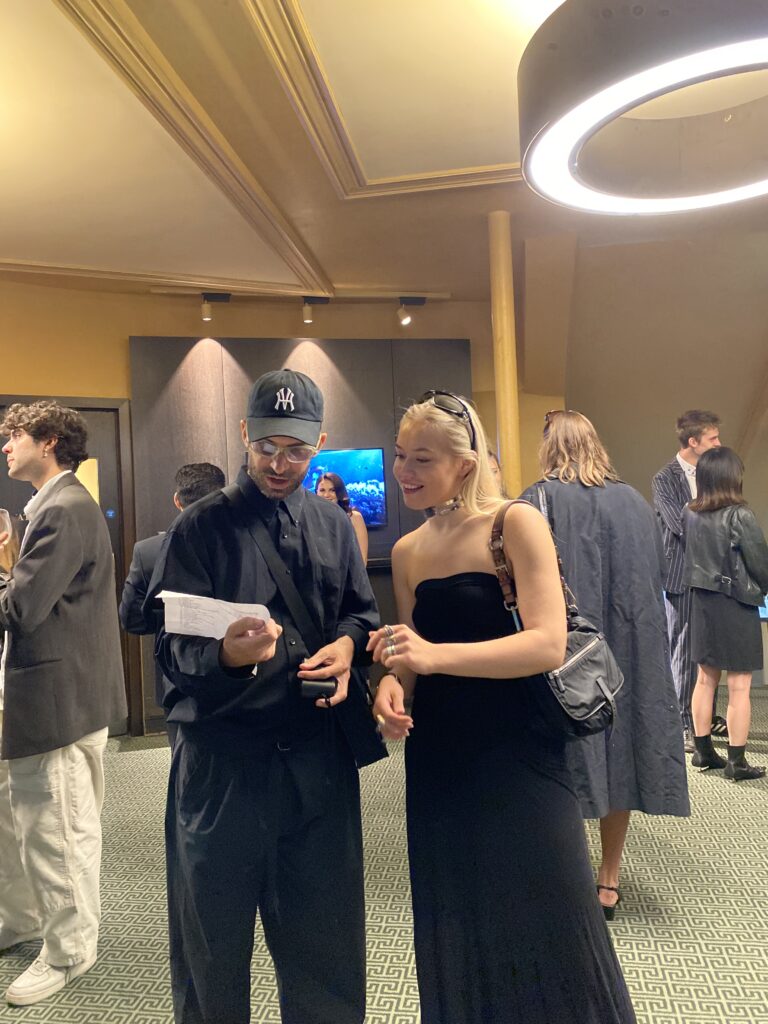 In its 9th edition, the London Fashion Film Festival had numerous participants from different backgrounds and parts of the world who had a message to convey to the public. From haute couture films, to Street Fashion, volumes, textures, and colours, a visually enriching evening for sure! We delved into stories that explored many themes: From the uncertainty of the lockdown to the need for primitive freedom and the transience of life. The event was even attended by some notable figures in the film industry such as Scarlet Johanson and Olivia Wilde.
How did the London Fashion Film Festival begin in the first place?
The festival was inaugurated in 2013 by a series of experts from around the world of fashion and film. The festival's inception took place under the direction and coordination of President and Director Beatrice Bloom, who is responsible for making each edition stand out and shine in its own light.
Over the last 9 years, the London Fashion film festival has grown in popularity and presence, increasingly attracting participants each year. Participants are made up of professionals such as filmmakers, designers, creative directors and fashion brands that join forces each year to celebrate art.
Among the winners, there were names that notably resonated throughout the gala, predominantly that of Italian director Marco Celotti for his film "La scatola Magica- Nike AirMax". The film consisted of a short advertisement for a new Nike Airmax shoe. It depicted a group of young boys from a beach town playing football. The story follows the main character, Christian, as he plays football with his friends while absentmindedly leaving his new Nike Airmax behind, much to the dismay of his mother.
The film is a comic satire with a very artistic and characteristic Italian flavor. What's not to like there?
I dug into my past, I thought about the place where I was born and where I grew up and its habits: playing football on the beach, "bocce" game, the community of young and old people, an angry mother…

Marco Celotti for The Next Cartel
Marco received 4 nominations for Best Director, Best Advertisement, Best Children's Fashion Film, and Best Actor. Not too shabby huh? The Italian talent eventually took home the award for Best Children's Fashion Film.
In addition, we had the pleasure of chatting with the Director and President of the London Fashion Film Festival where she gave us an insight into her vision of the event and its evolution through the years.
In Conversation with Beatrice Bloom
This year is the 9th Edition of the London Fashion Film Festival. But how did it all start? What was the inspiration behind its birth and its continued growth? What are the main objectives of the Festival?
The Festival was set up in 2013 by professionals from within the film and fashion industries to provide an opportunity to bring together the best and brightest of both industries and to showcase creative talent, both locally and overseas.
Working with up-and-coming filmmakers and artists as well as industry professionals, we were inspired and determined to have a festival aimed at appreciating, supporting, and recognizing the talents of filmmakers as well as designers and other talents.
Participating in the festival is an opportunity to enjoy and celebrate fashion in film and get together with likeminded individuals for a fantastic programme of events. The London Fashion Film Festival is about combining the arts of fashion and film and looking at the two mediums in a new way, making it accessible to everyone. While not everyone can attend a catwalk show or an exclusive launch party, everyone can certainly watch a fashion film.
Fashion films also promote fashion in a new way – showing the movement of a garment, how it wears, and things that you do not necessarily see on the catwalk or in a photograph.
Today, representing fashion means going beyond mere garment aesthetics and needs to deepen the cultural and social engines that power the whole system. Which ethics and politics do the LFFF reward in a film?
We evaluate the films based on the criteria of
Creativity.
Style.
Impact.
Sustainability.
The story and the message behind the film.
Fashion Film Festivals have found their fortune in many fashion capitals, planned in parallel with locally held Fashion Weeks. What are the unique features that define the London edition?
The London Fashion film festival is one of the pioneering festivals dedicated to Fashion and Film, and I'm glad we could inspire so many people to continue this important work. At The London Fashion Film Festival, we evaluate films fairly and professionally.
From big brands to emerging professionals and student productions, the LFFF is giving the chance to everyone to express themselves. What does such diversity mean in the fashion industry?
The fashion and film industries are very competitive, big labels and famous artists are more likely to dominate, and the London Fashion Film Festival is a place to grow and recognize filmmaker's talents and broadcast it to others, as well as support the filmmaker and awarding them for their unique talent and creativity. This support will help upcoming artists to be recognized and appreciated. In this way, they will be able to compete with major brands.
Fashion Film nowadays is a genre in itself but how does it differ from other cinematographic production?
In Fashion films, the filmmakers have more freedom to express their ideas and the beauty and imagery of fashion. It allows the filmmaker to show the story in an artistic way and is less restrictive. Fashion film promotes fashion and its an experimental mixture of art and commerce. All the elements of the film, from story to colour grading, serve a purpose. These talented people need to be very creative as the influences of fashion change rapidly along with storytelling trends.
From Hollywood to contemporary art, pop culture or social media influences… Over the decades this symbiotic relationship has changed and evolved. What do you think is affecting it and what matters now for the fashion film world?
I believe social media influence has brought so many new ideas and techniques to the way that videos are made. Filmmakers used to believe that for a short video they need a big budget and grand equipment but now everyone knows that with a smartphone and a story, you can make a short video that can be viewed by millions. Therefore, new artists are beginning to explore their passion for making films. The fashion film world has grown into a large community, not only for major labels but in promoting upcoming designers and filmmakers, students, and artists.
One of the award categories is 2D & 3D animation. Do you think that digital fashion and the rise of the concept of Metaverse have had an effect on this specific production?
I am personally very positive and have a great enthusiasm for Metaverse fashion. I believe it will increase the number of fashion films and fashion filmmakers for several reasons. First of all, it's sustainable. Second, artists enjoy more freedom. Sometimes a designer will want to make a garment, not to be worn, but to show the beauty of it. The digital platform allows them to work more freely creating things like a garment with floating tails and veils that defy the rules of physics. Fashion film is a medium and it's not only about filming a physical item that already exists, but can also be about the idea of an accessory or a garment that hasn't been made yet. Animation/metaverse creates this beauty.