The sneaker industry is simply massive. It's worth around 80 billion US dollars globally, and it is projected to reach over 100 billion USD worth by 2025. The consumption generated by this sector of the fashion industry is astounding, and while this translates into fascinating innovation and design advances, it unfortunately also entails considerable environmental damage.
Now one can't be so naive so as to believe that this colossal industry will simply cease to exist because of the negative impact its byproducts bring about on the world. We're not saying this simply because of the considerable amount of revenue it generates annually, although it is a significant factor. Rather, what we're trying to say is that one can't overlook the fact that for much of its audience, sneakers are a matter of passion. From those who collect them, to those who explore and challenge their functionality, to those who traverse their journey into the artistic expression of the self, sneakers have a grasp on society that isn't going anywhere.
What we can do, however, is transform this industry to minimise its negative impact and continue to spread awareness on the matter. So worry not, if you're a hype beast yourself, but you're also environmentally conscious, we've got you.
Being the sneakerheads that we are, we have made a short selection of some of the sneakers which we are currently in love with, which also happens to be steering the sneaker world in the right direction. So here are our picks for the sneakers that are helping make the world a better place.
Roland V.5 White Black Cream by Flamingos Life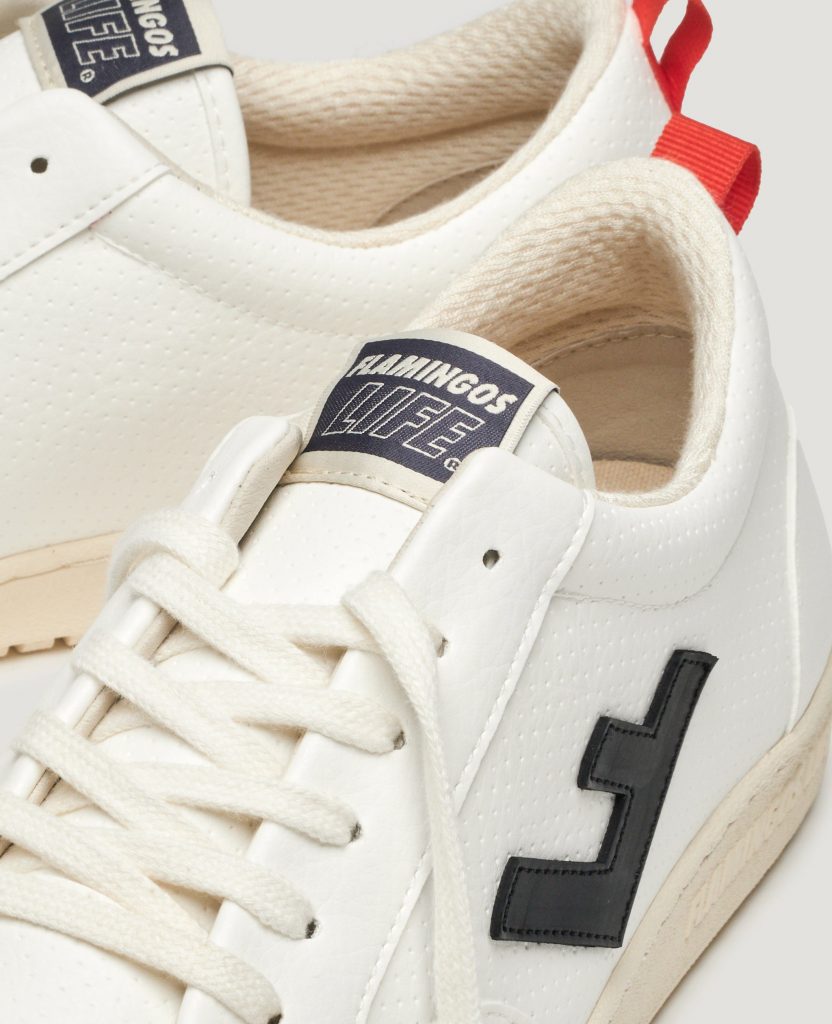 Source: Flamingos Life
Flamingos Life prides itself in its 100% vegan sneakers. Ever since 2015, this Spanish footwear label has been using its company as a platform to tackle the global ecological crisis via veganism. Their design and production processes aim to reduce greenhouse gas emissions as well as their water footprint. Flamingos Life's goal is to make biodegradable sneakers, and something we're particularly fond of is the fact that they keep all aspects of production local, in Elche, Spain. Moreover, every sneaker is partnered with social and/or environmental initiatives, meaning that when you buy a particular model, you are collaborating with an organisation too.
The Roland V.5 While Black Cream model caught out attention with its red tip shoelaces. Its sleek classic design makes it a perfect basic to have in your closet. A great way to dress up, while keeping it fresh and comfortable. This particular model is made out of corn waste and bamboo. By buying the Roland V.5 White Black Cream, you are collaborating with the NGO 'Waste Free Oceans' efforts in collecting 1kg of plastic from the ocean.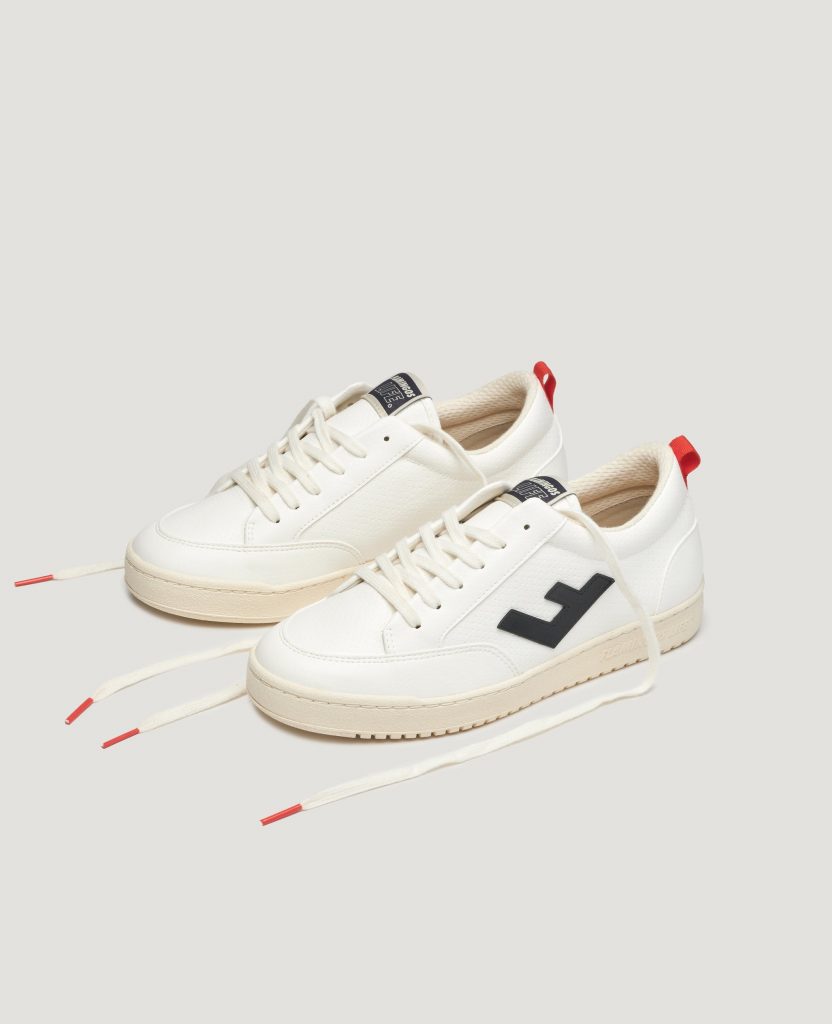 Source: Flamingos Life
Founded on the pillars of veganism and transparency, Flamingos Life offers a very clear view of how they work, so that the consumer can appreciate that it's not a marketing stunt at all, it is in fact, a philosophy to live by.
Venturi Ripstop by VEJA X Èmir Shiro
                                                                                             Source: VEJA
VEJA knows that sneakers are the symbol of our generation. Nevertheless, they are very aware that social responsibility nowadays is of the utmost importance. For this reason, they have decided to combine both of these worlds to create the wonderful universe that is VEJA. Ever since its inception in 2005, VEJA has worked with organic cotton and sustainably obtained rubber, dealing directly with the farmers and ensuring both favourable working conditions and paying for materials at twice the market price. On top of that, they only work with production processes that respect the environment.
The Venturi Ripstop sneaker is the result of a collaboration between VEJA and french artist Èmir Shiro. Its design is quite frankly enthralling, and we're loving the Babe-Black bicolour patchwork. Sleek, innovative, simple yet exciting. We're also very keen on the complete breakdown of all materials used, most of which are either eco-friendly and/or sustainable.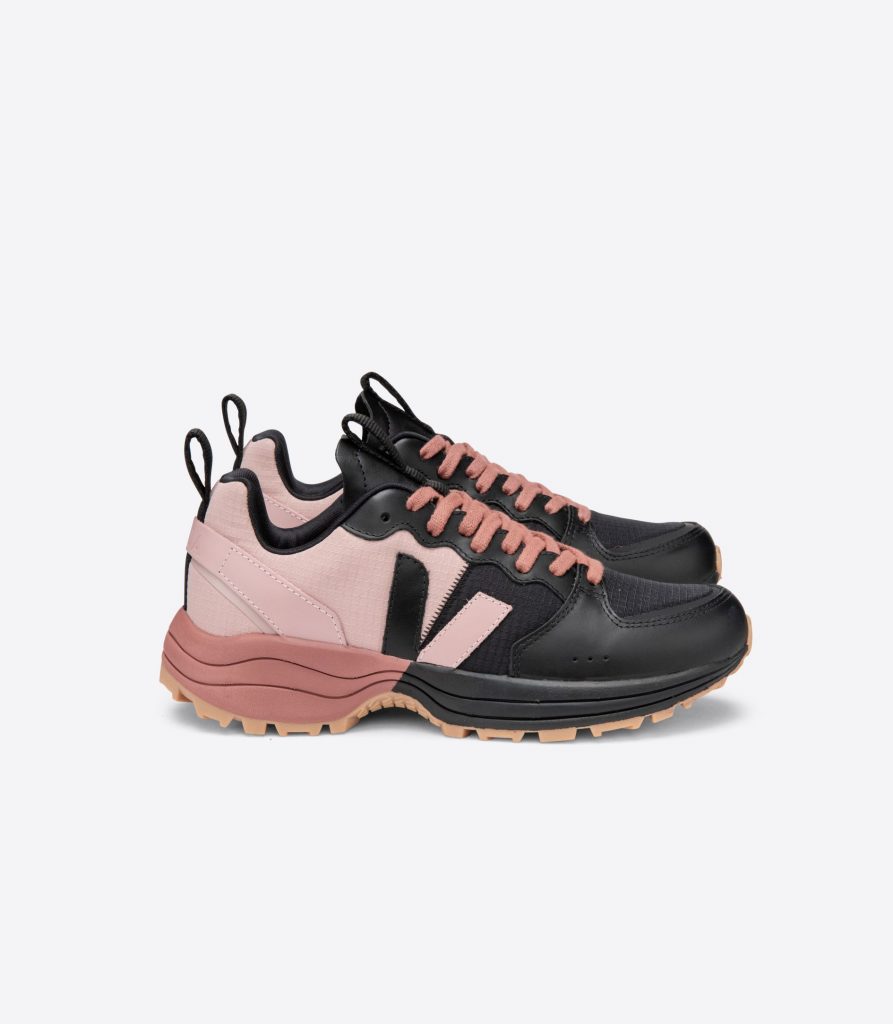 Source: VEJA
Much like Flamingos Life, VEJA has a 100% transparency policy, which makes it pretty hard not to trust and love.
Serpent by Joey Khamis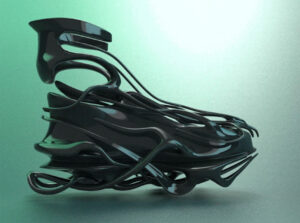 Now, this is one of the fantastic things about virtual fashion, material waste dies, yet the hype lives on. Not to mention the passion and excitement for design and innovation.
Freelance designer Joey Khamis has made quite its mark in the NFT and digital fashion realm. His collection 'Gravity Footwear' is simply magical, mouth-watering even.
Although we are practically enamoured with the entire collection, we simply adore how the 'Serpent' is the perfect iteration of your future basic black shoe, a must-have for anyone and everyone.