TNC family, it's been a while but our trusty writer Thomason Metselaar is back. On Friday, March 25th we were invited to the CRUÈL FW22 Runway Show, and Thomason, now our Amsterdam Rep went to show the crew some love.
So how did it go?
This runway show was the 7th show CRUÈL has held and this time around it was in Zaandam, for those who don't know it, it is located 20 mins outside of Amsterdam, in De Patronage. The collection was named 'AN ASSANCE OF IMMODERATE ARDOUR' but we'll to that in a minute. What was exciting in advance of the show was how our guy Will shared that it was going to be a different kind of runway show, giving us spectators a full performance experience.
Now, I can already hear you guys wonder – how does one plan on changing the form of a typical, old fashioned runway? To explain this in the easiest way possible, the models came out one by one and took a stance in rows of four. Here we could see four different looks and pieces, allowing the audience to compare and have a more in-depth look of the looks. Following that, more rows would come along and eventually, it became a group of 4×5 with some additional models in the back. So we would be looking at 20 different looks – but we could not see them all at the same time.
Things started getting interesting when the models would rotate and give a 360 of the items, to the beat of the music. Still, if you were standing in the front, you could not see the items in the back as well. So, one by one the models started walking towards the back of the line and the models standing behind them would move forward. By doing so, all spectators could get a good long look at all the items, allowing them to compare and appreciate the details in every piece.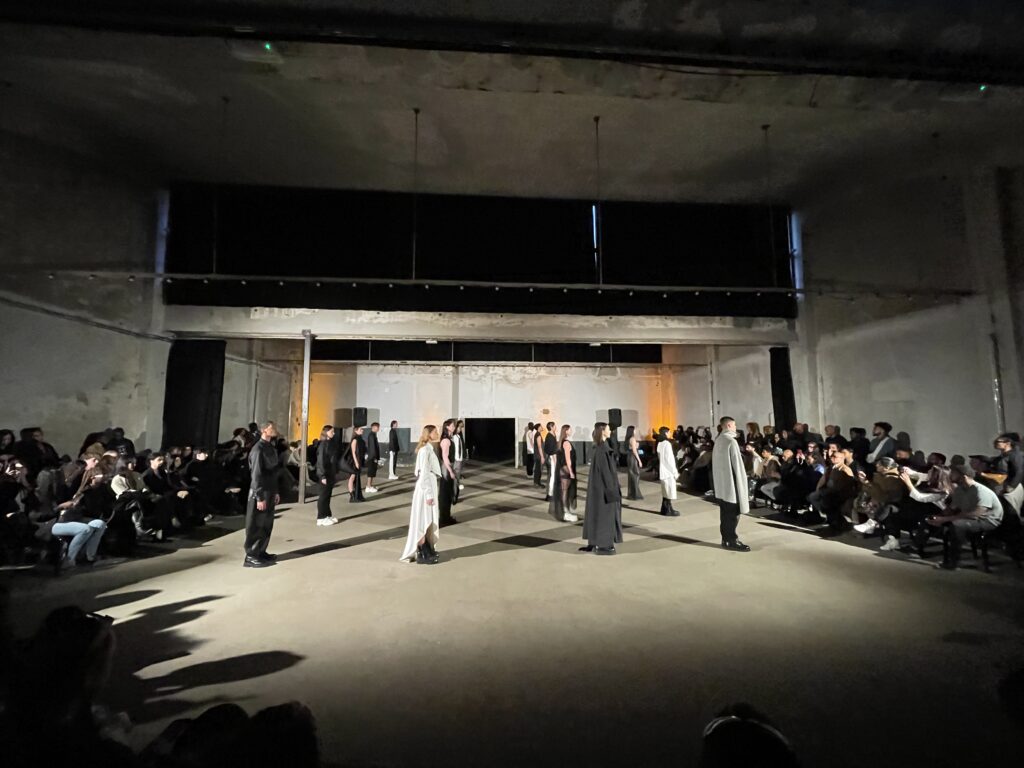 Now, let's to the question on everybody's mind… How was the collection?
Back in September 2021, we visited CRUÈL's showroom in the heart of Amsterdam and checked out the collection. During this show, we've appreciated the recurrence of some of the best pieces we saw back in September as well as some new, very impressive pieces. If Thomason had to choose one piece which really stood out, it would be the half pleated, half straight drape skirt. Absolutely fire.
Currently, William is chasing his dream in LA, trying to push his vision forth out there. We want to wish him all the luck and we're looking forward to seeing what he's got in store for us in the future.