The first time I got a sense of the scale of China's streetwear culture was through Tik Tok. It was the start of summer last year when my For You Page began filling up with compilations of impossibly fashionable people walking through the busy streets of Shanghai and Beijing. As they stroll through the streets – in impossible slow motion- most of them glance directly towards you, as if anticipating your entranced stare from the other end of the camera.
The clips feature outfits ranging from beautifully tailored, understated black fits to flashy looks from major luxury labels. While the videos give the sense of completely candid interactions between muse and opportunistic videographer, many of the subjects are actually models and influencers who are in on the action.
Source: Angel Chen
While it's hard to pin down the style exactly, looks often feature fusions between Western, urban culture and ancient Chinese elements. Gender codes are rarely strictly adhered to.
China has seen an unequivocal rise in the popularity of streetwear. This is put down to hugely influential reality TV stars, collabs with major luxury brands and social media platforms such as Weibo and Douyin.
Influencers, or Key Opinion Leaders in China, sign deals with major streetwear brands – such as Kris Wu for Supreme- as well as taking to social media to promote lesser-known, Chinese streetwear brands. So far, there seem to be few differences from the Western model.
Source: Li-Ning
However, with a $33 billion sportswear market and 415 million millennials (Goldman's Sachs), the Chinese market is increasingly becoming the envy of Western brands. To put it into perspective, there are around 72.1 million millennials in the USA and a mere 14.2 million in the UK.
Shangguan Zhe, founder of popular Chinese streetwear label Sankuanz, comments that, "with the support of a huge market, all kinds of possibilities and opportunities lie [ahead]" for Chinese streetwear.
Does the Popularity of Street-Style and Hip-Hop in China Suggest an Anti-Authority Sentiment?
This "maturation phase" for Chinese streetwear has been linked to the anti-establishment associations of street-style and its Hip-Hop influence (Heuritech).
Reality shows like 'The New Rap of China' influence the streetwear frenzy. They feature leading Chinese celebrities and contestants dressed in major (mostly American) streetwear brands.
Source: Sankuanz
The fusion of hip-hop and street-style seen on Chinese Reality TV has been credited with "defying authority and censorship". But despite hip-hop's deep-rooted links with an 'anti-authority' sentiment, the show cannot be assumed to represent an anti-establishment framework.
This is for two reasons. Firstly, with large conglomerates sponsoring the show (such as McDonald's), it "undermines hip-hop's roots in resistance against profit-making influences" (Karen Lu, Yale University).
Additionally, the show remains highly censored. Due to a blanket ban on hip-hop by Chinese administration, the show is forced to "justify" rap to their audience and present a 'reformed' version of hip-hop.
But, this show and the influence of censorship cannot be taken as representative of Chinese, urban culture and what streetwear means to people in China.
Almost half of Chinese respondents in the 2019 Streetwear Impact Report indicated that they see streetwear as a political statement.
Street-style undoubtedly dominates the market in China. And, increasingly, Chinese streetwear designers are becoming influential in the global market.
Source: Sankuanz
Chinese Streetwear Designers: A Global Influence
As well as expanding representation across international fashion weeks, Chinese streetwear designers increasingly receive and are shortlisted for international awards.
Angel Chen was shortlisted for the International Woolmark Prize 2018/19. Her street-meets-elegant' garments bring "traditional Chinese elements to a more contemporary aesthetic" (she told L'Officiel).
It's not uncommon for Chinese designers to feature ancient influences such as references to Taoism and influences from Imperial China. In May last year, Angel released a dynamic capsule collection of eight sneakers with Adidas Originals.
Shangguan Zhe brings a 'post-apocalyptic' aesthetic to his streetwear fashion. The Sankuanz AW21 show revolved around a world in which disorder and chaos have become the norm. Spiky, intrusive garments tease the suggest self-punishment as a reaction to the pandemic; "to offset sorrow with sorrow".
Source: Sankuanz
If you don't mind being poked with metal spikes all over your body, I would recommend investing in these visionary pieces.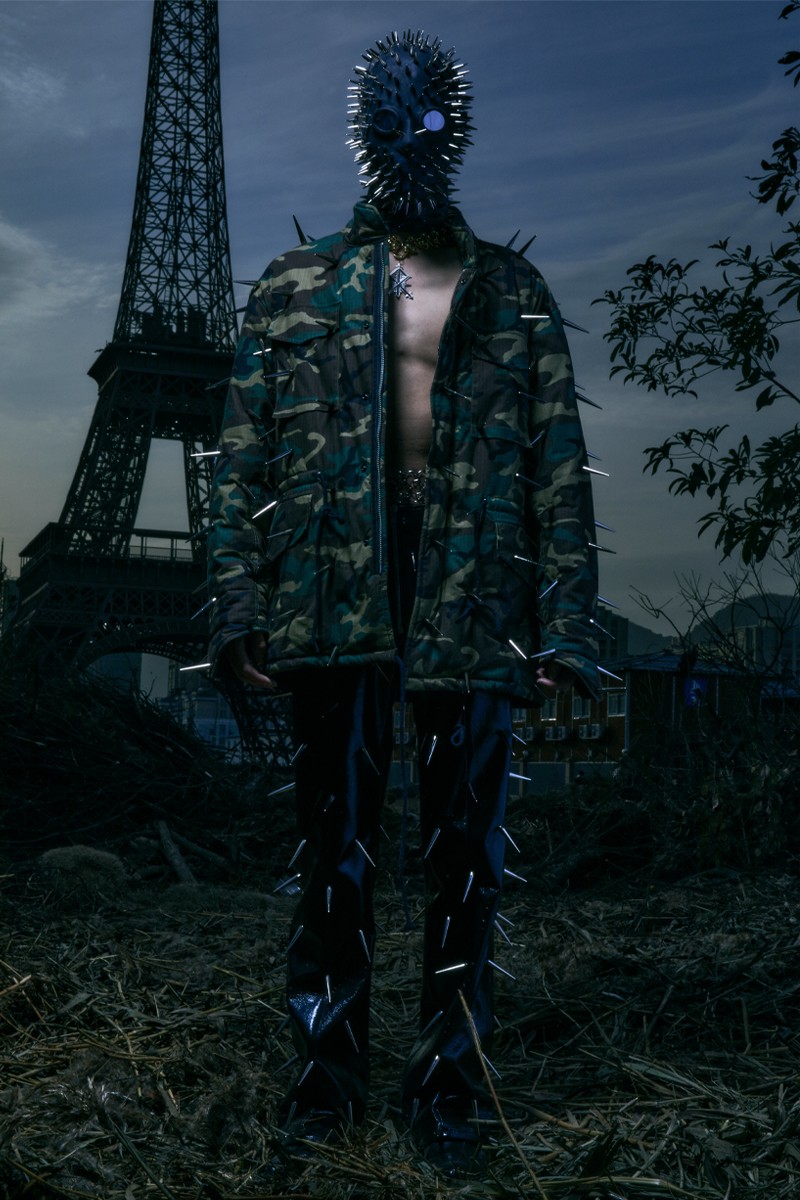 Source: Sankuanz
Like many emerging designers, Zhe teamed up with a major sportswear brand, in this case releasing sneakers with Puma, which gave the brand attention from "many consumers of the big market".
Looking forward, he is excited for the rapidly growing streetwear influence from China with "its own rules and systems." The designer stays cautious, however, warning it's "as much an opportunity as a risk for designers."