The concept of fakes has been around forever, or at least, for as long as we know. This goes for anything. Clothing, electronics, movies, you name it.
There isn't anything we can really do against it, except for being cautious and double checking whether or not they're legit. And the scary part for us consumers is, the fakes are getting so much better that even professional legit checkers can't get it right all the time.
But when it comes to sneakers, it's a whole different story.

Source: Straatosphere
As most sneakerheads know, fakes are a problem and as mentioned above, it's getting damn near impossible to see whether or not the R and the D are aligning on your Jordan 1 wings logo, or if the stitching is off. Or if the tongue on your Jordan 4's is too short or too long. And don't even mention the smell. There are a lot of dead giveaways but these seem to be vanishing with replica companies improving so much.
But that is just 1 side of the spectrum in regards to fake sneakers. These are intentionally made to fool the consumers.
Bootleg sneakers on the other hand, these are made with the intention to take elements from a brand's well-known designs and mold them into something different.
This topic came to light when in December, famous Nike Bootlegger Warren Lotas and Nike reached a settlement after they sued him for creating "illegal fakes". The sneakers were modeled after the famous Nike Dunks. If this didn't happen, according to Highsnobiety, the sneakers could have earned him over 10 million dollars.

Source: Complex
But it's not the first time it happens. Actually, it happens way more than you think it does. But only some of them are influential bootlegs.
Probably one of the most famous bootlegs would be the Bapesta's, designed by Nigo in 2002. They took clear inspiration off the Air Force 1's. But the reason they were so loved by the public, is due to them being unique in colorways and materials. Something that Nike simply wasn't offering at the time. They sold for 200 dollars and later on even would go on to get collaborations with a young Kanye West and others.

Source: GQ
Ari Menthol 10 is another pair that was also inspired off the Air Force 1. The silhouette took the recognizable sneaker and flipped its Swoosh to look like the spinnaker logo used on Menthol cigarette packs. Just like the Warren Lotas, the artist Ari Forman was sued and eventually it ended up into a settlement where Forman was not allowed to own a pair or even a picture and also not talk about them publicly.

Source: nssmag
More recently, a brand called Fugazi came into the mix with their bootleg version of the classic Air Jordan 1; "One in The Chamber ". Designed by Trevor Gorji, the sneaker has a lot of detail. Paisley print on the heel, toe box with bullet holes, bullet-style laces and to top all of it off, the Nike Swoosh has been replaced with an upside down revolver.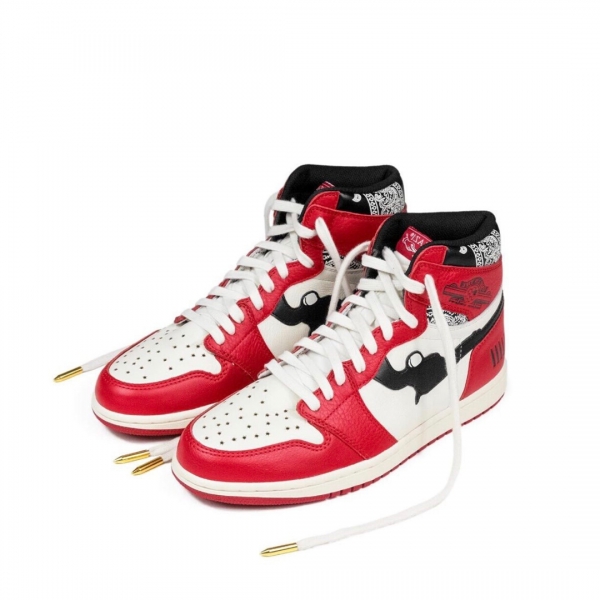 Source: hype clothinga
As this is a bit of a controversial topic amongst sneakerheads, how do you feel about these bootleg sneakers? Are you feeling it? Would you cop or drop? Let us know on our Instagram!