The fashion industry is a melting pot for culture, perspectives, creativity, and innovation. It is one thing to be a part of it, and another to influence it enough for it to change. We're here for the latter.
That is exactly what Japanese footwear label SUICOKE has done. SUICOKE has taken one of the most undermined items in fashion, sandals, and catapulted them to the highest level of the industry. One might go as far as saying that not only were sandals undermined, they were repudiated even. They were the polar opposite of high fashion.
Now, sandals can be seen gracing the catwalks of Milan, Paris, New York, London, Tokyo, and many more.
Following the success of SUICOKE's FW21 Slip Sandal drop in collaboration with The Elder Statesman, we simply had to sit down for a chat with this ground-breaking, forward-thinking brand, and find out more about what made SUICOKE the international fashion reference that it is today.
Why Sandals? What drew you to focus on this particular type of item in Fashion?
Suicoke didn't start with sandals, we started with a Matrioska doll.
Then we moved into sandals because in Japan they are a key item to wear in every season, we think Sandals are very interesting and most peculiar design objects. What are sandals? Sandals are a "clothing archetype" deeply rooted in the tradition and can be found in different cultures, like that of ancient Greece for example.  Suicoke's very Japanese attitude to design consists in approaching the typology of the sandals and updating this archetype/Uniform in the light of the new technical possibilities and always having in mind the needs of style, functionality and comfort.  Suicoke is a sandal – therefore something "ancient" / almost meta-historical – but it has a technical sole as Vibram, which is the state of the art for soles.

Photos Courtesy of SUICOKE
In what sense are you a 'cult Japanese brand'?
We don't consider ourselves a cult brand, we are happy with what we've achieved so far, we removed the sandal dogma in fashion and thanks to brands like us, it is very common to find sandals on the catwalks.
We are a deeply Japanese Brand with a truly loyal community. The constant reference to the tradition, combined with the capability of reinterpreting this tradition in a way that is both contemporary and "past-conscious", is certainly a "defying trait" of the Japanese culture – and also an important part of the Suicoke world. Japanese culture is often about taking an object that belongs to their tradition and "re-thinking " it in order to translate it into a contemporary reality and style, always with a deep respect for its heritage.
Where did the name SUICOKE come from?
We like to keep the origin and the etymology of our brand name shredded in mystery. So, I would rather respond to this question by using our claim, which still rings true and best presents what we do. It reads "Suicoke, inviting atmosphere to wear comfortable products". Being a Japanese brand, you can also say our claim is a form of Haiku.
Nature, and outdoor landscapes, seem to be very present in your lookbooks. What role do nature and the outdoors play as far as inspiration and design process goes?
When it comes to creating our lookbooks, campaigns, and to imagery in general, we always try to let nature play a key role. We display our collections using landscapes not just as a backdrop but also as "co-lead actors" of the images to stress our connection with nature. It is an ongoing project and for every collection, we choose a different landscape, recreating an ideal trip around the world. Also, for our more "classical" lookbooks with models and styling, nature is involved. For AW21 for example we asked Stefanie Moshammer to shoot on location in the Austrian Alps.
What do you think makes your product stand out from the rest in an industry that is full of innovative and interesting alternatives?
I see Suicoke and its success as part of the all-pervading influence of Japanese culture on Western Culture, which goes beyond fashion and embraces all forms of expression.  The roots of the actual minimalism are to be found in the Japanese "amor vacui" as opposed to the horror vacui which has defined the occidental culture. And since Van Gogh fell in love with Japanese prints and Frank Lloyd Wright discovered Japanese architecture, the occidental aesthetic has never been the same; not to mention the impact of the big three (CDG, Yamamoto and Miyake) on fashion, after they showed in Paris in the early 80s. So, we could say we live in a Japan-driven aesthetic paradigm and the success of Suicoke is another example of that.
What role does sustainability play in SUICOKE?
We have recently started doing the first important steps in this direction. I give you an example. The capsule with Marsèll was mounted onto a rubber sole made from a mix of recycled materials from old models and no longer used models that are ground down and reassembled together. Another important one is from SS22, we will have our 2 iconic shapes (MOTO and DEPA) with recycled nylon, neoprene and sole.
And this is only the beginning, we only have one planet and we need to do as much as we can.
You have a lot of collaborations generally speaking. Do you consider this has helped you grow and solidify yourself as a brand in the industry, or would you say it's the other way around, you first became a household name and then the collaborations came?
Definitely, collaborations gave us a fundamental foundation to grow as a brand, in terms of brand awareness collaborations are truly important but are not the only thing. We had many moments where the right person at the right time was wearing our sandals, and this also pushed us more into a new direction.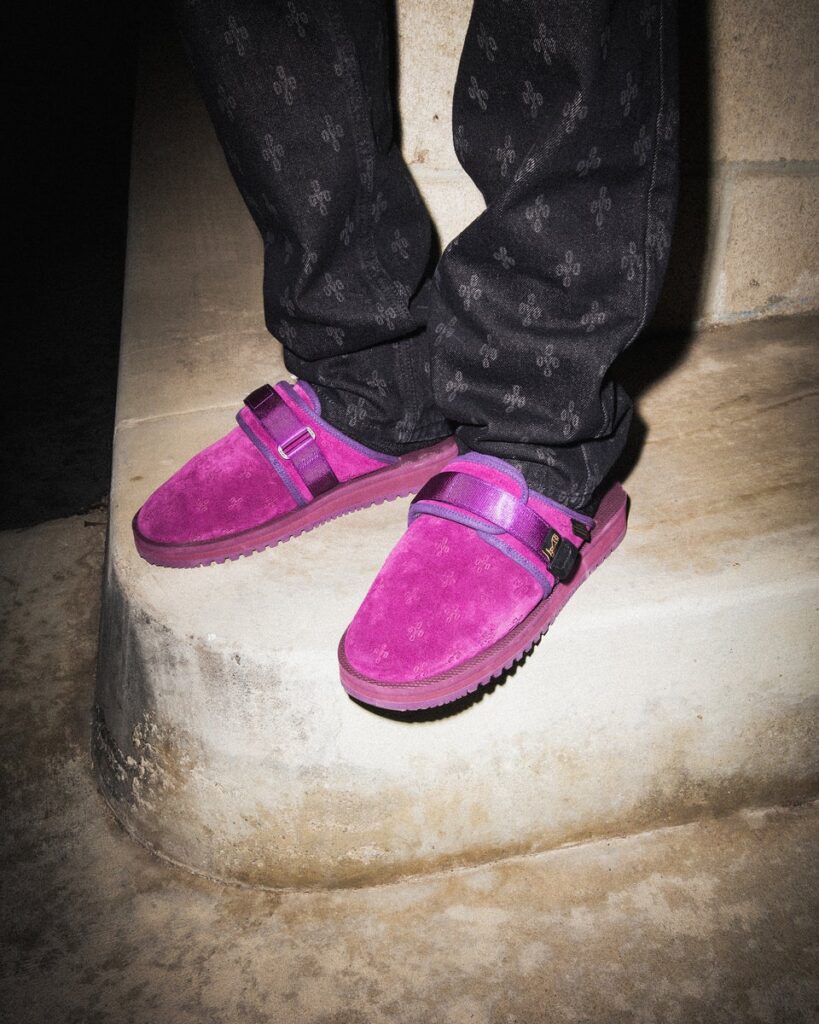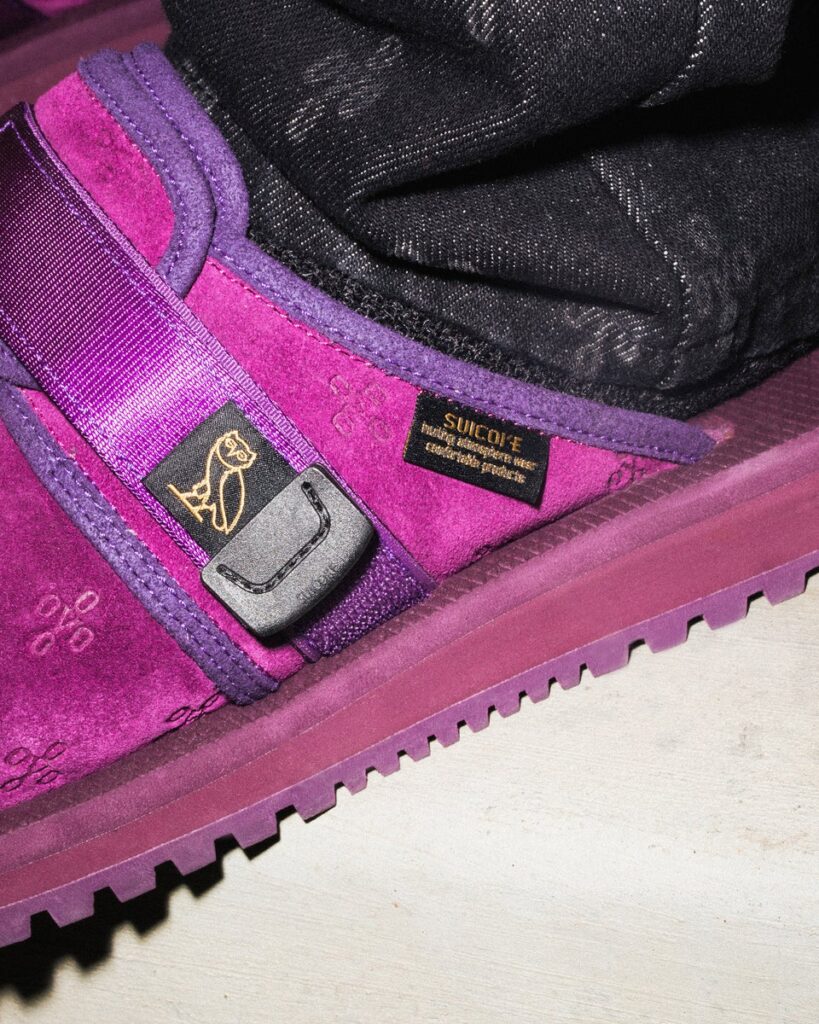 Is there a brand/designer/creative you would really like to collaborate with next?
When we envision our collaborations, we don't intend to design for a specific demographic and please a specific audience, but simply make something special. We are never predictable when it comes to collaborations and our focus is never on marketing or sales but instead on creativity. We like exploring and working together with brands that give a certain twist to the product, reinterpreting it and opening our "doors" to a different customer. Also, we like working with all types of creative disciplines and we are open to exploring different forms of collaboration.  We are never "trivial" about collaborations and we do not focus on marketing or sales. It is about exploring and always working with someone who gives their own twist to the product – intersecting Suicoke with other disciplines.
We noticed that your partnership with Vibram has become a key element of your product's build, how did you come across each other and how would you say SUICOKE has evolved since?
Even if in a way we are a sort of fashion brand, as a team, we are very into outdoors and what is the best way to give a sandal an outdoor element? An outdoor sole and Vibram is a leader of it. We wanted our sandals to have the same key elements sports shoes have: grip, comfort and performance.
We teamed up with Vibram also to launch our version of their Five Fingers style – a shoe style that offers a different way of walking, the way sportswear often does. And we are now on the fourth edition of the Suicoke Five Fingers.
What are you proudest of in SUICOKE's journey?
To put it in a nutshell: we turned a shoe considered ugly into a cool accessory. And that makes us extremely proud.
Sandals were considered for a long time as an accessory that encapsulates the aesthetics of ugliness, but the sandal has become a real cult object. Italy for example: For years the sandal "suffered" a bad reputation because it has always looked like footwear worn by the typical elderly tourist.
What does the future hold for SUICOKE?
Our long-term aim is that Suicoke will become a modern classic recognised not just for its silhouettes and styles but also for its approach to design altogether. For the next season SS22 our collection will be full of surprises in terms of design and materials and this is only the beginning for us.