Is the fashion industry filled with talented and awe-inspiring creatives? Yes. But, is it also infiltrated by demagogues seeking to play on the hopes, dreams and wishful thinking of audiences for their own benefit? Also yes. For this reason, it is so refreshing when you come across designers whose work is not only astounding as far as the design goes, but also incredibly coherent and forward-thinking. Not to mention the type of attitude towards the industry that should, by now, be the norm rather than the exception. This is the case with Elisabet Stamm.
The Danish talent is no stranger to the industry, she was part creator and brainpower behind the high fashion streetwear label A.A.Spectrum. However, she recently made the bold move of launching her namesake label STAMM. And she has done so powerfully with her Fall/Winter 2022 collection 'YES YOU CAN FLY'.
'YES YOU CAN FLY' is inspired by a 1985 Volvo 740 ad, where a car took off from the road and flew. Trust us when we say this collection does that reference justice. Or don't trust us! Simply keep reading and take a look at the collection and you'll be in awe yourself.
The garments are stunning and evoke a sense of hope and empowerment. It almost makes you feel like you too can fly! How often do clothes make you feel like a superhero? Moreover, the brand's philosophy and methodology are everything that's right. Embracing the value of circularity, exchange, and cross-culturalism, Stamm defines her label as 'Scandinavian Globetrotting'.
Once we came across it, we just knew we had to stop for a chat with Stamm herself.
What did it take for you to make the bold move of launching your own brand?
It took everything to take this step. But it also felt like the only right thing to do. I was at a point where I was looking at fashion from a different perspective. Even though I conceptualized and built my previous brand and ensured that it reached the right audience and the right stores, I realized that I was still fulfilling others' ambitions, and dreams.
There was a space that always interested me, and it continued to feel under-explored. I believe in EXCHANGE—the exchange of cultures, ideas, craft, skills and knowledge. I wanted to build on this and create something fresh with a new perspective.
Many new brands wouldn't dream of launching without a top notch website, yet you don't have a website at all. How come?
Well, we are ready with www.stamm.exchange and we will be launching it in Spring 2022 with an exclusive online collection. We wanted to have the right D2C strategy and drive the online sales and imagery in the right way. Until then I have my website www.elisabetstamm.com with my previous work and my profile is accessible here.
You design with circularity in mind, as such your pieces truly embody sustainability in many ways. Not just the materials that you use, but the way you use them too. Garments can be worn in many ways and pieces can be added, as well as the way you design the pieces – gender-neutral and meant to last. Do you think that the fashion industry will truly transform and integrate these much-needed practices? Or will most brands continue to conform to the bare minimum or symbolic gestures?
There are many buzz-words flying around within fashion in general.
I believe in fixing the mindset before jumping into working on any of the things mentioned above. I see younger people working from a clearer, higher frequency that is free from stereotyping and categorizing. That's positive. If we are naturally conscious and balanced human beings then what we do now will be done in the best possible way and it will make an impact tomorrow.
If we think about tomorrow and about what we need to conquer, then it will make an impact on how we do things today. If we simply stay conscious, or in the case of some—get conscious—then naturally, things will evolve in a positive direction.
What environmentally friendly action has the largest impact in reducing a brand's carbon footprint?
Sustainability should be a mindset rather than a marketing slogan. If we focus on good values and on a conscious mindset, then our ideas will become sustainable too.
As I mentioned earlier, STAMM is, in many ways, about exchange. I believe we are evolving by bringing together different traditions, techniques or mindsets. At STAMM we not only commit ourselves to reduce the carbon footprint, but also look at empowering people involved in the process and the crafts. We have also adapted ourselves to technology by using 3D design to reduce the amount of sampling and the large amount of samples being flown back and forth by air.
Are there any sustainable practices you haven't integrated yet that you hope to get into in the future?
As I explained earlier, we believe that sustainability should be a given and as professionals shaping this industry, we should try and adapt, change and contribute to the future.
We have already implemented 3D design to reduce the quantum of samples produced, couriers that are needed to fly them back and forth, and have also reduced the lead times. We work with recycled, handwoven and hand-dyed material. We draw craft into fashion. We have also been testing filling material from natural sources.
You seem to work a lot with international partners/teams/collaborators/materials. Where does this interest for cross-culturalism come from and how do you feel this influences your work?
I grew up in the countryside of Denmark. It was all very flat. Very white. In my early childhood, I was extremely shy. I was this quiet girl sitting by myself, looking out, dreaming, and to everyone's surprise, spending most of my time in my imagination.
At times, I guess I created so much distance that I didn't always feel most at home where I came from. I started developing a natural interest in people who didn't fit in with the crowd. I never belonged to a 'group' of friends who look alike or like the exact same things either. I've always brought different friends together and that to me brings the best conversations, inspirations and outputs. Perhaps it would have been easier if I simply adapted or tried to 'fit in', but I tended to move on when most people would feel settled.
I have been travelling since early childhood, which also made it natural for me to transcend borders. This way of meeting the world influences my work in the way that I'm interested in an 'exchange'. This can be on a smaller or a larger scale.
You have defined STAMM as 'Scandinavian Globetrotting', what does this mean exactly?
I travelled in my dad's truck as a child. That's Globetrotting 101. Later I went to work in China and I continued with my travels.
I'm interested in the people I come across, near or far, and it has always been so. Never was one for conventions.
It reflects in my work and it reflects in my life. Being a 'Scandinavian designer' or a 'Scandinavian Brand' most of the times comes with a stereotype of some sort of simplicity. But I'd like to challenge myself about this kind of thinking. Though I am Scandinavian, I love to travel the globe and I am aware that Scandinavia is just a tiny green spot on the world-map. So there's so much to learn and experience.
In fashion, how do you stay relevant without jumping on the bandwagon of trends so you can continue to stand out?
First of all, you stay open to what interests you or drives you. And care less about what 'fashion' thinks. I truly believe that any genuine process will be received eventually. I've seen that. I personally start with fabrics and then it becomes an organic flow of ideas. Once we overthink or try to imitate others then we are just recreating a process that's in the marketplace. That way we can never really move anything or anyone, but only add on to something.
What is the premise for the collection 'Yes You Can Fly'? How did you come up with the concept?
I wanted to work on something fresh and positive. Starting my own brand during a pandemic, and right in the midst of some turbulent and transformative years, did at times make me feel like I was literally crazy. I'd ask myself, "Have you completely lost it?", daring to start sourcing fabrics and wanting to 'exchange' when everything and everyone was in a 'lockdown'. I couldn't travel, so I did some legitimate 'mind travelling'.
I thought about what made me fall in love with clothes and cultures. I thought about my Dad's oily Volvo jackets and I remembered how I used to feel like we were flying through time and space in his truck.
I also love the irony of the VOLVO ad saying 'YES IT WILL FLY' as this is the most typical Scandinavian family car and it represents everything I didn't grow up with but was surrounded by. Yet, I felt like I was flying. I went back a bit to get that feeling back.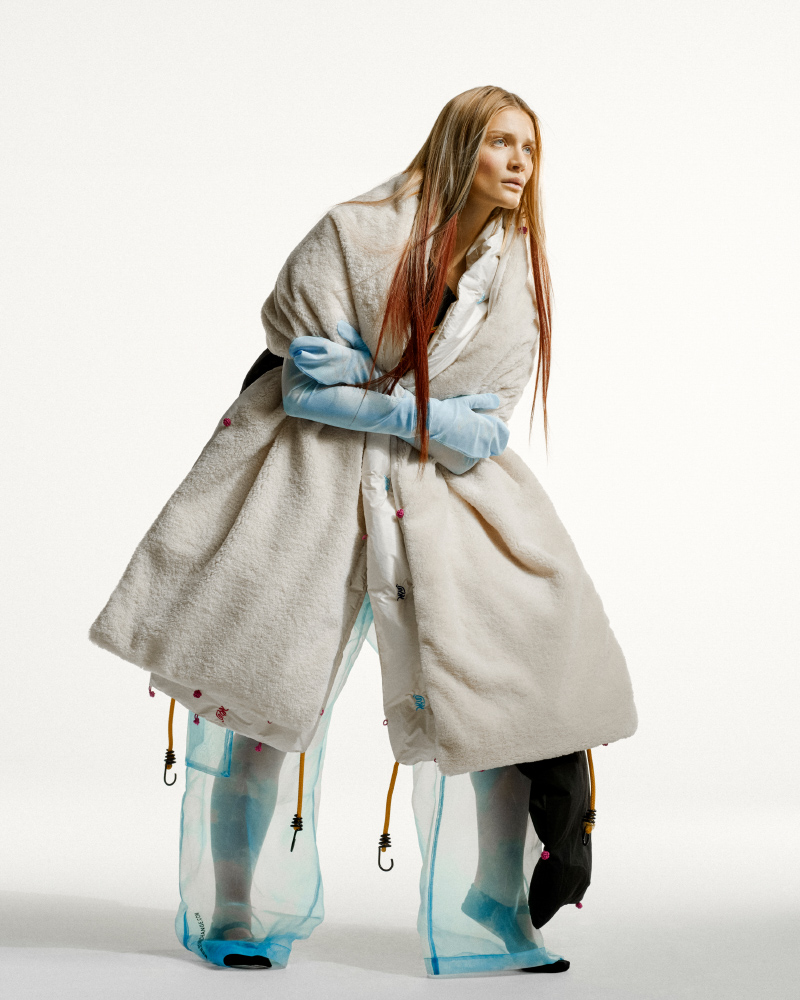 You showed your first collection in Paris already. Did your past experience with A.A. Spectrum make it easier for you to participate in Paris Fashion Week? How is it to come into this highly competitive industry with another project, in a way, starting from the ground up again?
I feel knowledge, experience and the support from people who believe in what I do and people who help me create made a lot of difference to making this happen and bringing it to life.
What does the future hold for STAMM? What are your hopes for your eponymous brand?
I hope to get great a flow of things. I hope to see more of my work coming to life through the people who wear it, and feeling free and flying. I hope to build a business strong enough to support valuable projects, both on the side of raw materials and garment making, as well as on the conceptual and collaborative side of co-creating with talents. I hope to bring people together and I hope to stay open and curious.