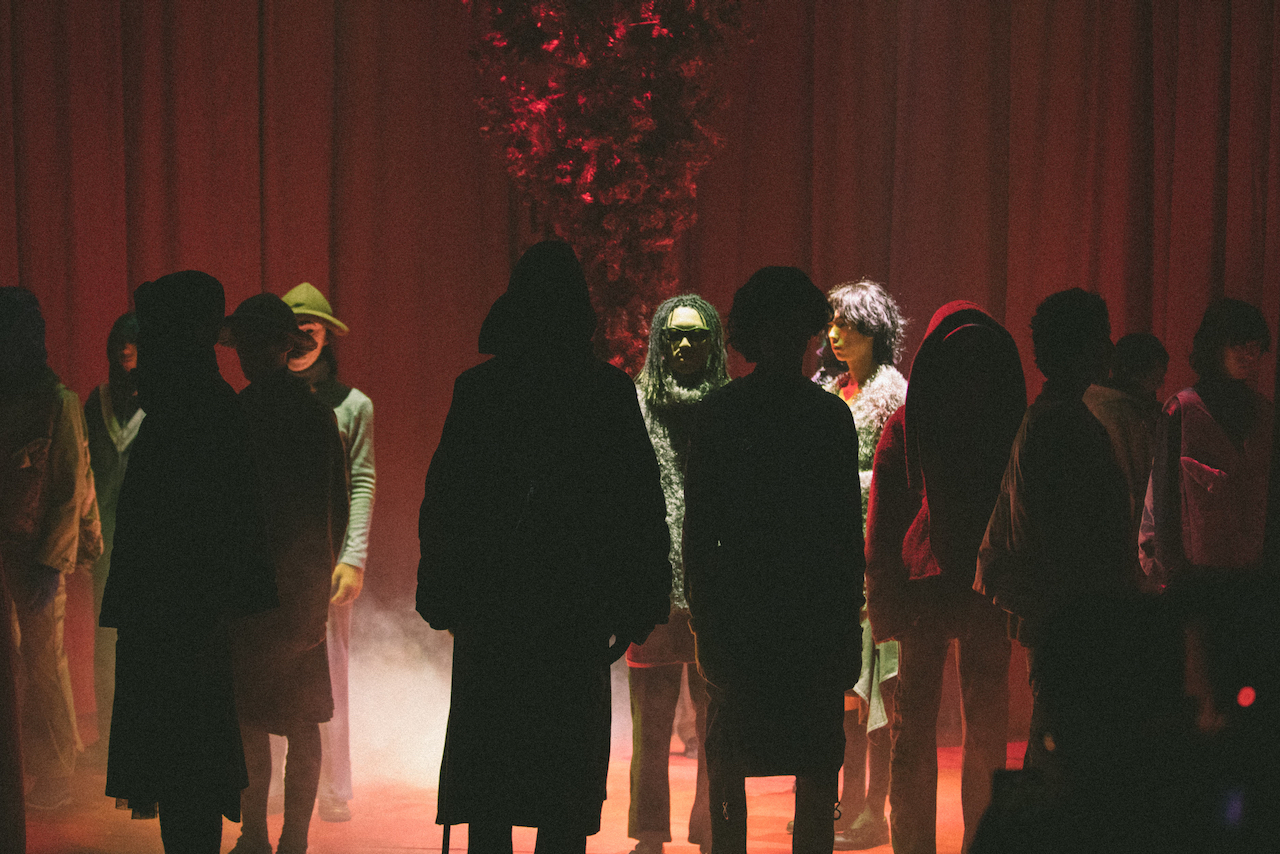 Photos courtesy of UMAMIISM Oyster
It was mid April 2021, Bloom the Spring is on. For those wondering, that was the title of this year's Shanghai Fashion Week. Mark Fairwhale was crowned King of the Future of Chinese Streetwear, and we saw many other brands make their debut triumphantly. Here at TNC we were glued to our screens, excited, expectant, exhilarated, thirsting over the array of street gems emerging from those catwalks.
Out of a sea packed with brilliant brands, shows, and designers, a particular label, caught our eye, our hearts, and had us absolutely enthralled. The culprit: UMAMIISM Oyster.
Their collection A QUIET FRIEND was fantastical in every shape, form, and meaning. Their whimsical designs had us dreaming of faraway lands, and wild adventures. We just needed to know a more about the label, and the creative power behind it, but when we tried to turn stalker mode on, we came up empty handed.
And so, what does one do in that situation? How does one satisfy that curiosity that repeatedly flutters by, and won't leave you alone, like a mosquito while you're trying to sleep on a hot summer night?
We decided, to take it upon ourselves to find the answers to our questions! We had the pleasure of poking around the beautiful brains behind UMAMIISM Oyster, and since sharing is caring, we thought: What better treat for our lovely community, than to gift them a little insight into the inner workings of this enchanting brand?
How did UMAMIISM Oyster come about?
Our original brand, UMAMIISM, was where we started. It is our platform to share creativity, which is similar to UMAMIISM Oyster. Whereas, the market expansion speed of UMAMIISM was faster than we expected. Some necessary commercial practices inevitably affected our enthusiasm and completeness in conveying creativity. Although we have found our way to keep UMAMIISM passionate and vigorous, we were still eager to explore a new channel to express the other forms of creativity and design. That's when UMAMIISM Oyster came about.
How would you describe UMAMIISM Oyster? What are the core values of the brand?
As I said, UMAMIISM Oyster is an aspirational platform for creativity expression. It is still commercial to some extent, but it focuses more on delivering something new and rare. The core values of UMAMIISM Oyster would be to share something childish, rare, and abstracted.
Why the name UMAMIISM Oyster?
The name Oyster was inspired by a song, Oysters by Taiwanese independent musician Deserts (Zhang Xuan). Oyster has rugged and primitive shell, but inside, there is a soft and romantic heart. Oyster is a part of ocean. The angular shell refers to one's uniqueness and distinctiveness among the rest. And it is also my personal nod to Xia Men, a seaside city where I finished my undergraduate degree.
What would you say are your biggest influences?
Omnipotent Youth Society, a Chinese independent band;
TAKAHASHI, the founder of Undercover;
Deserts (Zhang Xuan), an independent singer
How would you define the UMAMIISM style?
UMAMIISM is to encourage people to make good use of their imagination, to keep alive and positive in the rush of routine, which is holiday style and suitable for daily dress. Making an analogy with a human, UMAMIISM would be a romantic and adventurous artist, or a poet living in modern city's office building. And UMAMIISM Oyster would tend to be a friend that you might meet in the wonder world of some films like Indiana Jones and Twin Peaks, or in the fantastic scenes of your dreams. Such a friend seems to have magical power to take you and run away from reality for a while.
Is there a specific process you follow in order to come up with a concept?
If the concept is previously set, we will try to start from the overall modelling, so that people can understand the concept background just from the visual presentation, and easily associate it with elements, or characters, that are related to the concept. Then we will brainstorm some key elements of the concept and choose the design techniques that are able to present these elements. What matters to us is surprising our customers.
How important is the manufacturing of the garments? Do you follow specific procedures?
I think manufacturing of the garments is undoubtedly important.
From supply chain perspective:
Well, running supply chain helps brands to maintain their customers. Customers might lose patience or enthusiasm when it takes so long to receive the products or receive the products with quality problems. As a clothing brand, design and manufacturing should be equally on the front burner. Brands may have different marketing priority, but manufacturing and supply chain are basically vital in the long run.
From designing perspective:
My friend and I used to discuss a pathetic fact, that creativity and design may inevitably end up commercialized once you reach a large volume of sales. I am not there yet, but I do consider creativity as a crucial part, especially for a new born clothing brand. To create time-tested products, it needs support from manufacturing. I think garmentsmanufacturing is undoubtedly a subject that requires professional knowledge.
Sustainability seems to indicate the future of the industry. How does UMAMIISM deal with it?
During the pandemic, we have been trying to make full use of stockpiled fabrics with high quality and comfort-ability, in terms of cost saving and environmental protection. We are planning to launch a series of pet-related products, which will use sustainable materials as well, thus influencing people around us.
What are the plans for the brand in the future?
We want to be ahead of the future. LOL