Source: Sleek Mag
I won't tell you that Stephen Tayo is a Lagos-based photographer. Rather, he is a photographer based in Lagos, exploring – but not limited to – authentic Nigerian urban stories through his lens.
What's that? You can't tell the difference?
Well, somehow, when a label precedes your name as an artist, that same label will stick to your work, sieving any meaning, and diluting your power of expression.
Still can't tell the difference? Alright, let's start at the beginning…
Stephen Tayo – Source: Indie Mag
Stephen Tayo had always felt an intrinsic desire to understand humanity, so he decided early on he would study anthropology. Due to that course not being available at the University of Lagos, he settled for philosophy as means of traversing the chasms of human nature.
It was there, that Tayo began his journey into photography. While bringing people together and taking charge of group photos, he started recognising the patterns of the fundamentals of composition.
Once a beginner who took photos on an Iphone 5, Tayo is now a stylist and photographer who has worked for the likes of The New York Times, Vogue, or Dazed, and whose work has been praised all across the globe.
Source: Hypebeast
He is known for capturing the raw essence of Lagos, and although his hometown is decisively at the epicentre of his work, he insists that it's a result of his capturing of the world around him. As such, his photography should not be judged on the condition of where it comes from, but rather its message, impact, and power alone.
---
"Because I think when people see an African photographer, it kind of conditions you to be perceived a certain way. And not give you freedom to sometimes express your feelings beyond your location."
Tayo for Hypebeast
---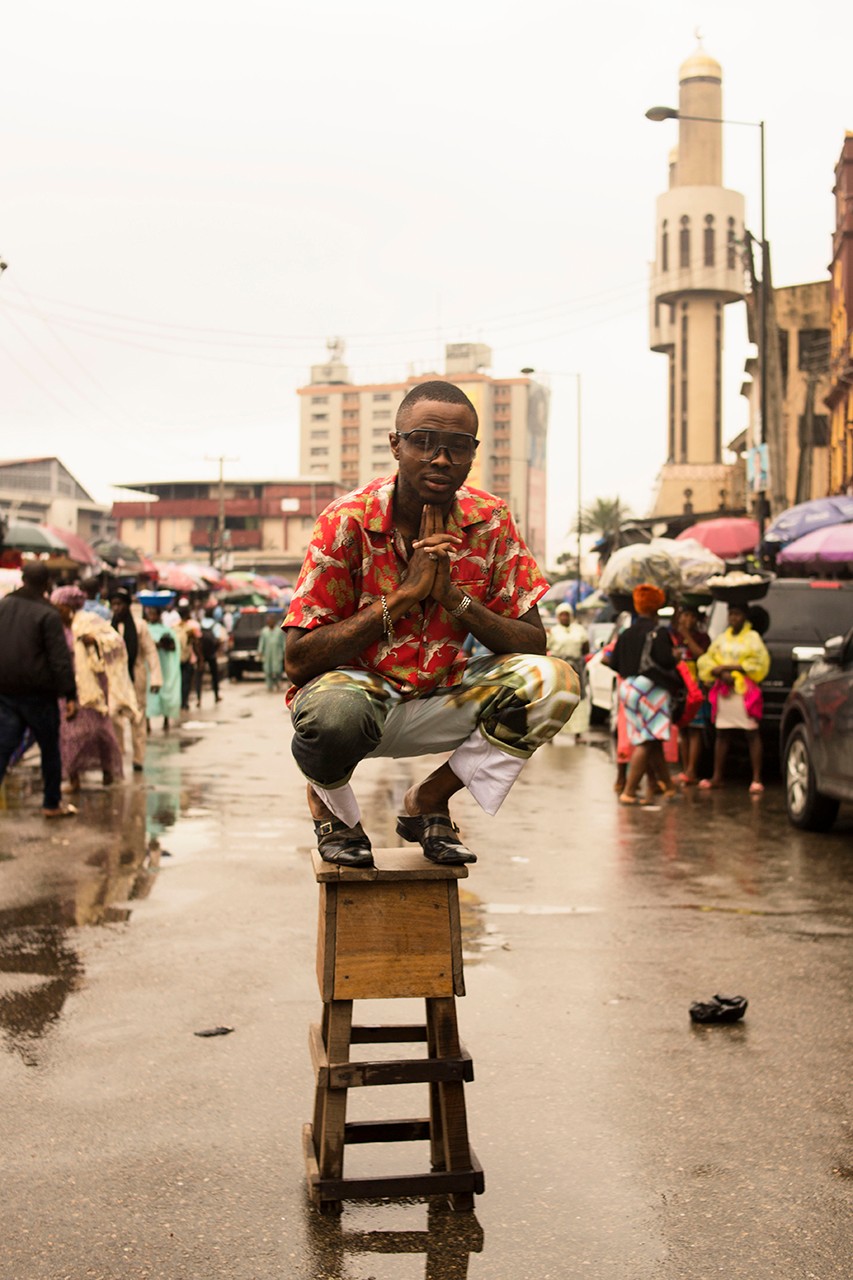 Souce: Hypebeast
His photos, are so much more than pleasantly composed visuals. They exude an innate connection, substance, and forethought which can only be achieved through a deep understanding of his subjects. Tayo finds himself drawn to the effortless allure of the underdog's story, making a conscious effort to give a voice to the voiceless. Or rather, serve as a platform for said voices. "Everybody should be in charge of telling their own story. Because there is power and dignity in that."
Through his poignant portrait photography, he makes a point of pushing his audience to reconsider the misconceptions consolidated by western lenses of both Lagos, and Nigeria. Giving them no choice but to (re)educate themselves.
---
"Emphasising where I live is my way of educating people."
Tayo for Indie Mag
---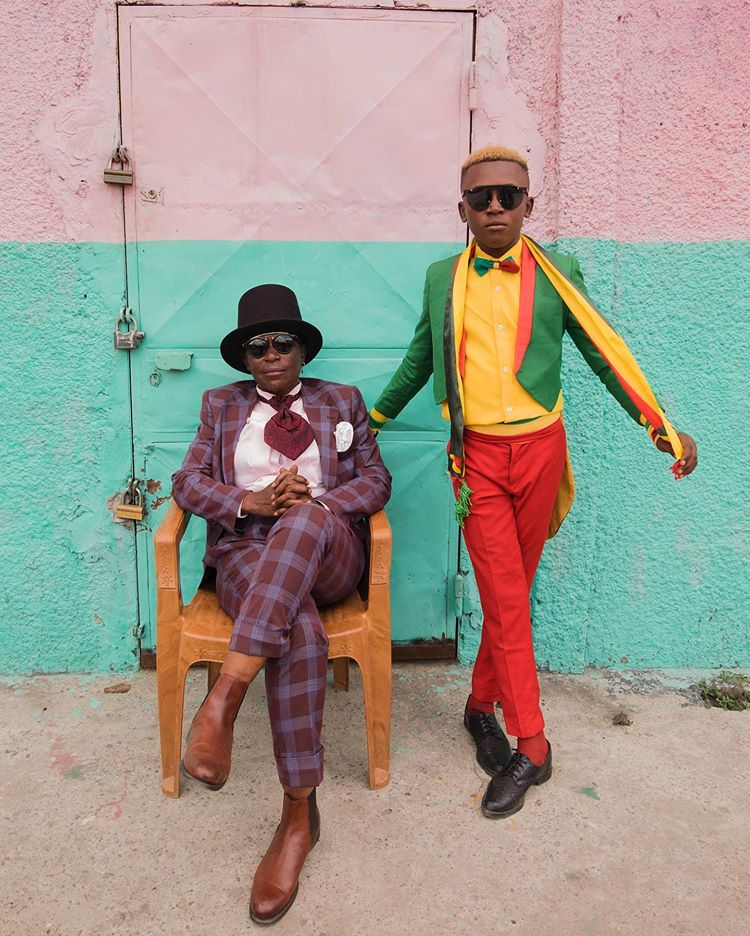 Source: @stephen.tayo
The photographer notes that for the past few decades, the people of Lagos, Nigeria, and Africa as a whole, have withstood the West capturing and propagating a distorted picture of reality. For the most part, for the benefit of the photographer – who Tayo notes would often be unknown to them- , rather than for that of the subjects. Now, photographers, artists, and creatives such as Tayo, are shifting the narrative. They are the ones with the signing voice, and to be completely honest, the spotlight more than suits them.
While Stephen Tayo's photography is pervaded by a distinctive aesthetic – unsurprisingly since he is inexorably captivated by style, hence his additional success as a stylist -, at the end of the day,  all he wants is to tell different stories.
And my oh my are the stories told. He manages to elevate daily occurrences, highlighting the nuances of the multilayered symbolism characteristic of his subjects' identities, as well as their interconnections with family and/or their community.
Source: Hypebeast
He credits his philosophy background for his ability to take his work past the mere snapshot of an image. His process is not over when the shutter-button is released. After his photoshoots, his mind is still hard at work, going over what he can do to protect the dignity and value of his subjects. How his work can empower them.
His latest project does exactly that. "What if" brings to light the possibilities of what could happen if the Nigerian drag scene was celebrated purely for its artistry, rather than chastised for its relation to gender identity and sexual orientation.
Source: Vogue
Nigeria is notoriously condemning of the LGBTQ+ community, not only criminalising gay marriage, but also forbidding any semblance of a public gathering in support of the queer community. This includes all types of performances and art shows.
In order to be allowed to display the exhibit, "What if" had to theoretically be presented strictly from an anthropological standpoint. As an additional precaution, any recognisable features were obscured.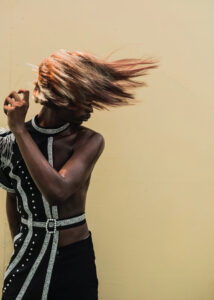 Source: KÓ
The exhibition aims to uncover the many shades of artistic expression in the polarising drag scene, in the hopes it might lead the public to re-examine their pre-conceived ideas of this culture. It ushers one to see past incepting personal reaction, and appreciate the subject-matter purely for its artistic value.
To Tayo, this project posed a beautiful opportunity to merge the reality that photography tries to capture, with the fantasy that drag evokes. It allowed him to experiment in creating his own fantastic narrative outside of his usual comfort zone: reality.
Source: KÓ
The irony of "What if" being displayed in an actual gallery is not lost on me. Drag culture is banned from physical spaces, consequently it has been forced to exist within the (mildly) safe confines of the virtual world, where by the way it thriiiives. It is such a brilliant way to further emphasise Tayo's main concept. Making use of this loophole, this ingenious photographer brings the artistry of the drag world outside of the digital and into the physical realm. Where it can be valued for the artform it truly is.
Source: C&
---
"The same way prominent curators used their platforms to validate my work, I am using mine to validate my collaborators," – "It is my way of expanding the conversation, of asking: What if we prioritized nontraditional artistry and let go of our biases? That is a world I am excited to document."
Tayo for Vogue
---
All of this has got me thinking, and I have to agree with Tayo. While I do admit that being aware of where you came from is important, it shouldn't define you. What you do, what you put out into the world, the impact of it all… Now that's what matters. Call it imprint, call it butterfly effect, call it whatever you want. Just know that Stephen Tayo has it.