[vc_row][vc_column][vc_column_text]Once again, we find ourselves circling back to one of our favourite topics: NFTs and the cryptoworld. So what is roaming our minds this time? Well, this time round we are thinking about one of the biggest industries to take NFTs by storm. In fact, it is the industry that is partially responsible for the NFT market being one of the fastest growing markets ever. We are talking of course, of none other, than the Sports Industry.
Back in October 2020, Dapper Labs launched NBA Top Shot, and it soon became the largest platform of its kind. It got to the point where the marketplace hit almost the 700 million dollar mark in daily sales. While it is true that the market has calmed and cooled down since its debut, and it is no longer skyrocketing onwards and upwards, total sales are still up more than 21%, despite total users on the platform falling being a quarter less than what it used to.
The digital collectibles excitement is palpable. We see NFTs and digitization of our business as a mainstay to engage our fans around the world. Brandon Schneider, Warriors chief Revenue, for Barrons

Source: Toronto Star
It makes perfect sense when you think about it. Sports has always been a very fan-based heavy industry. NFTs are the latest way in which fans get to engage directly with some of their favourite athletes, o teams. In the same way, this new marketplace gives brands a direct contact with their fans. In essence, it's as if the doors to a new space (that space being the metaverse) to exclusively engage with sports have been opened.
Now some thought that NBA Top Shot was a one off, that the astounding growth of the platform was in part due to its novelty, and therefore was not something that could happen again. Well, you better bet on that again, because Dapper Labs have partnered up with no other than the NFL, and intend to do it all over again, and allow the over 300 million worldwide NFL fans to collect digital video moments from past or current seasons.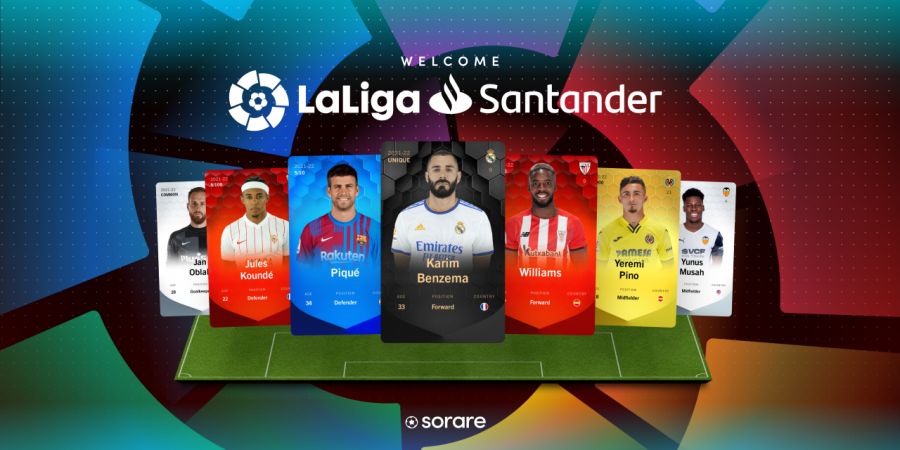 Source: LaLiga
It seems that big players of the Sport industry are increasingly gravitating towards the cryptoworld. For example, UFC is now among the countless partners of Dapper Labs. Moreover, LaLiga (the Spanish football league) is abut to begin working on an NFT marketplace alongside Dapper Labs too which is set to see the light of day in summer 2022.

Source: Sportico

Source: Boardroom
So why is it that Dapper Labs is the one signing onto all of these big projects? Well, when NFTs first began to experience a lot of hype, most of them could be found via the blockchain Ethereum. However as demand shot up, the infrastructure for Ethereum couldn't keep up and was often overwhelmed, with waiting time for transactions taking hours.
Dapper Labs swooped in and decided to solve its blockchain congestion and developed Flowchain. Flowchain is a blockchain developed specifically to cater to the needs of games and interactive experiences. Unsurprisingly, it has become the blockchain of preference for most collectible and interactive crypto experiences. Dapper Labs uses Flow for all of its projects, since to this day, it is the most efficient blockchain available, built for speed, security, and scale unlike any other blockchain. Dapper Labs uses Flow for all its projects, from NBA Top Shots, to UFC, NFL, and LaLiga, as well as our very own TC2171.
What do you make of that? Is the migration towards the digital space inevitable in Sports? Will it end up becoming the industry's main source of revenue? Can a sports team remain relevant in the future without being part of the metaverse?[/vc_column_text][/vc_column][/vc_row]