Source: RBRSL

Recently, more and more different brands are starting to hop on the trend of upcycling, which is great. Upcycling is transversal, as it not only helps the planet, but also goes to show that discarded materials are actually far more useful than you may think! There are loads of ways to put them to use, and watching the practice evolve and become a mainstream thing is a beautiful thing.

RBRSL, Italian footwear company formerly known as RubberSoul, is one of those brands. They're looking to break the existing norms of consumer culture by creating shoes, or sneakers, that will last. It reflects a journey of experimentation beyond the dictates of the Fashion System. No age, no gender, no Time, no space, and most of all, upcycling, are the exact 5 words that sum up their SS21 collection.

RubberSoul, those are just two words that encapsulate the true essence of a project. Rubber is the core component out of which the product is developed, which is then fused with the leather upper, eventually becoming greater than the sum of its parts: the soul.



Source: Pinterest

The brand is a hybrid footwear with a street approach that is refined at the same time. The spring-summer collection is an eclectic mash-up of classic design and innovation, blending natural forms with new colorways and geometric shapes.

Their predominant sneakers are for the most part black and white, but for their bold collection they switched it up a little bit. Yellow and grey were added, as yellow represents the ideas of rebirth, light, and liveliness, while the grey symbolizes resilience, the strength of stone, and solid, unmovable power in the face of difficulty. They also have different options available such as One silhouette in particular, featuring a zipper that transforms the shoe from a mid-top to a low-top. Another pair which has a transparent sole with inserts of chamomile seeds, flowers, and lavender. Elevating simplicity.

Their production process follows the same method for all shoes. Every shoe made, is first treated with a layer of hand-applied rubber. Then, it will be submerged in a special liquid rubber which forms a real transparent shell once cooled.

The handmade quality of a shoe like this, the care and thought which is put into absolutely every single pair, is what makes these shoes so unique and also makes them hard to imitate as well.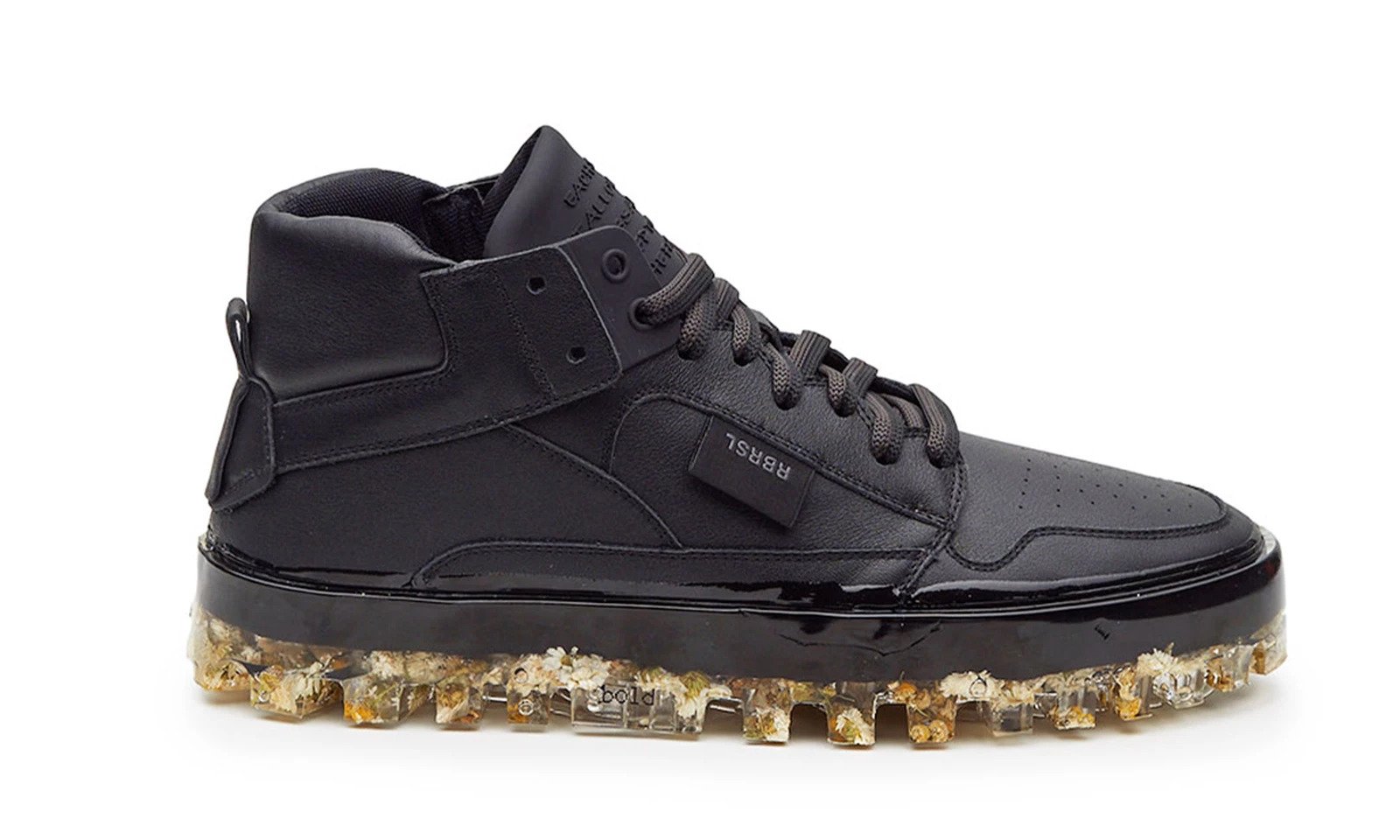 Source: Highsnobiety


Source: Highsnobiety

"I try to manipulate, break, reuse material, because what bothers me is the idea that an element can simply be an end to itself or can be used for a single purpose, you should never be bound to a single point of view," says Valentina Curzi, Chief Creative Officer of RBRSL.
What do you guys think about brands like RBRSL changing the sneaker game? Will they eventually take over or will brands Nike, Jordan and Adidas forever stay on top?