Pop Trading Company is the Dutch label born and nurtured in the local skate scene. The label was founded in 2016 by Amsterdam-based Peter Kolks ad Ric Van Rest.
They support a group of younger skaters, produce high-quality streetwear, announce an unbelievable amount of exciting collabs every year, and put out thrilling videos. Everything they attempt, they excel at.
The label has risen to huge success due to its unique position at the intersection of contemporary menswear and skatewear. Co-founder, Peter has a very specific consumer in his mind when designing his ranges.  None other than himself.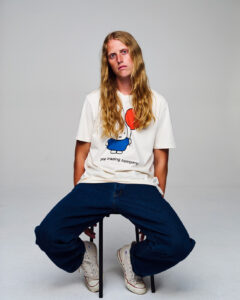 Source: Pop Trading Company
"I guess we are pretty selfish when it comes to designing the range," he told Copperfield. The pair design clothes that they like and want to wear. Evidently, the "two lazy skateboarders in their 30s" have the best taste. So, not only does it work, it also contributes to the authenticity of the brand.
In fact, the duo and their label radiate authenticity. The pair's long stints working in skatewear shops and their passion for skating, contribute to a seemingly innate understanding of 90s/2000s skate culture and a wide expanse of nostalgic influences from which to pool.
They started out distributing big-names in their shop – Palace, Polar, and Magenta among them – and then transitioned to producing their own label, which quickly became a massive success. An education from a wise, "old dude" running a "legendary menswear store" combined with contacts acquired through previous work, helped their climb to success. However, ultimately, it was their unique vision that led to their rapid come-up.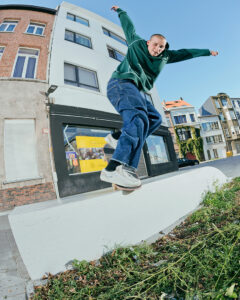 Source: Pop Trading Company
The concept for the brand was born at a time when skate/apparel brands generally consisted of "Fruit of the Loom or Gilden tees" and "made in China hats." The pair by-passed this and went for a more "well thought out", considered version of skatewear apparel with distinct cuts, materials, and graphics.
The high-quality pieces, design standards, and authentic insight into skate culture, led to their second collection being shown at Paris Fashion Week. The trailblazers were the first skateboarding brand to show there.
Pop Trading Company Pop-up in London, Source: Copperfield
This hype continued to escalate and gained them a vast pool of stockists and collabs with just about everyone you can think of. Their website lists over 70 stockists across 18 countries. Their brand collabs include Vans, Converse, Minotaur, Carhartt, United Arrows, and even the much-loved, Dutch character, Miffy, created by Dick Bruna. Not bad for two lazy skateboarders in their 30s huh…
Their team of old friends and youngers provides models, talented skaters shown in clips, and marketing expertise for the label. Pop Trading Company puts on events for the skating community and supports the team by pushing their talent.
The pair care deeply about the community, for them, it has never been just a business. Peter Kolks told Office that the ultimate goal with Pop was "giving back to a culture that has shaped both our lives."
Check out their latest drop here.