Editorial by Vincent Meriono x OMNIÅ for Numéro Magazine | Photos courtesy of OMNIÅ
Is there such a thing as a thing as a genuine, horizontal, inclusive, business model, that works in today's day and age?
There is. And OMNIÅ is the living proof of it.
Taking their name after the Latin word "OMNIÅ", meaning everything, the brand is the embodiment of the collective idea of togetherness. Their attitude towards anything and everything they do, prioritizes first and foremost inclusivity, and a shared passion for music, art, and fashion, which transcends the borders of race, religion, gender, and age.
It's not that OMNIÅ functions outside of the box, rather, OMNIÅ is tearing the concept of boxes down entirely. A coup to the established socio-cultural, and political, constrictive ideas and norms. Why walk in "our lane", when we can all walk together, side by side, leaving behind limitations set before – and enforced upon – us. In essence, shaping a path towards a better tomorrow with every step.
They are making strides in the fashion industry with their incredibly functional bags. Just like their mission, and their message, their avant garde designs are nothing short of remarkable, bold, and empowering.
Their latest campaign stems from the purposeful journey of vastly diverse creatives, seeking to break the boundaries created by modern society.
---
S1 MODERN MILITANT, WAS WEAVED FROM THE REALITY OF 2 STRANGERS FALLING IN LOVE, AND HOW IT ONLY TAKES A MOMENT FOR THE LOVERS TO TURN ONE ANOTHER'S WORLD'S UPSIDE DOWN. NEVERTHELESS, THE UTOPIA OF BEING TOGETHER IS REALLY THE CATALYST OF A MOVEMENT KNOWN AS "STRENGTH IN NUMBERS".
---
Photographer: Vincent Merino (@vmerinoph)
Videographer & editor: Firginio Arlaud (@Firginio)
Gaffer & lighting editor: Jerliena Roosblad (@rosefeuilles)
On set producers: Diek van der plas (@dirkadondirka) + Liz Bykov (@supwithliz)
Sound designer: Daniel Berends (@shakedmusic)
Music & Voice over: Joiah (@__joiah____)
MUA: Jazz Ben Khalifa (@itsmua.khalifa)
Hair: Haka (@hakahair)
Models: Lou van Hoof @louvanhooff ) & Marcus Hansma (@marcus.hansma)
Location: Venu (@at_venu)
Casting director: Timotej Letonja (@timiletonja)
Stylist: Gino (@ginogurrieri)
Here at The Next Cartel, we are truly in awe of what they do, and how they do it, so of course we needed to know more about them. We've had the privilege of sitting down with OMNIÅ and rummage through their collectively beautiful, sagacious brain. And now, we have the pleasure of sharing it with all of you:
How did OMNIA as a brand come about? How has it evolved since then?
OMNIÅ is essentially, a love child from Diek(@dikadondirka) and Anyah's (@blackthecreator) relationship – simply put, the simplicity of unity. However now this entity has developed into an underground rave solution of luxury accessories and translated and evolved into a language of stories of togetherness alongside communities within surrounding mediums such as music, art fashion and the collective.
What would you say are the foundational values of the brand? What pillars does it stand on?
Our mission is simple, to unite; just as the bags do, representing humanity often as pieces of the puzzle you may dismantle and reassemble.
Our foundational values speak the underground language of innovative heritage, maintaining a spirit of functional design at all times, whilst igniting an excellence of talent and simultaneously being ethically responsible. These bricks build our constant pillars of growth:
What is your mission, and why fashion, out of all disciplines, to carry it out?
Collective: Building a platform where talents get the freedom to showcase their potential, whilst sharing space with other creatives to feed off of. This involves the collaboration of different forms of specialities such as design, digital marketing, music, photography and more blending together for a common aim – to create.
Fashion: Being at the forefront of creative product design, innovatively implementing today's struggle and trends. Designing bags which not only focuses on the exterior look but also brings functional innovative solutions to accessories for customers and rave survivors everyday use.
Music: Creating a unifying event brand bringing forward the best of today's electronic and live artists throughout the world's fashion capitals. Connecting the target market through a common entity, bringing the latest fashion to a party experience and vice versa, whilst embracing the brand's social and creative expressions.
Seems like we have big dreams eh? That's because we do, and to have already achieved some steps in this direction is a blessing.
How do you address socio-political matters through OMNIÅ?
The belief of a real democracy, in how we work, how we speak our minds ranging from the diplomatic side vastly to the fiery side, however able to guide one another internally, to better ourselves, and this – is the beginning of building change. To listen, to advise, to grow, to ask question, as what you learn today you will go on to teach another. "Just like water my friend, be water."
What message do you hope your customers will take in from your products?
All our products are designed to be functional for any occasion. Whether it is an office meeting, cocktail party or an illegal warehouse rave the bags are here to be multifunctional, to play that mirror of society. On top of that the designs are created to be for everybody, unisex. The brand name is derived from the word 'OMNIÅ' which is Latin for 'all', 'everything' or 'everyone' – hence we universally include all. So, including wearing occasions, genders and thus any type of demographic segment is how to hope to abolish discrimination. We're all just human in the end, that's how we should see each other, as pieces to our puzzle and fabric of humanity.
How important is the design and production process in the process of accomplishing your mission, and how does it uphold your values?
Our design process is second nature to us – as is the bond in respecting our values – they go hand in hand.
One of my favourite example is the innovative heritage, using old solutions and techniques in a functional modern accessory, adjacent to following the times new norms.
Keeping the environmental footprint as low as possible is of high important of course, as should it be for any business. We use leather for most of our products. As people, we forget that leather is a byproduct of the meat industry, as long as people eat meat there will be leather. Additionally, we want to give people a staple item for their outfits that will last long (leather is very durable) without having to break their bank. Uniting people through a common love for an excellent product that is what aim to achieve.
What impact do you hope OMNIÅ will have in the fashion industry?
Increased transparency. In the industry today there is a lot of fakery, pretending. Let's just all be honest, accept our flaws, treat each other nicely, and motivate your close ones to be the best version of themselves. We embody this attitude throughout our processes and culture.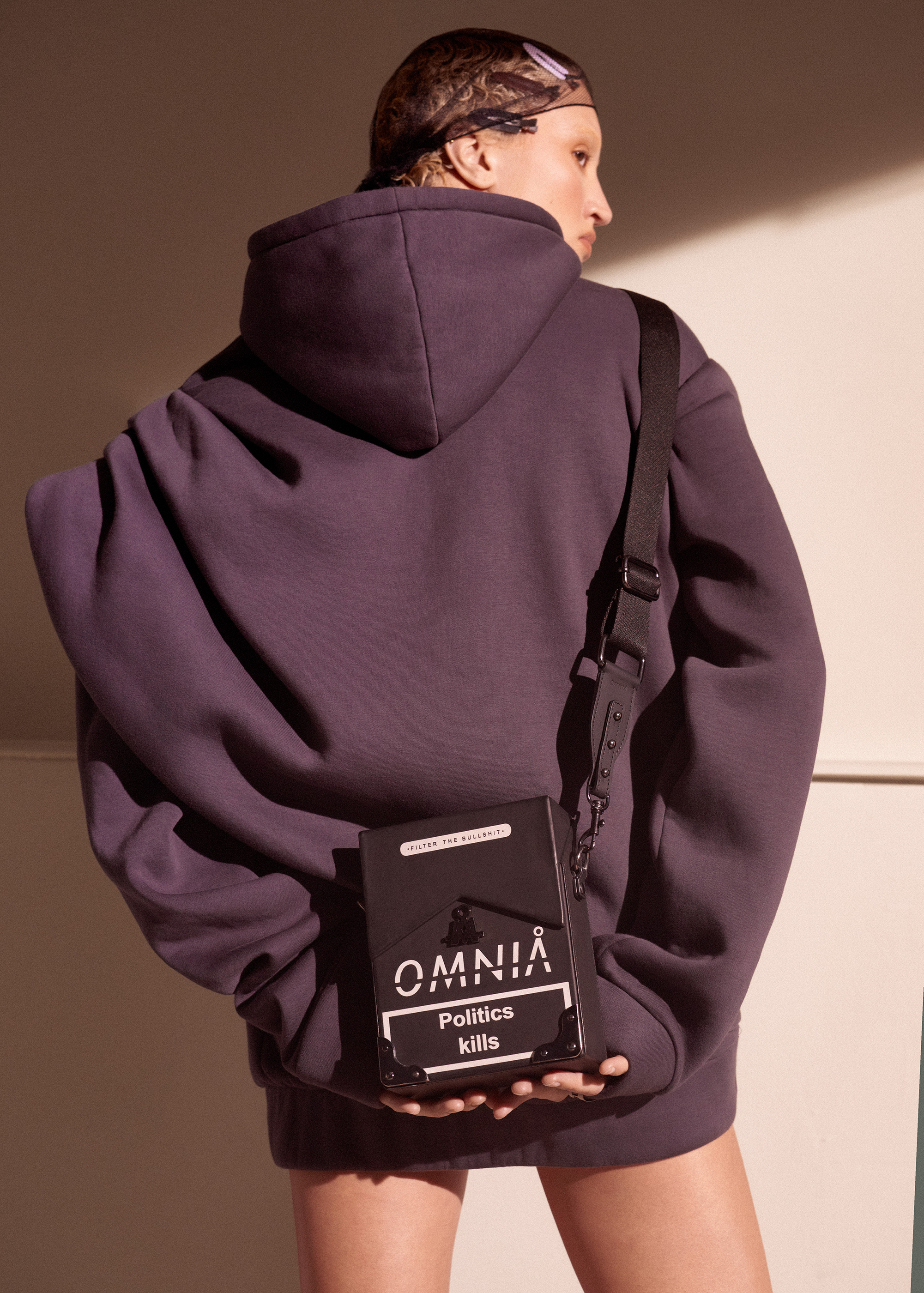 As a collective, how does the brand's ethos and workflow differ from a traditional business structure?
We are a collective, everyone has their respective field of expertise. Currently we are with a base team of 6, namely:
that perform day to day tasks, for creative/overall strategy/sales/marketing and events. In total we are with 8, so there is no traditional bureaucracy or hierarchy here, this is as flat as an organizational structure will go. We trust each member's respective ability to perform along the ethos of OMNIÅ. Communication in that process is key.
Where do you hope OMNIÅ will be 5 years from now?
In a position to implement real change.
Some say it is impossible to know where the future will look like, that only time will tell, but seeing right here, right now, the work of creatives such as those upon whose shoulders OMNIÅ stands come to life, and make an impact, makes tomorrow look a hell of a lot better already. Not much left to say besides, thank you OMNIÅ.