Source: Kaltblut
Lisbon Fashion Week, known as ModaLisboa, came and went. The event had its own particular tones and contrasts that set it apart from the narrative often followed by other fashion weeks across the globe. Packed with ambitious designers, we saw an abundance of collections imbued with creativity, originality, and individuality.
Here at TNC we'd like to introduce you to our two personal favourites, whose unique creations made us giddy with excitement.
João Magalhães is a designer whose upbringing took place between London and Lisbon. His garments are characterized by androgyny, creating the space for a realm where gender and age are irrelevant. Magalhães's designs are wrapped in conceptuality: with his avant-garde approach to fashion, he explores the aesthetics which he wishes to see in the present world.
YOU AND I COME FROM A DIFFERENT PLANET, leans towards sustainability through the usage of deadstock where possible. Quite a fitting line, for a collection that seeks to represent the natural world by bringing the ocean into clothes. The melage of materials, ranging from knitwear to neoprene, combined with classic tartan and 3D digital art print, somehow just works.
The vivid colours and contrast in his pieces demand one's attention, and the flashy, clashing patterns, do a marvellous job at drawing you in, and not letting you go. It's almost as if the sharpness and radiance of Magalhães's display, is meant to drive us into a better tomorrow, by means of emphasizing the bright side of the present.
Ana Duarte has been making strides in the fashion industry since 2013, when she was selected by the British Council to exhibit at the International Fashion Showcase during London Fashion Week. With her namesake label, the designer aims to redefine luxury sportswear, building a solid concept around the notion of a cool lifestyle.
Source: DUARTE
Also drawing inspiration from our planet's precious marine life, the collection she presented this time round, REEF, takes you to the Great Reef Barrier, and hopes to bring attention to its imminent need for restoration and preservation. Duarte's use of organic recycled cottons and upcycled marine plastic by Seaqual, further stresses the message that luxury needn't be wasteful. In fact, it can, and should, be sustainable.
Source: DUARTE
Source: DUARTE
The coral shades in her garments, together with neoprene fabric, fit wonderfully into the oceanic experience that is her showcase. Hues of lilac, blue, green, orange, and white, dominate the runway, and the juxtaposition of the oversized vs. fitted silhouettes reminds one of the stillness of a dead tide, and the crashing of waves.
One of the brands we were looking forward to the most here at TNC! HIBU went in a different direction than the two previous designers, opposite in fact!
Source: Kaltblut
HIBU took us to the other end of the colour spectrum, invoking the fiery, 90s edge, while giving off sweet futuristic vibes. Red, orange, and yellow were the protagonists' of the show, pairing nicely with materials among which we can find organic demin, fleece, fake leather, corduroy, and cupro. An eclectic mix that will make you smile, that's right, smile. This futuristic grunge collection, appears to politely state "I do what I want…But hey, you should too :)"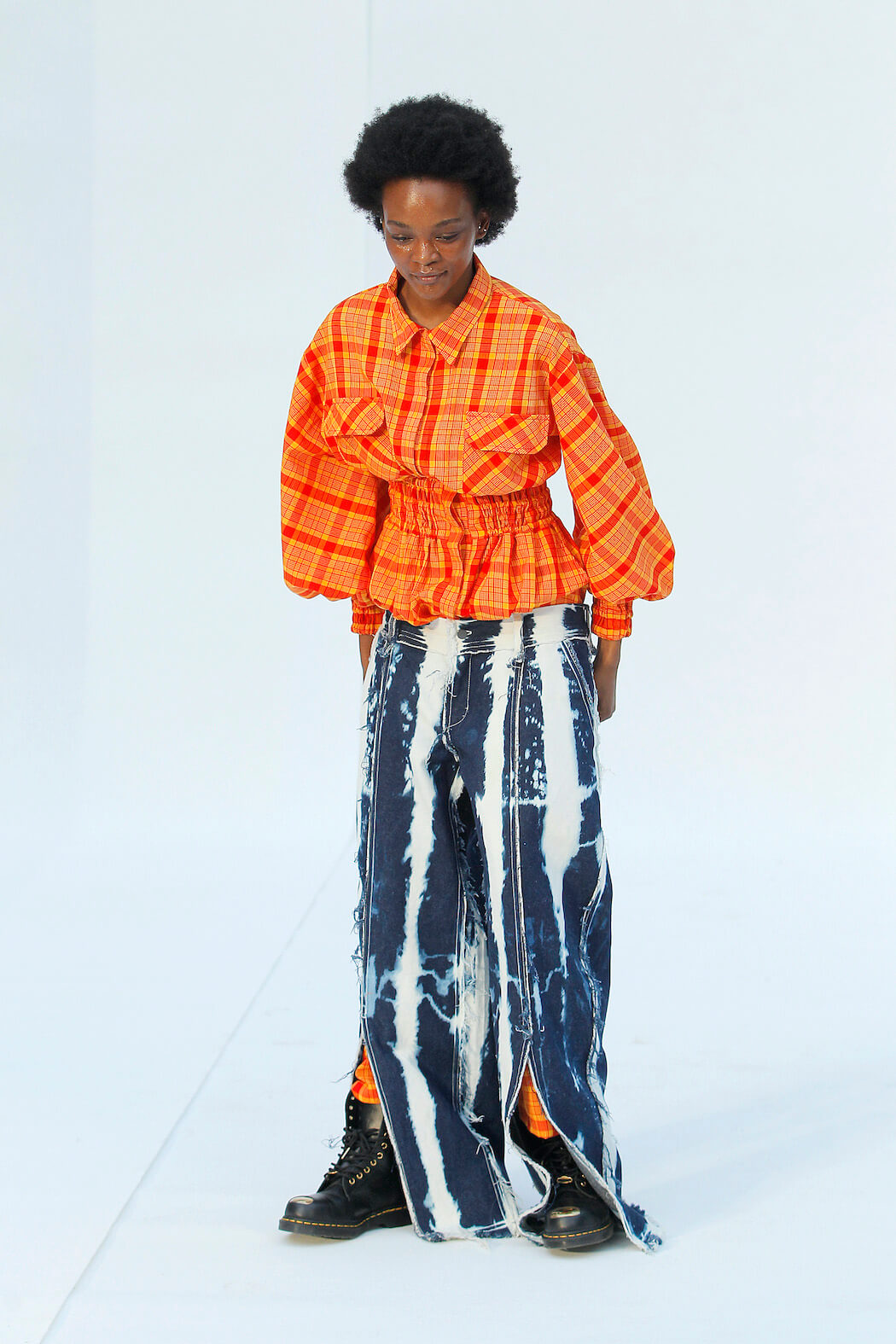 Source: Kaltblut