Earlier this month Doja Cat released what is believed to be the first-ever codable video. DojaCode, which is the name of the project, is an interactive music video for her hit Woman. So how exactly is it interactive?
Interactive content isn't really all that new. Remember that black mirror movie where you had a choice as to how the narrative evolved? We can even go back to Julio Cortazar's 1963 novel Hopscotch in which the reader could choose to read the book as presented, or the alternative order of the chapters suggested.
At the end of the day, interactive content simply means it is two-way content, not simply passively consumed. Contrary to static content, such as a normal video, interactive content is more engaging as it requires its audience to click, hover, answer questions…etc.
Source: DojaCode
DojaCode takes it a step further by allowing viewers not only to interact but also to customise elements of the video by offering up simple coding challenges. Said challenges take place at intervals throughout the video, and allow the viewer to use three coding languages (CSS, Javascript, and Python) to do customise things such as changing a character's nail colour, the background, and even the speed and size of a particle storm.
The whole DojaCode project was a collaboration with the fantastic non-profit organisation Girls Who Code. Girls Who Code's mission is to encourage young girls to go into coding with the help of engaging, interactive, and relatable projects. The NGO has taken it upon itself to address the gender disparity present in STEM subjects and industries whose female participation is significantly low when compared to its male counterpart.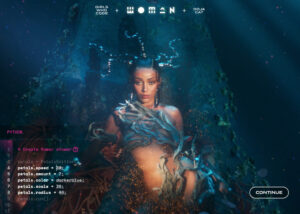 Source: DojaCode
Source: DojaCode
Is The Future of Content Interactive?
There is no doubt that making a codable music video of a GenZ musical icon such as Doja Cat, is definitely the way to go when it comes to encouraging young girls to get into coding.
Moreover, we believe this is exactly the sort of content that is going to work moving forward into the future of content creation. Useful, engaging, creative, interactive, and with a purpose. The proliferation of quick, easily consumable content means that not that many people stick around to watch an entire music video, at least not without picking their phone up and scrolling through IG or TikTok at the same time.
Could this be the solution to the increasingly short attention spans of consumers? Is this the future of content?
Give it a try yourself here!