Sari wrapped garments and lungis. Those are some of the clothing pieces that one comes across when talking about Indian fashion.
However, in the past few years, streetwear fashion has been taking over Indian shops, Instagram feeds and shopping carts. And for good reason, the proliferation of streetwear in India has resulted in the birth and rise of some fantastic Indian streetwear brands, with hip hop clothing stores in India increasingly popping up.

Source: Norblack Norwhite
In a recent article from the Indian edition of 
Elle Magazine
, Sohiny Das, co-founder of Grain Fashion Consultancy, analyzed the boom of streetwear in India and attributed it to social media.
"Everyone dresses with a photo-op context in their heads. Over the last decade (or a bit more), street style blogs and social media have made it possible for someone sitting in Kolkata to know what's happening in Amsterdam. There's more documentation now."
Streetwear in general has been present in the global fashion industry for a number f decades already, but it was only in 2018 that Capsul, India's first multi-brand streetwear retailer, was launched. Opening up the doors to streetwear in India.
In an interview for Grazia, one of Capsul's owners, Meenakshi Singh, explains the concept behind it.
"Our vision was and continues to be curators of products that are conversation starters. Since all brands operate on drops, most of the products that we have are limited edition."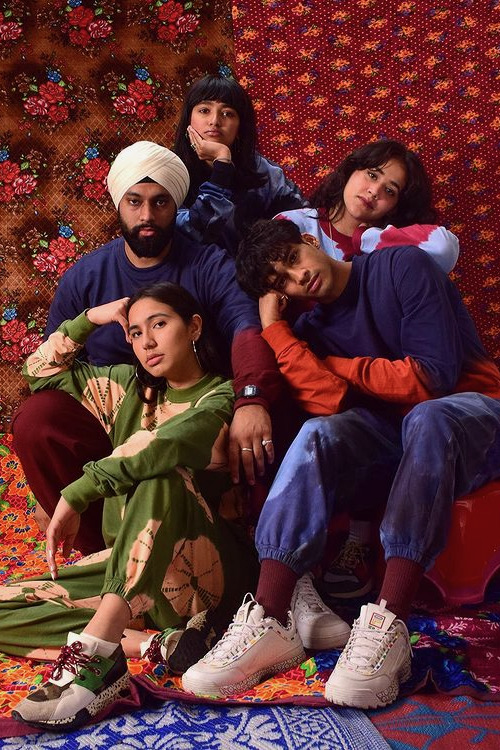 Source: Norblack Norwhite
The rise of Indian streetwear fashion is inspiring local designers to bring new ideas to the style. This in turn has translates into the emergence of countless streetwear brands in India.
The Next Cartel has selected a few up and coming Indian streetwear brands, that despite being born and raised in India, offer worldwide shipping!
Almost Gods, one of the best streetwear brands in India

Source: Almost Gods
Launched in March of 2018 by Kobi Walsh and Dhruv Khurana,
Almost Gods
is an ode to religion and technology.
Graphic tees, oversized hoodies and jackets and gender-neutral clothing with a maximized logo are part of their collections. Truly one of our favourite brands of the moment and very representative of streetwear in India right now. Innovative, daring, and cool as hell.
If you're looking for tapestry patterns, colours and accessories like no other, check out their shop.
Huemn, the Indian streetwear brand celebrating body positivity

Source: HUEMN
Born in 2012, it is co-founded by Pranav Misra and Shyma Shetty. Huemn, pronounced as human, celebrates body positivity. Their clothing is promoted like no other, avoiding the typical obsession with certain body types and a celebration of all shapes.
In an interview with Lifestyle Asia, the creators of this Indian streetwear brand celebrated how they are making a name for themselves in the fashion industry and even managed to showcase their collection in a pre-pandemic Milan Fashion Week back in 2018.
"We always wanted to be entrepreneurs, we wanted to drive culture and wanted to create meaningful ready-to-wear garments,"
Tradition + Modernity = Moral Science
Source: Moral Science
The genderless design label adds a lot of the traditional clothing and colours from Indian culture to its unique pieces. Creating a true blending of the traditional and modern trends of the country, streetwear in India at its finest.
Created by Isha Ahluwalia, this Indian streetwear brand defines itself as "a slow fashion design label that explores fashion as a medium of storytelling – Functional design that is conceptual, with a hint of irreverence."
Moral Science is also very eco-conscious, keeping their production limited and ensuring ethical work practices.
Norblack Norwhite, streetwear and tie-dye

Source: Norblack Norwhite
NorBlack NorWhite
was created by the duo Mriga Kapadiya and Amrit Kumar. Both of them grew up in Toronto and decided to move to Bombay in 2010.
They were inspired by the culture and the fashion they saw, and decided to join the world of streetwear in India. They learned about the process of Bandhani (tie-dye) textiles and took their shot as designers.
They recall the path to success:
Without any formal design training, the duo built NBNW from the ground up, designing intuitively and building community while spending the first 6 years living in and working from their 600 sq foot Bombay studio with their Master Tailor (Mohammed Ji/MJ). Fast forward to a decade later, they are based out of a more spacious studio space in the capital city of Delhi surrounded by a sweet team and in-house production headed by Mohammed Ji.
NBNW's iconic 'BomBombers' reversible Bandhani silk tracksuits opened up the floodgates for exploring more crafts and textile families of India that applied to the worlds of contemporary fashion and streetwear.