UK-based brand FOUR:FIFTEEN.AM is truly one for "the lovers creators, makers & thinkers", as their Instagram suggests. The creators behind the brand work on producing colourful garments and homewares, while staying true to their ethical and sustainable, 'family' ethos.
Source: FOUR:FIFTEEN.AM
Their clothing includes an array of premium tees, hoodies, and sweats, all printed and embroidered onto quality heavyweight cotton and signed off with a lifetime guarantee. Their garments are typography-heavy and screen printed in vibrant, high-quality inks.
Many of the designs centre around the brand's logo, an eye, resulting in surveillance-influenced pieces which seem to combine the vintage feel of the analog era with a futuristic, space-focused vibe.
And FOUR:FIFTEEN.AM doesn't stop there. The brand can kit out your house with everything from soft furnishings to prints to stools. All part of the FOUR:FIFTEEN.AM's sustainable and holistic approach to their products.
FOUR:FIFTEEN.AM's outlook on sustainability and ethical fashion cuts through the noise and jargon of other brand's 'virtuous' efforts and actually gets to the heart of the issue. Each of their garments listed on the website is pictured next to a full explanation of the brand's 'slow fashion' approach.
In terms of reducing their environmental impact, the brand uses a factory that ensures minimised energy consumption and has reduced wastage. On top of this, they ensure fair wages for their experienced seamstresses — something that every brand should be on top of, and a shocking amount don't seem to be.
With FOUR:FIFTEEN.AM's strong grounding in community spirit and 'family' ethos, it's completely unsurprising that their sales also support extremely worthwhile causes. Currently, all proceeds from their 'Music For Mustardseed' Tee go towards supporting the eco-sustainable junior school  Mustardseed in Sentema, Uganda. For more information on this project, you can visit the Mustard Seed site.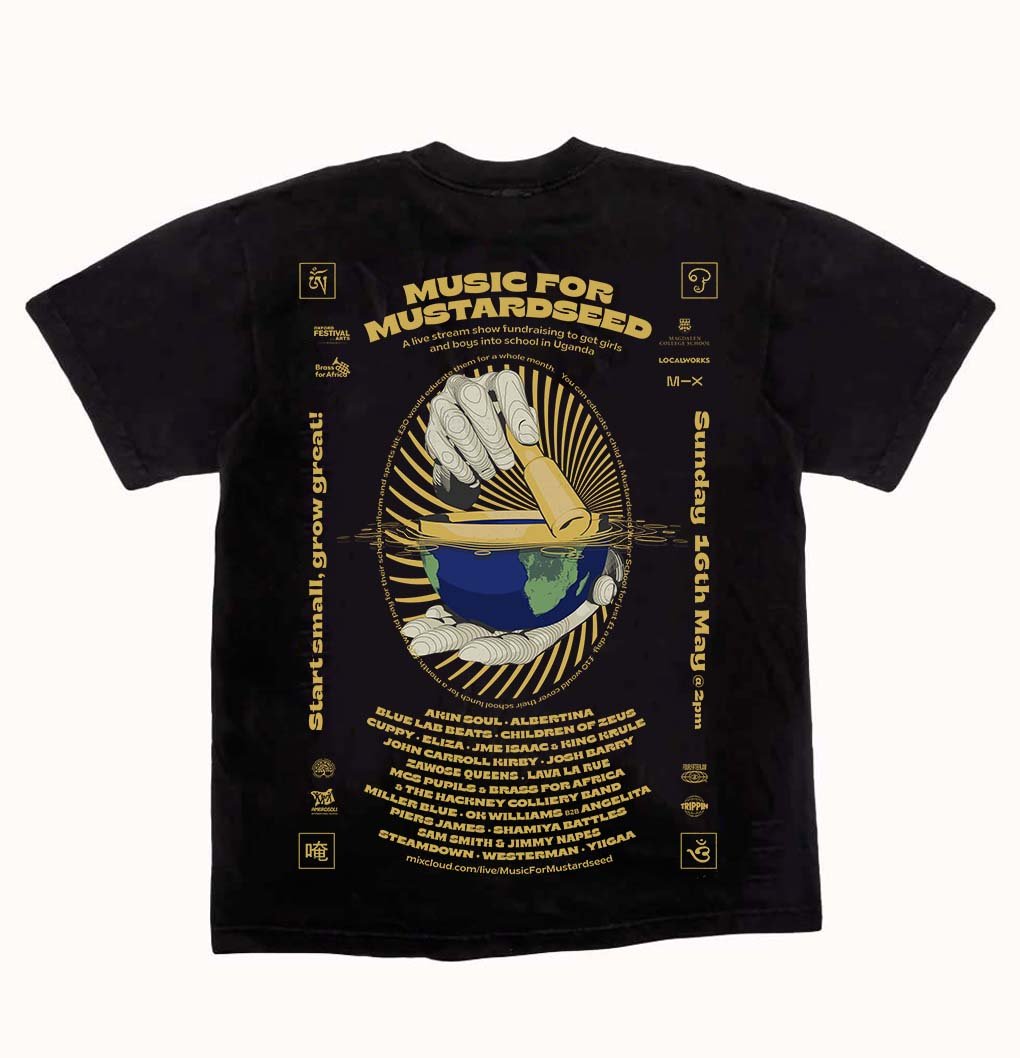 Source: FOUR:FIFTEEN.AM
The 'MUSIC FOR MUSTARDSEED' tees and all other pieces are available to purchase via the FOUR:FIFTEEN.AM website.