The outbreak of the Ukrainian conflict has hit everyone like a truck, forcing the western population to have a little taste of what unfortunately remained active and present in other parts of the world: War. Is it a tough talk? Yes, yes it is. But worse and tougher still would it be to refute or turn a blind eye to these very real contemporary series of events.
It seems that when war explodes in wealthier countries, the existence of advanced technologies can make the prospect seem even more daunting than its more traditional counterparts. It also, however, reveals an uncomfortable reality: not everyone, not every war, is equal in this world. Some may say that a statement such as that isn't too politically correct, but to remain silent in the face of this adversity would just exacerbate this inequity. It's time to speak up!
Still, even if the streets – and the catwalks- in the latest fashion weeks have witnessed the rise of anti-war messages, often their critique hasn't been deeper than a glass of water. The reality is way more complicated.
So, what's the difference and why this time the whole fashion system is making a statement?
First of all, the European conflict is moving alongside economic penalties: impossible to ignore that Russia owns almost 3% of the global luxury market. UE, USA, and Japan have cut out the country from any international trade of goods, somehow forcing the fashion industry to re-adapt to changes. Many new communication and business strategies are already in place, trying to plug the holes while waving what looks like the flag of hypocrisy. Why hypocrisy? Despite some brands anticipating the import/export ban claiming Ukrainian freedom, the truth of the matter is that the ban was already in the air. In other words, it may just be a marketing move that has been promoted as a theatrical, anti-war statement. In the end, this play turned into an empty failure.
Thankfully, many businesses and actors within the industry have broken new ground.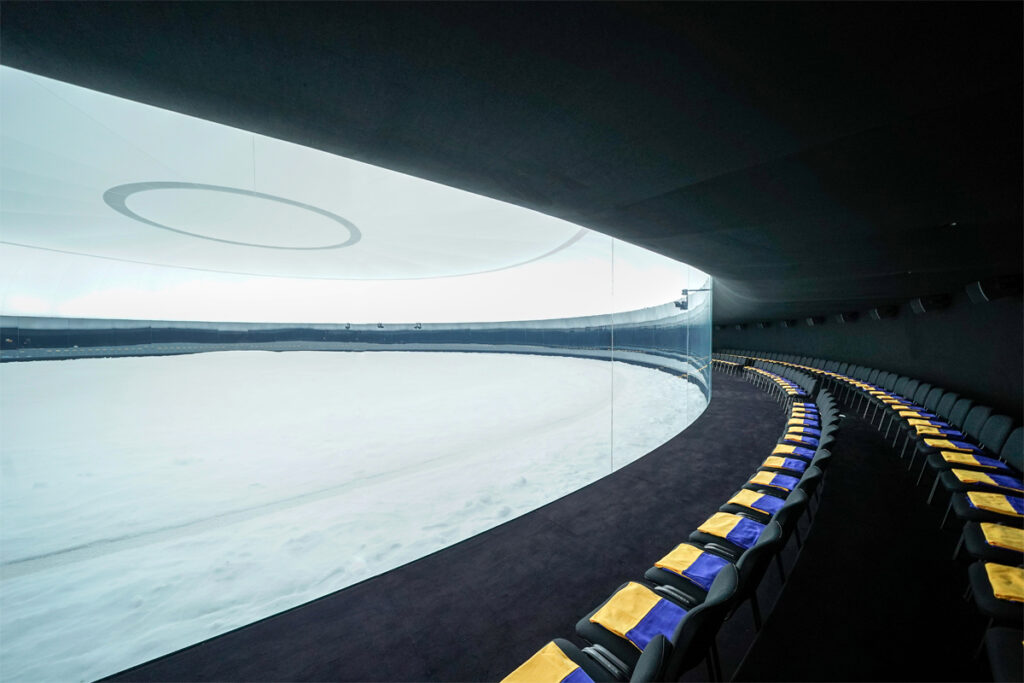 Undoubtedly, it is a hard time for fashion brands, forced to remain updated with the war bulletin daily, constantly checking the new bans against Russia. The market is almost unpredictable, being dependent on both sides of the conflict as it is. In the meantime, what is at the stake is the firm reputation and economy, which risk meeting penalties should there be any shared interest with the invading country. But the export ban doesn't have much of a guarantee: a good can be bought by third parties and re-sold for a higher price, resulting in the emergence of a black market since western luxury boutiques were closed at the beginning of last month.
The latest Chanel issue with Russian influencers has proved that a position against Russian consumers isn't due nor helpful. Brands are struggling to preserve their business without failing to support Ukraine while protecting the dignity of their Russian workers who were left home. For this reason, luxury giants like LVMH or Hermes are still paying salaries and benefits to their employees.
At this point, you'll be asking: what has the fashion system really done for Ukraine?
Raising awareness and informing the collective consciousness
While many still think that fashion is bounded to frivolousness, this industry is one of the most significant agents of change in the cultural arena. It soon became the perfect machine to raise funds for aid as well as awareness of the current war.
From their authoritarian position, Fashion magazines and media platforms joined the cause, spreading information, while supporting Ukrainian talents. Above all, Vogue Ukraine changed its focus completely.
I would never have imagined that a fashion magazine website would look like this, but these are the realities of our time: instead of looking at trends and interviews with celebrities we write about how to stop the bleeding and how to help the Ukrainian army

Vogue Culture Editor, Daria Slobodyanik
It isn't a one-time thing. War stories from Ukrainian photographers and designers that refused to leave their hometown are shaking collective awareness and pointing at the drama of a bleeding invasion while stating their identity as citizens of an independent nation.
Supporting Ukrainian creatives
As refugees and conflict rage on, tangible support is imperative.
With the Russian invasion, strict censorship has spread, and the fashion world won't sit back and keep quiet. The story of Anton Belinskiy, an Avant-Garde and subversive designer, became one of the many personal and professional tragic experiences of Ukrainian citizens. Forced to close his shop, the designer left his craft to join the front line to fight back against Russia. Many others, like Ksenia Schnaider and Anna October just to quote a few, had to leave the country or find new ways to fight and survive.
As a response, a massive call for Ukrainian talents worldwide has taken place as means of preserving their vibrant, artful culture in the creative scene. This is the mission of Bettter.community, a non-profit digital platform that connects Ukrainian creatives with the massed expertise from the international fashion industry, providing new collaborations while uplifting the message around the globe.
MetaFashion for Ukraine
The 'Peace for Ukraine' project is the outcome of Vogue Japan, Vogue Ukraine and six Ukrainian designers and companies joining forces. It includes the artworks of Anna October, Anton Belinskiy, DressX, Gunia Project, Ienki Ienki and Gudu. Each piece serves as the expression of brand values and personal experience, celebrating the unique roots, aesthetics and culture of the invaded country.
Launched on March 15th, the exclusive collection is available on Opensea and DressX for the price of 0.5ETH, and all the proceeds are donated to SaveTheChildre Ukraine.
Compared to physical goods, NFTs provide an incredible, perpetual contribution to the cause. Whether traditional or financial infrastructures and institutions are collapsing under attacks, cryptocurrency and NFTs seem to be a powerful medium. Moreover, smart contracts ensure loyalties through further re-sale, which goes to charity as well!
Influencing for a better world
When it comes to fashion influencers, everyone has a personal opinion: They're amazing, they're privileged, they're empty, they are whatever…
What they are, at the end of the day, is influencers! People that work every day to make a real difference, exploiting a post or story in an account, while making you talk about them. What better way to raise fundraising then? Impossible to quote all these incredible people that use their visibility to stand up and drive followers toward a change. Just open your Instagram or TikTok, and have a look at your favourites!
Whether you're a brand, a company, or just an individual praying for a positive change, there really aren't any more excuses. Open your device, choose how to make a difference, and donate to Ukraine!