Meet EGONlab, our latest discovery. Life and business partners Florentin Glémarec and Kévin Nompeix founded the unisex brand last year, and the acclaim for their work is already rippling throughout the industry.
Why is that you ask? Well, for starters, two of the brand's ambassadors are none other than 85 and 86 year old Marie Louise and René – Nompeix's grandparents. If that's not the sweetest thing ever, I don't know what is.
Source: Vogue
I know… Gawd. The audacity to look this good is beyond belief.
As their earliest supporters, Marie Louise and René showed up at the studio one day to check out their grandson's progress. The designers dressed them up in EGONlab on a whim, and apparently "the magic was instantaneous."
Glémarec and Nompeix were so captivated by the sheer magnetism of the EGONlab dressed octogenarians, that they decided to take them to September Fashion Week. Unsurprisingly, they completely smashed it. Scrap that, they didn't just smash it, they pulverized it into microscopic particles and then effortlessly blew everyone away.
---
"When they arrived, it was general hysteria. The photographers shouted, and everyone wanted to take a selfie with them. After Mugler, they stole the show from Bella Hadid, who was leaving the Palais de Tokyo."
Nompeix for Vogue
---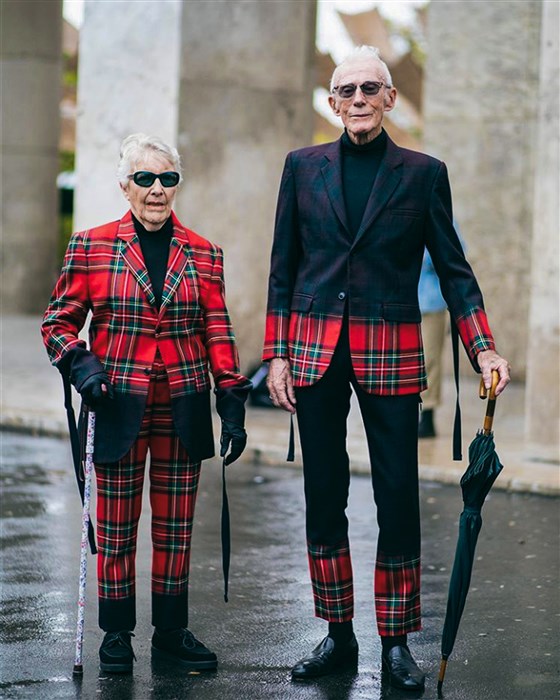 Source: Today
Then there's their latest collabrative project. A collection designed with DS Automobiles and Post Carbon Lab, as part of DS's Future Craft philosophy which seeks to integrate sustainable and innovative materials with French luxury savoir-faire. So what is so special and Marty McFly-esque about this collection?
Source: Driving
It absorbs CO2. Yup, you read correctly, it literally absorbs carbon dioxide. Making use of a photosynthetic coating treated by Post Carbon Lab, the collection absorbs in eight weeks the amount a six-year-old oak tree would in six months.
The garments are tagged with sustainable slogans such as "Lead the Charge" and "Power Sustainable Dreams", which is very in line with the brand's mission. EGONlab's intention is to be so much more than a simple fashion label, they aim to use futuristic and sustainable materials as well as innovation, to dress the leaders of tomorrow.
The young label has seen its fair amount of success in the year since its inception, and it looks like they're hitting all the right notes. I for one, cannot wait to see what the future has in store for these two ingenious minds.
Source: EGONlab