Welcome one more week to Editor's Choice, a style section where each week one of us proposes two total looks carefully chosen for our readers. Every week the topic varies, we have seen, skate and biker style, muted and bright tones, suits, tracksuits… This week we welcome September with a special edition to kick off the jacket season.
Y'all ready? Let's get started!
For the first look…
STORYMFG
Frog – Easy Beanie
€105
This Storymfg brand hat is entirely hand-made out of super soft materials such as cotton chenille yarn, and although its main function is to keep our heads warm, it does so with style. This plaid hat in pale pink and green tones is simply fantastic to add a touch of color to our look this coming autumn-winter season.
ANOTHER ASPECT
Another Polo Shirt 1.0
€150,95
This long polo shirt from Another Aspect amazes us, mainly for how its simplicity manages to work so well, it really does not need anything else. Guess sometimes less really is more! As a combination of rugby and sweatshirts, Another Aspect has created this wonderful piece of organic cotton with french terry and mother-of-pearl buttons. The antique brown tone gives us a feeling of rich quality, like that of a wood or a brown armchair, comfort, and warmth are what we feel when we see this piece.
THE NEW ORIGINALS
Testudo Trousers 2.0 Green
€110
These trousers from The New Originals are ideal to combine with our first look, the color makes them a perfect match with the hat, not to mention the exciting contrast achieved with green and brown. Without a doubt this piece will be a hit this autumn style-wise, who doesn't want to look good and be comfy at the same time? The piece has a fitted and cropped cut and is made of 100% cotton fleece.
ANOTHER ASPECT
Another Tote Bag 1.0
€102,95
The next piece is from Another Aspect, what can we say? Their latest collection has blown us away! This time we have an accessory that provides the key touch for this look, a tote bag in Rose Ash tone. A perfect piece to be able to carry the essentials that you have to have with you at all times! The Tote Bag is made with deadstock fabric from Kvadrat, making this a top quality product.
AXEL ARIGATO
Genesis Stripe Bee Bird
€205
To finish with the first look, we present to you these incredible Axel Arigato sneakers. The Genesis Stipe Bee Birds, are a fusion of the signature of the Arigato bee bird and the vintage iconic genesis Runner. The materials used to create the shoes are sustainable and environmentally responsible, we're talking about recycled PET bottles and marine plastic collected by the Seaqual Initiative. As for our look, it gives us a much needed harmony, since although we love colours and patterns, we do not want to overload the look, we still want to keep it in balance. These sneakers do just that, while still being fun.
POLITE WORLDWIDE
Terra Sunglasses
€110
The second look starts out strong with these incredible Polite WorldWide sunglasses. The tone of this piece is perfect, a woody chocolate hue gives us the perfect harmony to kick off the first look. In addition, the structure of the frame is great for a basic yet subtly extravagant look, while respecting the freedom of the wearer, and the possibility of fitting any type of face.
The sunglasses are biodegradable and recyclable, made from biological Acetate, which is created from sustainable wood and cotton fibres.
This product has been manufactured in limited quantities so don't think about it too much if you want a pair of special sunglasses, don't miss your chance!
THE NEW ORIGINALS
Synthesia Cardigan
€145
The second piece that we present to you is this incredible cardigan from The New Originals, the shades, brown, ecru, blue and mustard are ideal for this new season that is coming. The innovative and playful design does not go amiss! It will be the key piece for this look, you can wear it with a shirt underneath or without anything and buttoned, both options are great.
LOUTRE
Shrink-tp-fit Carpenter White
The next piece is not less than by Loutre, the British brand that recently launched a capsule based on carpenter-style pants. We love the philosophy of this brand, the love for human beings and their connection with nature elevates us to another dimension, but their designs are already out of this world. For this occasion, we have chosen White carpenter pants. They have been manufactured in London in order to ensure socially responsible work for consumers, and control manufacturing processes. The chosen materials are a mixture of recycled cotton and rubber which makes them adjustable to the body.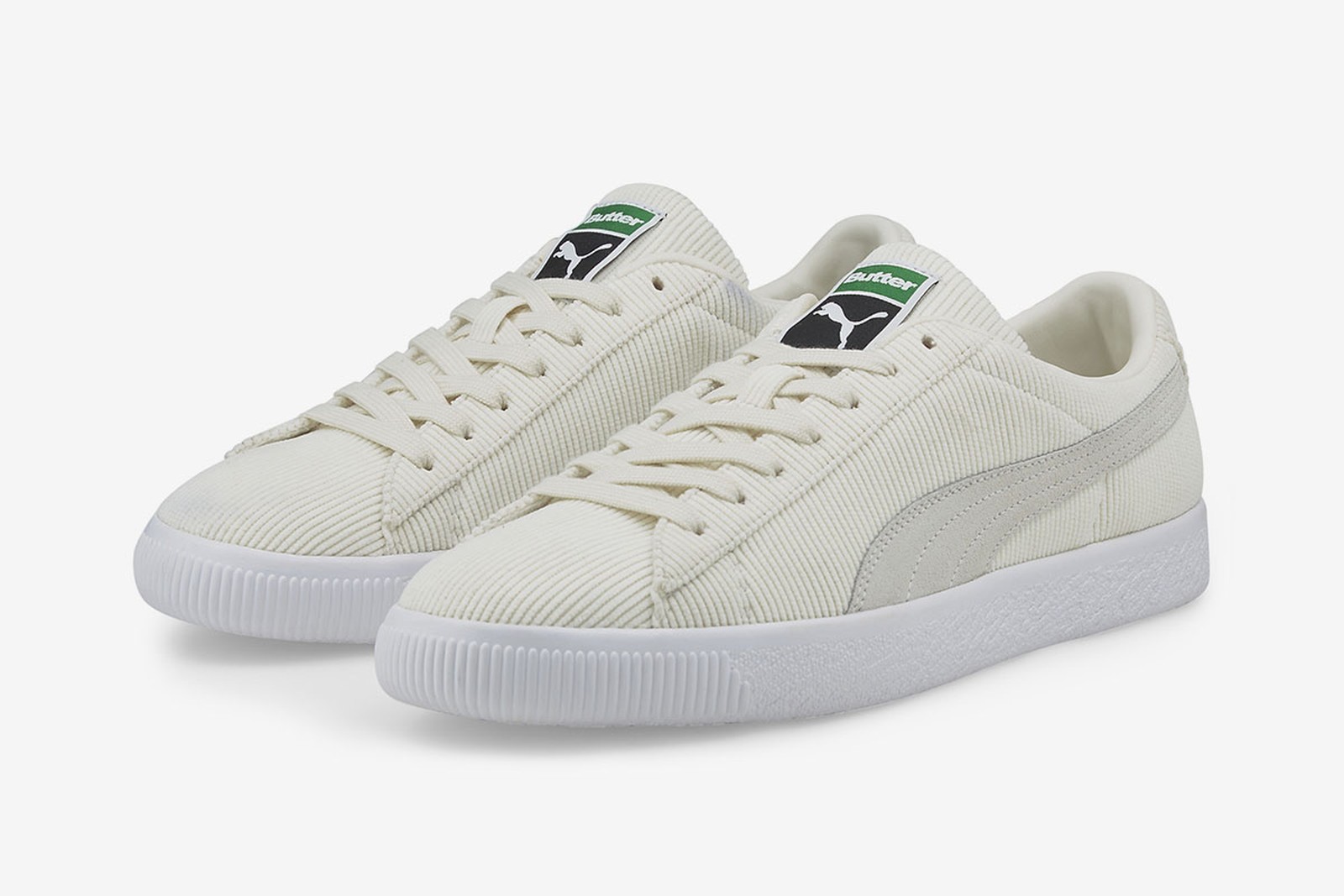 BUTTER GOODS
Puma Basket x Butter Goods
€130
We finished this look off with the incredible collaboration of Puma and Butter Goods, the Australian skate fashion brand. This union has brought to life the reinterpretation of the Basket Vintage in a very original version, and various tones, we chose Cream for the occasion. The shoes are made mostly of corduroy, both label's logos on the front, and the white sole make, them an elegant and urban bet with millions of possibilities to combine with any look!