Editor's Choice; The 90s Never Stopped Being a Trend

Welcome again! Once again in our Editor's Pick section, where every week we propose two carefully selected total looks for our readers!

Last week we focused a little more on a style inspired by the underground culture of skaters and bikers, and we got to see some amazing pieces from our favorite urban brands. On this occasion, we propose two looks of a slightly more "90s" style, but with a very contemporary urban vibe.

The colours always giving a distinctive and powerful touch to make our looks something incredible.
Let's get started!





Source: Arte Antwerp
Arte Antwerp
KLIMT HEART KNIT – BLUE/WHITE
€120
For the first look, we begin with this vest from the Belgian brand Arte Antwerp. The vest is made 100% out of wool, the colours are navy blue and white, and share the brand's heart pattern repeatedly throughout the garment. The V-neck makes the garment easy to combine with another garment to your liking, underneath or on its own. On this occasion we propose to use it as a standalone piece, creating a more powerful optical effect.




Source: This Things Of Ours
This Things Of Ours
90S WIDE FIT DENIM JEANS – OATMEAL (NATURAL)
€ 99,89
Next, we combine the Arte Antwerp vest with these incredible Wide Leg trousers inspired by the fall of the 90s, a design by the brand This Things Of Ours. These trousers are a perfect option for any look, without a doubt an essential in our wardrobe. Why? Basically because for four consecutive years, this style of trousers has been a trend, and honestly it does not look like that'll change anytime soon. The silhouette, the tone, and the texture make these wide legged trousers not only comfortable, but also stylish as can be!




Source: Colorful Standard
Colorful Standard
SUNGLASS 01 – FADED PINK / DARK PINK
€100
We love a little colour, who are we going to fool?! And even if you are more of neutral tones, a little detail that adds a bit of colour is always great, especially in August … These Colourful Standard sunglasses are the ideal choice to complete this look, without saturating the image.
After all, when we create our look, what we are looking for is harmony.
The glasses with semi-transparent frames in colour are very fashionable, they look great with everything and super cool! Also, the combination of pink with blue is bomb!




Source: US Rubber Company
US Rubber Company
MILITARY HIGH TOP SNEAKER LILAC
€41.13
To finish the look, we show you these sneakers from US Rubber Company, which was the original supplier of US military shoes for WWII troops, amazing huh?
We love the design, these high-top sneakers remind us of the epic fashion sneakers of the 90s, maybe they remind you of the original converse or the Nike blazers for that very same reason, these sneakers were the rage of the outfits of our wonderful 90s, but they didn't have this tonality so don't miss your chance!
Plus, they are also incredible with the tones of this look.
For the second look…




Source: Dept Anonymus
Dept Anonym
Classic Autumn Jacket
€75.85
We started strong with the second look! This "leather" jacket from Dept Anonymus blows us away! And we say leather in quotation marks, because even if it looks like it, it's is made of synthetic leather.
This jacket is perfect to combine with any type of top garment, from t-shirts, shirts, jerseys, or even without anything, just a pair of trusty jeans!
The tonality is an ash brown that gives us an incredible match with the next garment, keep reading to discover it!




Source: Cole Buxton
Cole Buxton
International T-shirt Cobalt Blue
€88.13
The luxury sports brand Cole Buxton launched, just a week ago, a re-stock of its most acclaimed t-shirts, the International T-shirt that you can find in various colours, however, this time we are left with the blue one in order to create a beautiful contrast with the brown jacket!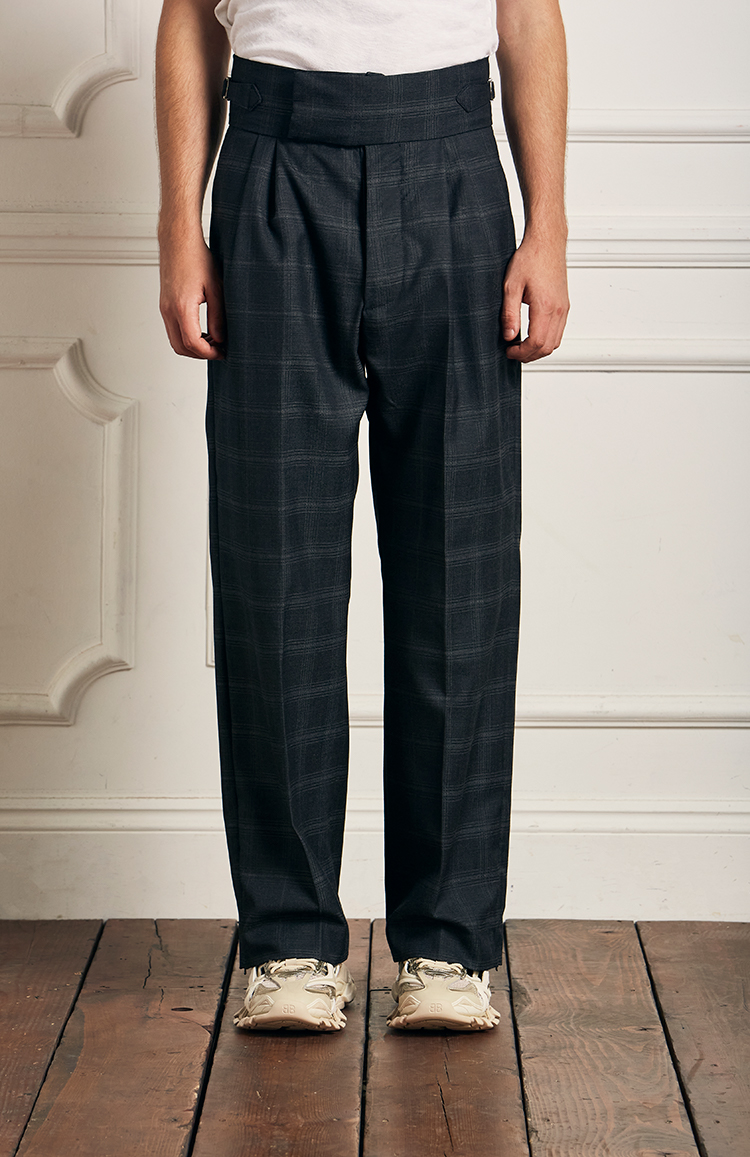 Source: Florence Black
Florence Black
Dark grey check wide-leg wool trousers
€450
For the piece below we chose another British brand, in this case, Florence Black, an independent brand specialized in urban and contemporary tailoring. For this occasion, we propose the Wide Leg dark check trousers, made of scabal wool, one of the most luxurious materials in the world. The pattern and colours give us a daring but very fresh match, without clashing the range of tones but risking a little to the add a different pattern. If you want to take your look a little more to the limit, here are the pieces you need:




Source: Obra
OBRA
KATSU LOW UTILITY SPLASH | CANVAS LOW WRAP TOE
€192,69
Last but not least, we finished our last look with this pair of sneakers from the American brand "Obra", which has made us fall in love with the original design. These sneakers are undoubtedly the right product for the daring look you have been looking for. They are not excessive, they are basic sneakers with a touch of personality, which is way cooler.
There you have it, this has been this week's Editor's Choice! We hope you enjoyed it as much as we did.
Next week new outfit proposals with new styles, any requests?