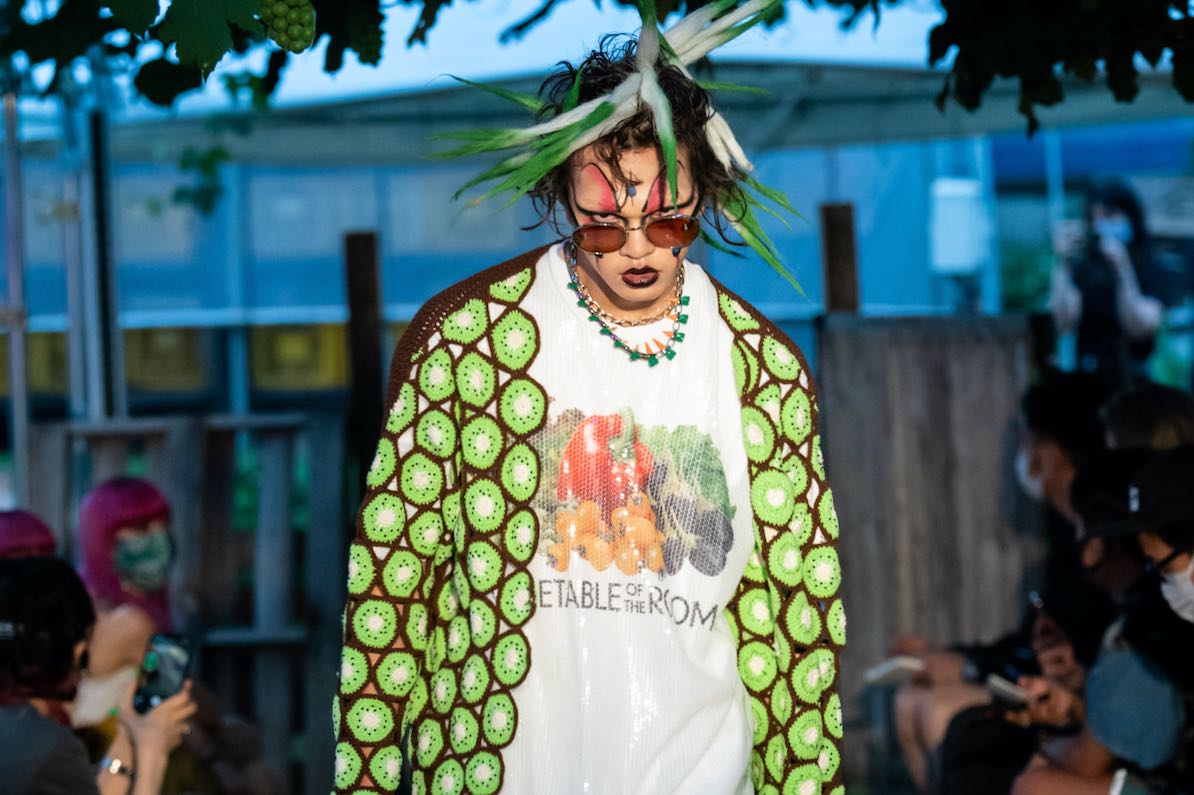 Source: Office Magazine
We are gathered here today, to talk about one thing, and one thing only.
What thing you ask? None other than Doublet's Parish Fashion Week debut!
Japanese designer Masayuki Ino presented his brand's SS22 collection this past weekend, and we haven't stopped thinking about it ever since.
First we were captivated by the playfulness, creativity, and contrasting elements of it all. From sullen earth tones, to vibrant, radiant colours, it seems there was no tone on the colour spectrum that wasn't used, yet the seemingly clashing hues managed to compliment each other, and come together to create a birth collection.
Source: Office Magazine
Blazers, collared blouses, trench coats, leather jackets, and whimsical fruit and veggie inspired designs, took over the runway, and somehow managed to cohesively coexist, and belong beside one another.
The combination of all these elements made for a show that you simply could not take your eyes off! It was almost as if the collection demanded your attention, and once it had it, you were completely trapped. We shouldn't be surprised however, since Masayuki Ino is known for creating art as means of starting a conversation, purposely, and very successfully we might add, rebelling against the norm.
Source: Office Magazine
As if this wasn't enough, we then became completely enamoured with the production and manufacturing processes used by the designer. One should expect no less than eccentric and extremely detailed techniques, from an eccentric and extremely detailed designer. The ways in which Ino creates the materials he uses to construct his Doublet pieces are, quite frankly, astounding.
The leather jackets and slacks are made with a mushroom cultivation technique, the dye he used to colour many of the pieces in the collection is made using liquid derived from food and plant waste, such as milk protein and banana stalks. Not to mention the fact that thread used to produce the mohair-blended sweaters, was recycled from knit and sock factories excess material.
Source: Office Magazine
Source: Office Magazine
Speechless? Yep, that's what we thought, welcome to our world.
Masayuki Ino isn't just breaking the rules with his designs, he is creating an entirely new set of rules to live by, which perhaps more brands and designers should pay attention to.
It's not just that fashion should respect nature, that notion is – thankfully – not all that revolutionary anymore as an increasing number of creatives in the fashion industry are taking notice that sustainability is the only way forward.
The revolutionary thing about Doublet, is that nature is actually at the core of its design. Everything is born out of it. And everything goes back to it sooner or later too.
Source: Office Magazine
Source: Office Magazine