Like many great creators, Adam Jones finds inspiration where others see mundanity. Although much loved throughout Britain, the local pub is often overlooked as a source of creative inspiration. But it is pub culture that is at the heart of Adam Jones' collection.
The designer grew up in Froncysyllte, in north Wales, spending time in his grandma's house amongst kitschy ornaments and dishcloths, and subsequently in "old man pubs" with his friends.
The "pub memorabilia" and seventies aesthetics that make up the fabric of his own personal, childhood nostalgia, lent themselves well to the "trend for logomania and graphics around at the time [he started his collection]", he told Esquire.
Source: The Love Magazine
Like an opportunistic sniffer-dog, Jones scouts out his materials from skips, pavements, and car boots. His skills lie in deciphering which of the discarded items can become part of his cohesive, high-fashion line.
"I don't just use anything," he told Metal Magazine, "I am looking for materials from certain decades, styles, colours and patterns. As I continue collecting over a period of, say, 6 months, the collection just develops naturally."
A huge part of his work involves rummaging through items in shops and car-boot sales, as well as walking around taking inspiration from his surroundings. Currently based in London, the designer uses the "decay and disorder" of the streets at his fingertips to spark creativity.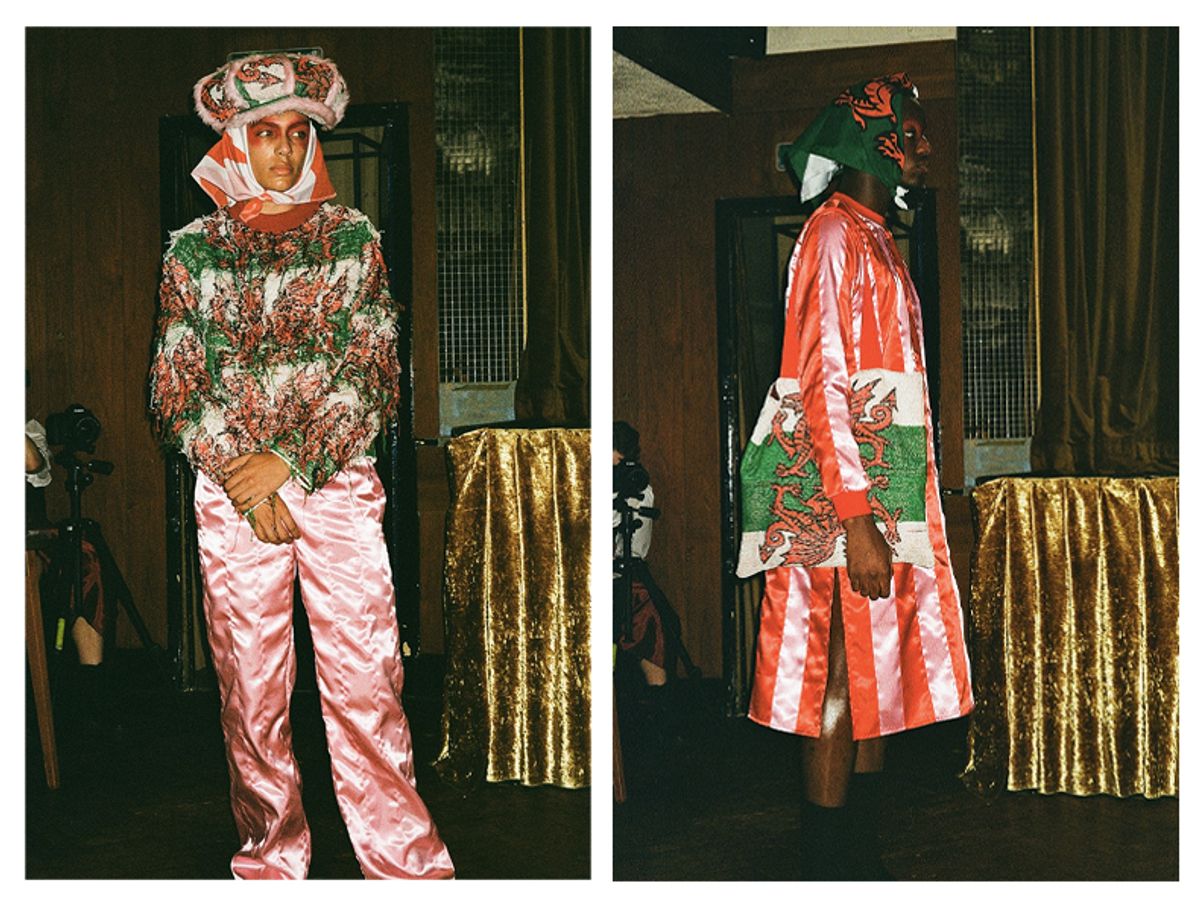 Source: The Love Magazine
And this is part of Jones' innate charm — the idea that you don't need to look far and expand your pool of resources vastly to create compelling designs. "Limiting my fabric selection [allows] designs to present themselves much easier," said Jones in an interview, "I thrive creatively with limited means and materials."
His latest collection sees a meeting of pub-core and high-fashion aesthetics, full of vintage, found tea-cloths and blankets, beer mats, football scarves, Welsh flags, and Union Jacks. Flared jeans, copious sweater vests, and vertical stripes hark back to the designer's childhood in a Wales pub-culture "stuck in the Seventies."
Source: Hero
Follow his work via his Instagram account, which is an eclectic celebration of British, pub culture that sees his creations adorned across the country just as they should be. At the pub.
His made-to-order pieces can be found on the APOC website.